Discovering The Vast And Amazing World Of Mushrooms W/ Danielle Ryan Broida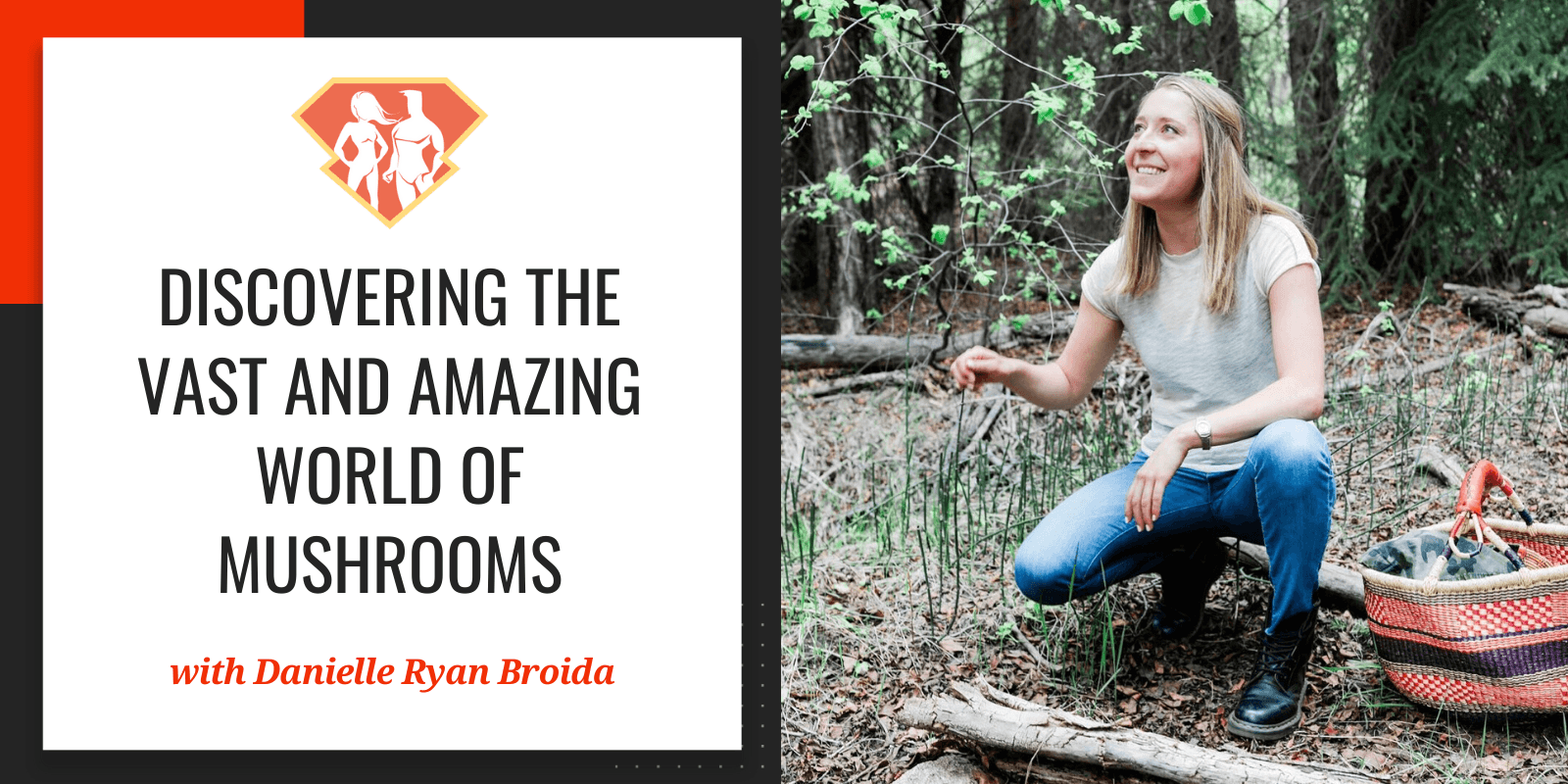 Tags:
Mushrooms
,
Podcast
"There are hundreds of natural allies out there waiting to support your body."
— Danielle Ryan Broida
Greetings, SuperFriends!
Today we are joined by Danielle Ryan Broida. Danielle is a Registered Herbalist (RH) of the American Herbalists Guild (AHG), Certified Holistic Nutritionist and National Educator at Four Sigmatic. She is also a mycologist, which we talked about in-depth, and has studied Ayurveda in India, she has traveled the world, she has studied and become a Certified Raw Chef and Detox Coach, plus many other things. Her bio is actually really long, so I won't cover all of it.
Today she is focused on teaching people how to discover the wide world of mushrooms – this entire kingdom of millions of species, many more than there are of plants, that we don't use but probably should be using.
I learned a ton in this episode. I know we've covered mushrooms in the past and all of their healing properties. In this episode, though, we went deeper, as I for the first time got a chance to talk to a mycologist and someone who is actually a registered herbalist.
So, we went far and wide, and we really started to understand, throughout the episode, just how many things mushrooms can do, how little we understand, and how important it is for us to start incorporating these in our routine.
I'm sure you will enjoy this episode as much as I did!
-Jonathan Levi
In this episode, we discuss:
Who is Danielle Ryan Broida, what does she do, and how did she get here? [4:25]
What sparked Danielle's interest in health? [6:10]
How do you go about learning about something that almost no one knows about? [10:40]
How does Danielle combine herbalism and mycology? [13:10]
What are functional mushrooms, and what can they offer us? [15:20]
Talking a little about the origin of mushrooms [18:05]
How can mushrooms be used in the context of healing and medicine? [21:45] 
What can you use functional mushrooms for in your life? [24:15]
Specific uses for some of the most important functional mushrooms [30:40]
What are some rules for navigating mushroom consumption? [41:20]
What is Danielle's suggested routine? [48:05]
Some piece of homework for you by Danielle Ryan Broida [51:40]
Where can you learn more about Danielle Ryan Broida [53:55]
Danielle Ryan Broida's final takeaway message [54:45]
Resources Mentioned in This Episode:
Favorite Quotes from Danielle Ryan Broida:
"Growing and being connected to the medicine is totally interconnected to the process of healing."
"There are at least 6 times as many species in the fungi kingdom as all plants on earth."
"When we're able to absorb nutrients properly, it's like a superpower."