Herbal Elixirs to Change Your Mood, Your Health, & Your Life w/ Colter Merrick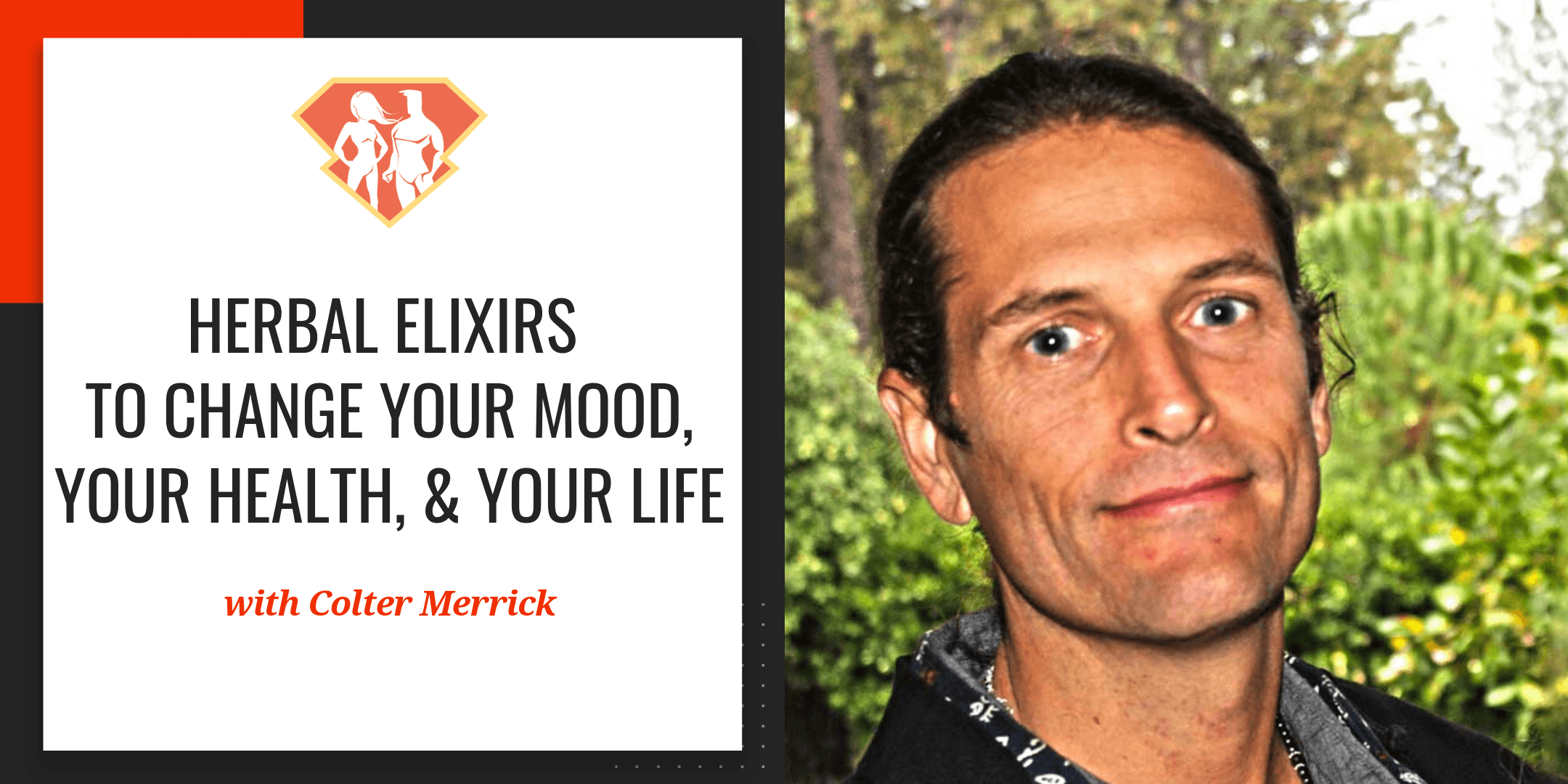 Tags:
Energy
,
Herbs
,
Supplements
"When you're body's working right, you're gonna feel it, and you're gonna like it."
— Colter Merrick
Greetings, SuperFriends!
Today, we're joined by yet another incredible expert I met during the Summit at Sea event late last year. His name is Colter Merrick.
As someone who doesn't drink alcohol, I was particularly happy to meet Colter, as he is an expert in non-alcoholic elixirs and cocktails.
What does this have to do with SuperHuman Academy, you ask?
Well, it turns out that Colter runs a company called Elixart, where he and his team develop and produce powerful cocktails with loads of health and mood benefits. After trying just about everything on his menu, I was determined to get him on the show and pick his brain about some of the substances he introduced me to.
In this episode, we talk about everything from traditional herbs and plants used for healing, all the way to the flow of energy in our bodies and in our lives, and everything in between. We talk about some plants and substances that you may never have heard of, and why it might behoove you to experiment with them in your own lives… It's a great episode, and I just know you're going to learn a TON!
In this episode, we discuss:
What has Colter Merrick been up to, and what interesting conference was he at when we spoke?
How did Colter become an expert in natural remedies?
How was Elixart started? How has it changed?
What was Colter's learning process when he first started out?
What is a "Yan" tonic? What about a "Ying" tonic?
How does Chinese medicine influence Colter Merrick's work with Herbal Elixirs?
What are "ethnogens," and what do they do in our bodies?
Stress, adaptability, and survival – how are they related?
A discussion of the medical establishment and some downsides of it
Colter's views on alcohol and it's positives and negatives
Energy, and how it influences us and our surroundings
What is kava and how does it affect our bodies and our moods?
Are there any dangers associated with consuming Kava?
A brief discussion of Marijuana, and whether it's renaissance is the first of many
What is kratom and what is it used for? How does it work?
What is Maca root, and what is it used for?
How should you get started safely experimenting with herbal medicines?
Chocolate, and how it is far inferior for your health than real Cacao
What is Shealojit and what does it do?
Which food is one of the most nutrient dense on the planet?
Where can you safely buy some of these herbs and plants?
What is Colter's morning elixir routine?
How can liquid gold improve your mental acuity?
An interesting story about tea and "poor man's tea" in China
Listen through till the end to get Colter's personal email address for any questions!
Resources Mentioned in This Episode:
Favorite Quotes from Colter Merrick:
"I tie in what I do to such a larger part than just what the herbs are."
"These plants, they're living beings. They were alive at one time, and they have a spirit. And learning how to communicate with them is a big part of the practice."
"Experience is the best teacher."
"Stress is probably one of the biggest and most harmful contributors to someone's ill health."
"Adaptability is one of the keys to survival."
"Being able to reflect and bring awareness to how things are affecting you… is such a big part of empowerment."
"I like to call [Kava] 'the root of happiness.'"
"What I'm trying to do is create a preventative thing, where people are experiencing joy, and they're improving their energetics and their lives."
"Feeling good is something that we're all very fond of."
"There are so many masterful, master plants out there that are effective, and you notice them right away."
"There's so many treasures of nature out there to bring into your life!"
"Form your relationship with nature!"