How Passion Really Works & How To Utilize It W/ Brad Stulberg & Steve Magness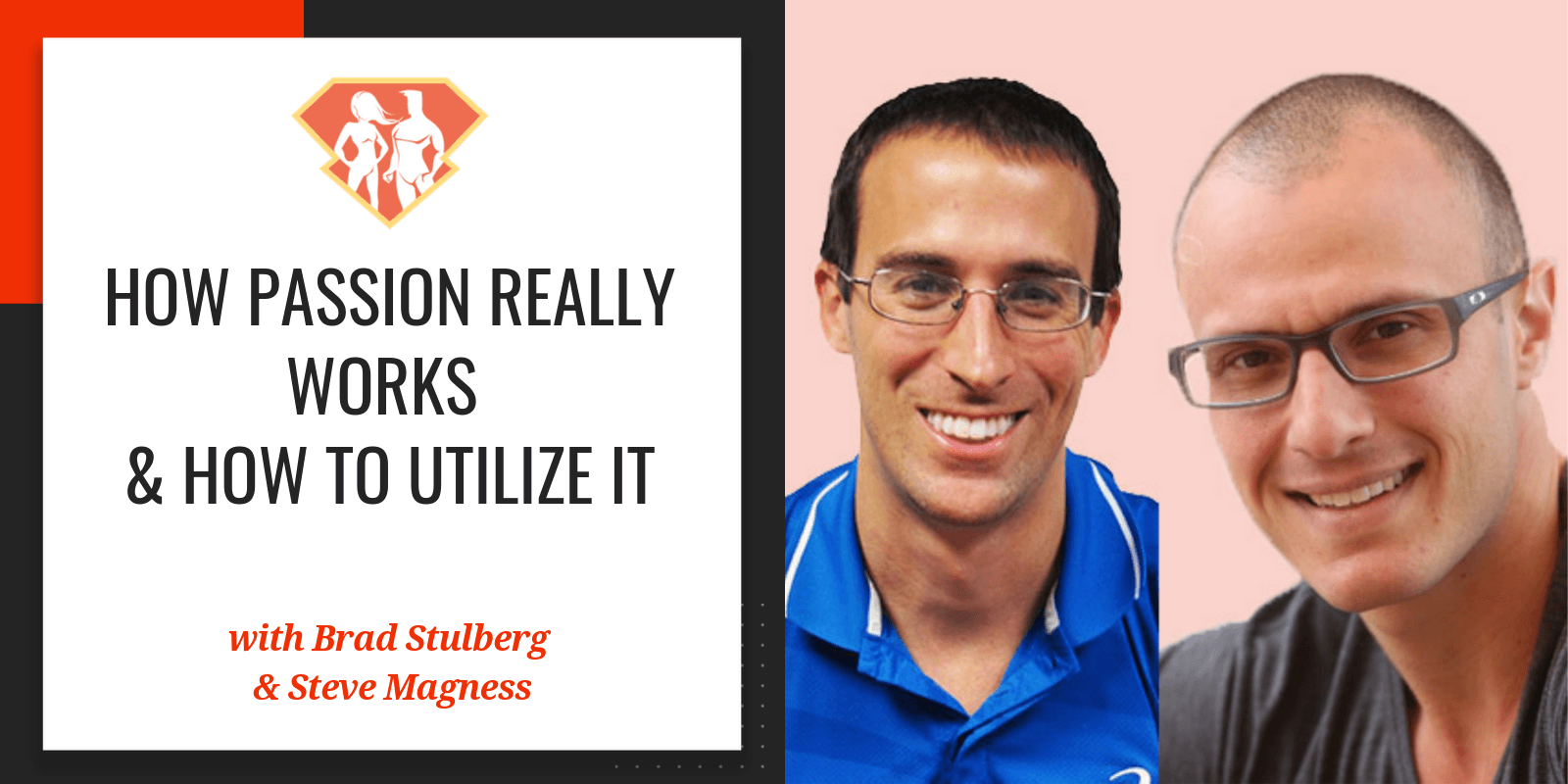 Tags:
Happiness
,
Health
,
Inspiration
,
Lifestyle
,
Neuroscience
,
Passion
,
Performance
,
Podcast
,
Recovery
"Understand how to be good and nail the basics."
— Brad Stulberg
Greetings, SuperFriends!
For this week's episode, I got on a call with 2 incredibly smart authors, Brad Stulberg and Steve Magness. They are the co-authors of the new and highly anticipated book The Passion Paradox: A Guide to Going All-In, Finding Success, and Discovering the Benefits of an Unbalanced Life.
You folks probably know that I'm passionate about passion – but the truth is, we've never actually had anyone on the show talk about it as a field of study or a field of Becoming SuperHuman. So, I wanted to have these 2 gentlemen on the show – and I learned that this is really an emerging field which is still not so well understood, similar to the way flow states were 20-30 years ago.
In the episode, we talked about passion and how it is such an ambiguous, kind of misunderstood area of human experience, and we also set aside some time to really understand where these misconceptions are, how people perceive passion, why passion is important in your life, and most importantly, I think, how you can actually go about getting more passion in your life. In fact, and somewhat unexpectedly, there are ways that you can achieve that and strategies that actually really surprised me.
Another thing that surprised me about this episode was what I learned about recovery. We've talked about recovery a lot on this podcast and especially in the Becoming SuperHuman MasterMind where Benjamin Hardy did a whole segment on it. Well, Brad and Steve gave me some really incredible ideas for how I can supercharge my own recovery periods so that I bounce back faster from long working or recording days.
I really enjoyed this episode, and I know you are going to as well!
-Jonathan Levi
In this episode, we discuss:
Who is Brad Stulberg, who is Steve Magness, and how did they get here today? [5:25]
How did Brad and Steve get interested in passion? [6:20]
How did Steve and Brad meet? [7:40]
What are the biggest paradoxes around passion? [8:50]
Letting go of something you are passionate about [11:10]
The difference between harmonious passion and obsessive passion [12:40]
How to go all in and reap the benefits of an unbalanced life [15:00] 
Where does the balance come in? [17:10]
The magic of putting yourself in new and novel environments [19:30]
Is there adequate research on the topic of passion? [21:20]
What can you do to find your passion? [23:55]
Should you expect to find your passion right away? [26:25]
The problem with having high expectations when starting something new [28:35]
The path to passion involves getting competent in something [29:45]
What are some of the things that Brad and Steve do for SuperHuman performance? [31:10]
Using social interactions as an amazing way to recover [32:20]
Recovery shouldn't be something you try hard to have [35:45]
The difference when you hang out with your own people [37:30]
Where can you find more about Brad, Steve, and the book? [40:00]
Steve and Brad's final takeaway message [41:00]
Resources Mentioned in This Episode:
Favorite Quotes from Brad Stulberg and Steve Magness:
"Everything about passion is a little bit paradoxical."
"You don't magically find your passion."
"If you don't control your passion, the passion will control you."
"The more you care about something, the harder it is to move on when the time comes to move on."
"Think of balance over the course of a lifetime."
"At least once a month, get out in nature."
"So many people quit too soon."
"So many people strive for the marginal gains before they nail the basics."
"The best hack is showing up and doing the work."
"Trying really hard to recover almost defeats the purpose of recovery."