How To Routinely Create EPIC Adventures w/ Expert & Superconnector Jon Levy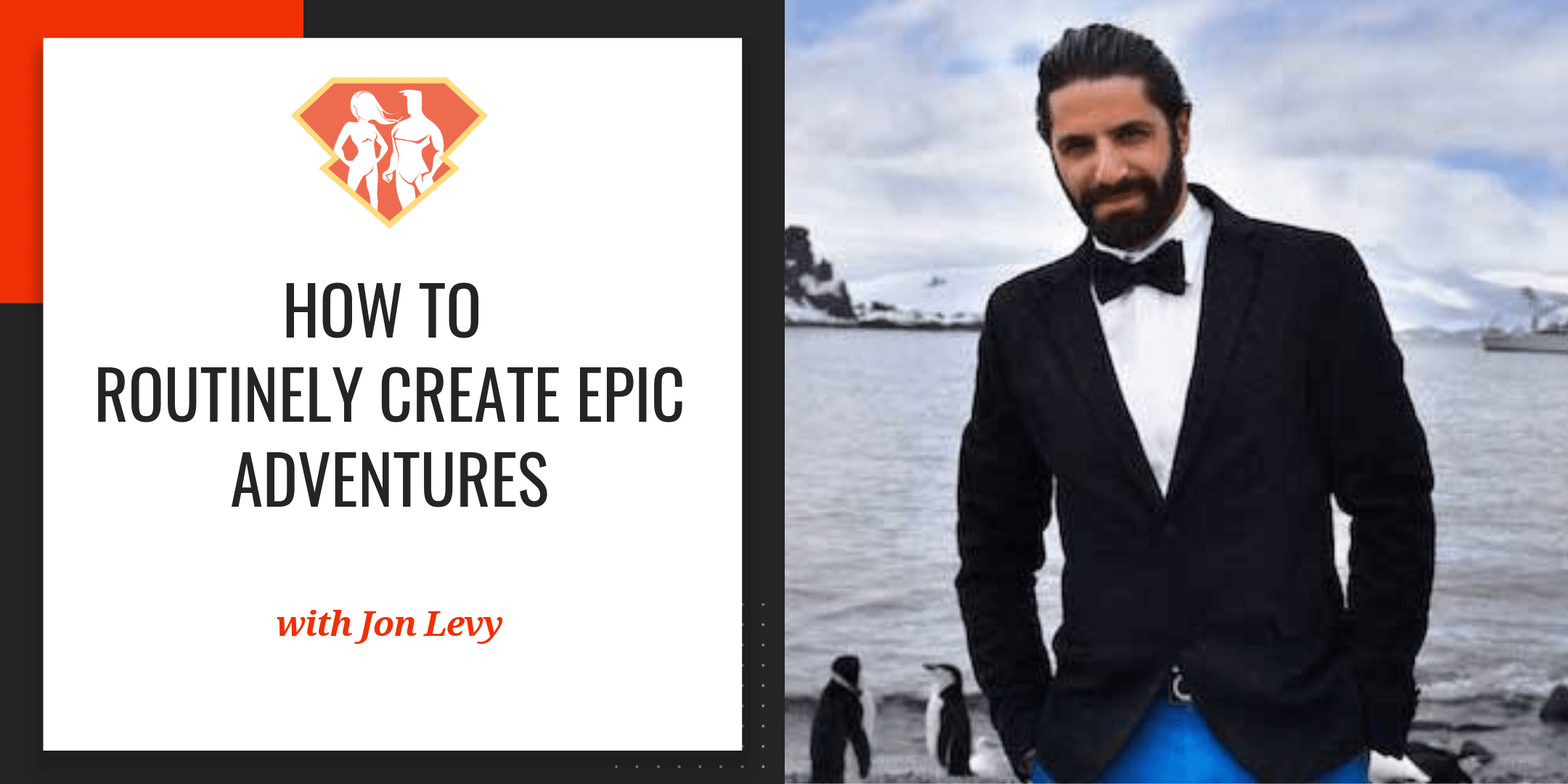 Tags:
Adventure
,
Fun
,
Lifestyle
,
Networking
,
Podcast
"People would always tell me that adventures happened by chance. But that didn't make any sense to me. Because if they did, all of us would live similarly exciting lives. And we don't."
— Jon Levy
Greetings, SuperFriends!
So, I know this is confusing, but today, we are joined by Jon Levy – with a Y instead of an I – the author of The 2AM Principle: Discover The Science Of Adventure. Once a self-described nerd, today, he runs with the bulls in Pamplona, crashes million dollar weddings, takes a flight on average every 3 days, and is widely considered one of the top experts in adventure, with endorsements from many of the industry's biggest names like Lewis Howes and Chris Bailey.
In this episode, we talk about Jon's framework for seeking out and experiencing jaw-dropping adventures. As someone who considers "adventure" to be one of the 8 criteria for a balanced and happy life, and an avid adventurer myself, I was eager to figure out how Jon finds and chooses various adventure opportunities, and how he has turned something so seemingly random into a well-thought-out methodology. We talk about how to systematically create and find adventure, the difference between those two things, suggestions for building an incredibly exciting lifestyle, and much, much more.
This was a really incredible episode, guys. I learned a TON – and I know you will, too.
In this episode, we discuss:
Who is Jon Levy, and how did he go from being a geek to an adventure expert
What are some of Jon Levy's craziest adventures?
What are the 4 stages to every adventure, according to Jon's research?
What is the "EPIC" model?
What is "The Influencers" and why did Jon start it? 
Why is it so important to "end with style," and what does that mean exactly?
Does this stuff work for introverts, too?
What criteria make something an adventure? Why isn't every fun activity an "adventure?"
How does Jon Levy keep finding new and exciting stuff to do?
How can you hack the research on "flow" to your benefit?
What are some different types of adventures you could try out?
How does Jon Levy set goals in a very specific ways? What are his current goals?
A discussion of "superhuman" skills, and which skills Jon and I prioritize
What books have changed Jon Levy's life?
What products can Jon Levy not live with out?
Two powerful Google Maps & Translate hacks you need to know about
How does Jon Levy work with his virtual assistants to automate his travel?
Resources Mentioned in This Episode:
Favorite Quotes from Jon Levy:
"I'm still a big nerd. It's just, I've managed to use it to my advantage… But… When I was growing up, there were no cool nerds."
"I really am committed to figuring out how to curate the best people and bring them together, so they impact each other positively."
"I've hosted over 100 dinners across 8 cities and 2 countries… I look for ways to bring people together in unique experiences that will cause them to bond."
"Your brain responds differently to new environments. It entices you to to explore and understand. And that opens you up to new experiences."
"It's only an adventure if you've grown from it. The person at the end has to be distinct from the person that started."
"Nothing good happens after 2AM – except the most EPIC experiences of your life."
"Whatever you do, end on a positive note – even if it means ending slightly earlier."
"The size of your life is in direct proportion to how uncomfortable you're willing to be."