Jeff Sanders: The 5AM Miracle & How to Dominate Your Day Before Breakfast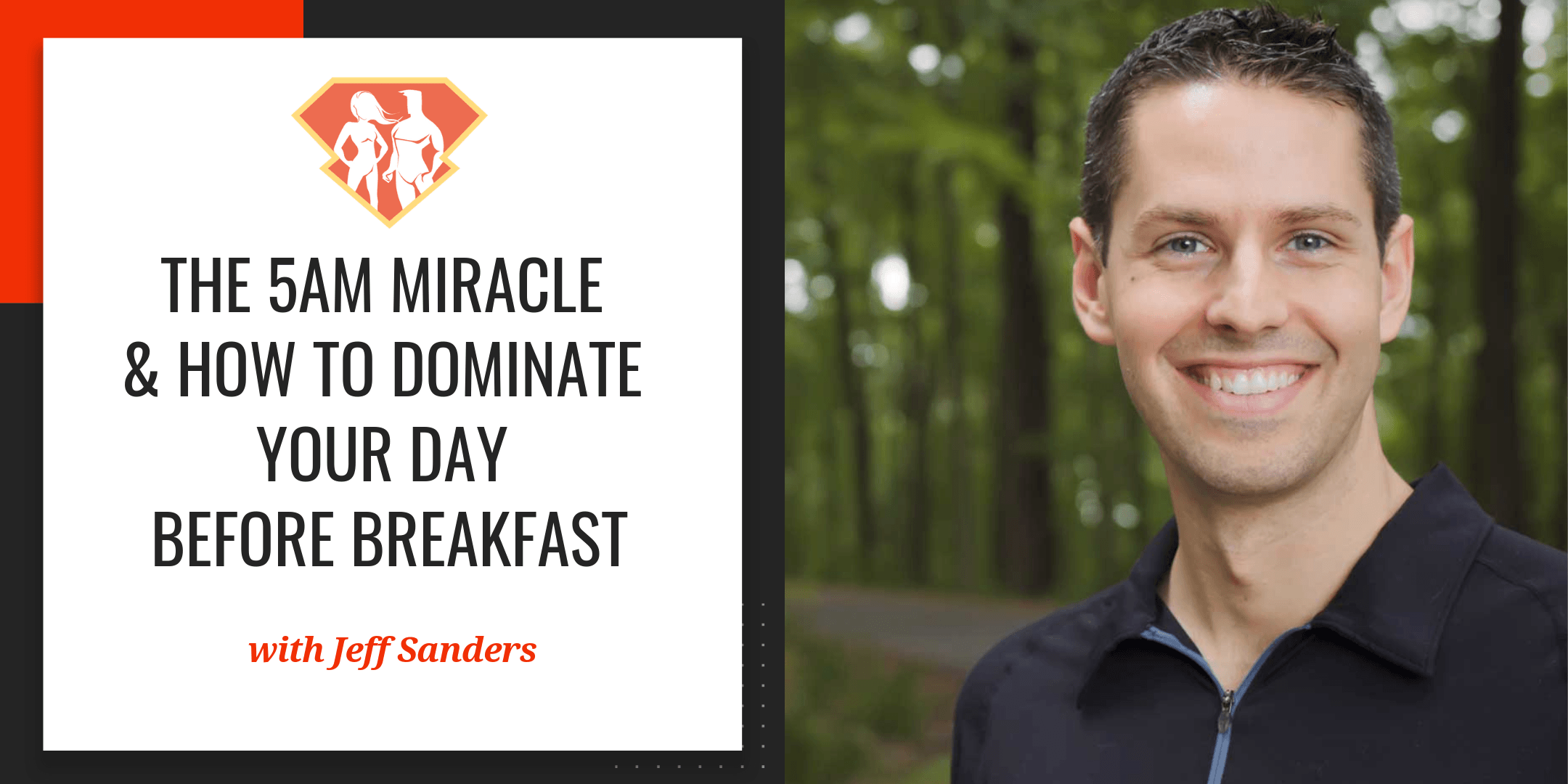 Tags:
Organization
,
Podcast
,
Productivity
,
Success
,
Time Management
,
Waking Up
"It's the intentionality behind it that makes it work."
— Jeff Sanders
Greetings, SuperFriends!
Today, we are joined by Jeff Sanders, the public speaker and author behind the Amazon Bestseller, The 5AM Miracle.
I know what you're thinking – 5AM is damn early – but stay with me, because morning rituals are really interesting and important.
In this episode, we're going to learn how you can better dominate your day by hacking mornings to work in your favor – before you even have breakfast.
As someone who has really been struggling recently to get out of bed before 7AM, and who, to be completely honest, has been struggling to stay productive past 1pm, I was really interested in learning some strategies for hacking mornings and creating more effective days. As you guys know, I'm a huge fan of learning any productivity related hacks I can get my hands on, so I was really excited to dive into this episode.
As always, please share your thoughts with me on Twitter @gosuperhuman, and if you haven't already, please remember to leave us a review on iTunes or Stitcher.
In this episode with Jeff Sanders, we discuss:
How did Jeff Sanders go from "no idea what to do" to where he is today?
What's the magic about 5AM, and do you really have to get up at that time?
What is the "secret sauce" to Jeff's day-dominating methodology
A step-by-step walkthrough of Jeff Sanders' morning
What if you're "not a morning person?"
What are Jeff Sanders' strategies for beating the snooze button?
How does The 5AM Miracle compare to Hal Elrod's Miracle Morning?
What are some of the most inspiring stories of lives changed with the 5AM Miracle?
What other productivity hacks does Jeff Sanders have to offer?
A discussion on how to set (and achieve) goals in a systematic fashion
What are Jeff's current major goals in life?
What is Jeff working on now?
What is Jeff's homework assignment for SuperHuman Academy listeners?
What is the #1, major takeaway that Jeff hopes you learned from this episode?
Resources Mentioned in This Episode:
Favorite Quotes from Jeff Sanders:
"I wanted to be like the people that I was learning from. That was my real life epiphany."
"It's the intentionality behind it that makes it work."
"Just simply waking up early doesn't mean anything by itself."
"It's only who you are because that's what you've done. And you can just simply change what you do, and you can change that identity for yourself."
"It's the little small pieces that add up over time. Even just 15 minutes a day will give you a whole lot more success and progress than doing nothing."
"Plan tomorrow. On paper. Tonight."
"Be intentional. Regardless of what you choose to do. And do it on purpose."