Learning How To Play The Piano In Just 21 Days W/ Jacques Hopkins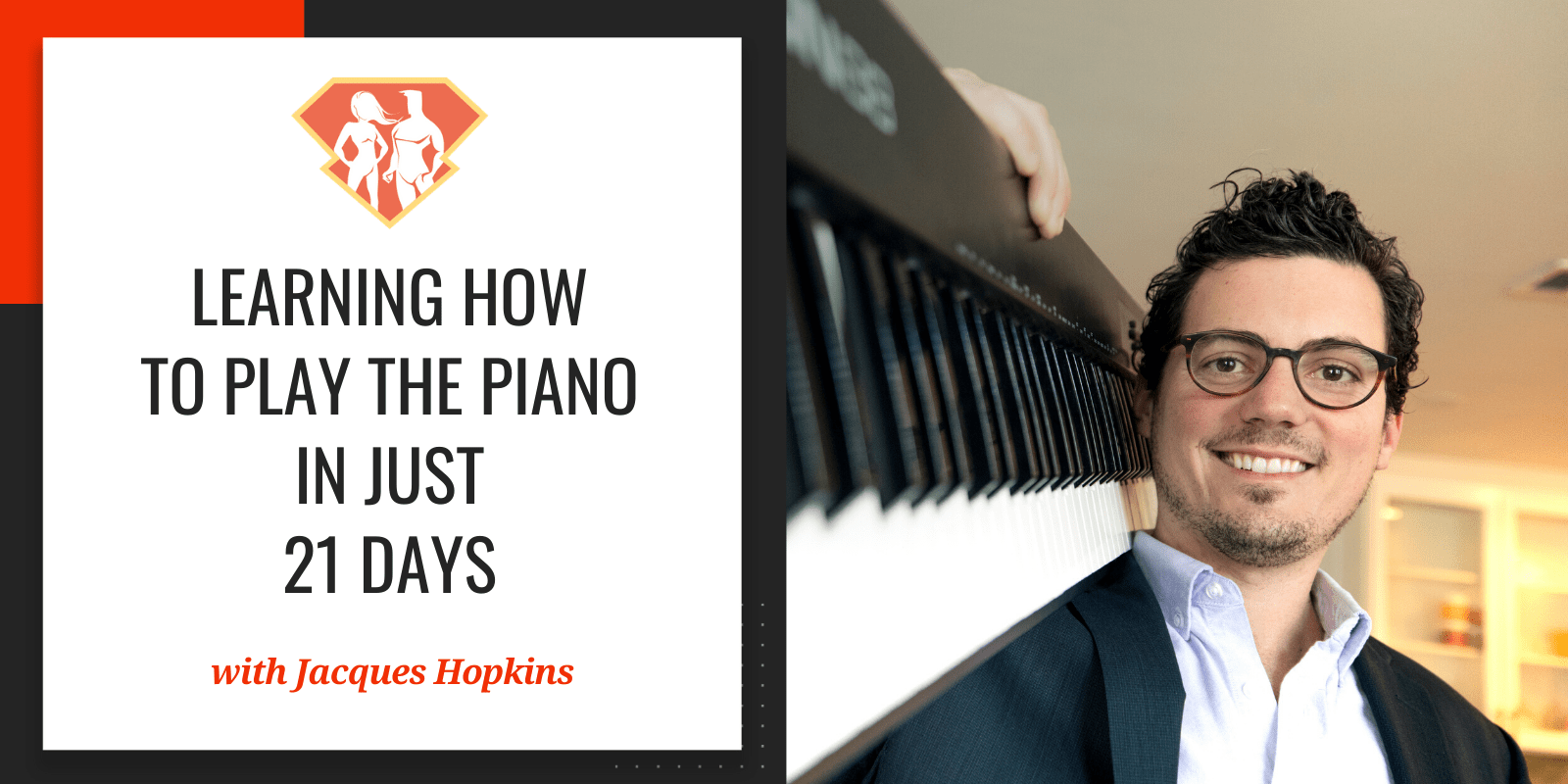 Tags:
Inspiration
,
Learning
,
Music
,
piano
,
Podcast
,
Superlearning
"You don't have to be an expert in something to be able to teach it to somebody else."
— Jacques Hopkins
Greetings, SuperFriends!
Today we are joined by Jacques Hopkins. Jacques worked as an engineer for eight years before quitting his job and turning his biggest hobby into a highly successful online piano course. Today, he supports his family with the passive income from his course, while teaching others to do the same.
I wanted to talk to Jacques because I also have a side-passion for learning an instrument, multiple instruments actually. Most recently, I have learned the piano, and thus I wanted to talk to Jacques about the importance of learning an instrument, but also from the perspective of someone who transitioned and brought music into his life.
I wanted him to share his insights with all of you as to why anyone and everyone can and should pick up a musical instrument. The conversation varied from how you can accelerate your learning of a specific instrument, the piano, to why music is important, why people should learn music, and how you don't have to be a musical person to learn an instrument.
In the episode, we also talk about the massive misconceptions and ways that most people go about learning music. I enjoyed the episode, it's a short and sweet one, and I'm sure you'll enjoy it as well!
-Jonathan Levi
In this episode, we discuss:
Who is Jacques Hopkins, what does he do, and how did he get here? [4:45]
How did Jacques go from an engineer to a piano online course instructor? [6:15]
Can we learn to play the piano in as little as 21 days? [8:10]
What happens if "you are not a musical person"? [9:10]
How have Jacques and his students' lives changed by learning music? [10:15]
How does learning to play the piano in 21 days look like? [14:20]
What are Jacques' next steps? [19:20]
What techniques does Jacques Hopkins utilize to learn in an accelerated manner? [21:30]
What are some other hacks and strategies that Jacques utilizes to perform at a high level? [22:10]
What are some products or services that Jacques can't live without? [23:20]
Some books that have impacted Jacques' life [26:45]
Some piece of homework you can do this week by Jacques Hopkins [28:35]
Where can you learn more about Jacques Hopkins? [31:40]
Jacques Hopkins' final takeaway message [32:05]
Resources Mentioned in This Episode:
Favorite Quotes from Jacques Hopkins:
"The 'why' we do something is very important for the learning process."