Meditation And Optimizing Your Brain W/ Ariel Garten, Founder Of Muse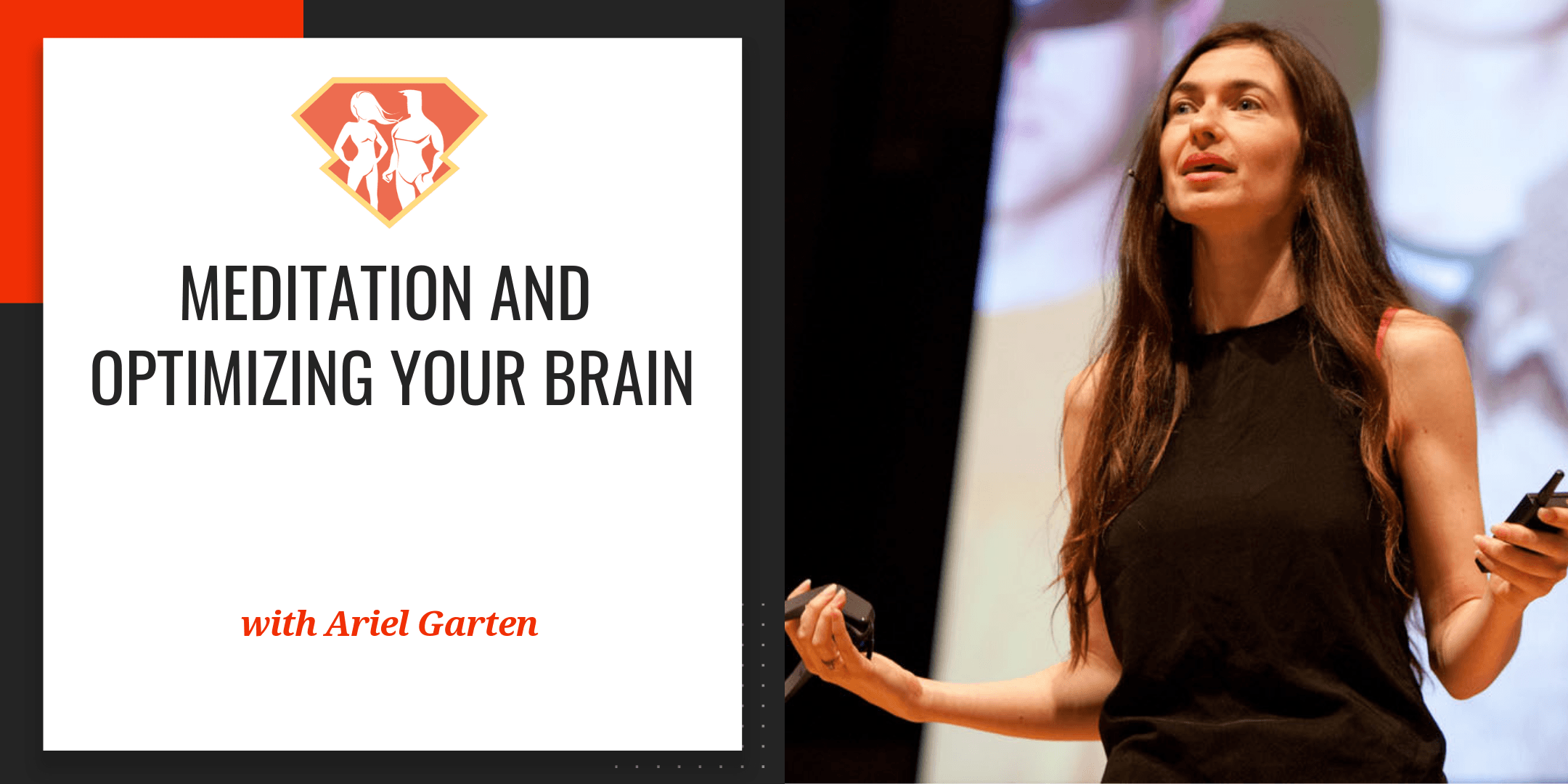 Tags:
Biohacking
,
Brain
,
Learning
,
Meditation
,
Memory
,
Podcast
"Enjoying life is far and away the most efficient, effective, and enjoyable technique for being healthy and living well."
— Ariel Garten
Greetings, SuperFriends!
This week's episode is a really interesting one, which I'm so happy we did! We are joined by Ariel Garten, a neuroscientist, an innovator, a mother, and an entrepreneur, whose driving purpose is to empower and help others overcome mental obstacles in order to live healthy, happy lives and reach their maximum potential.
What is probably most known about Ariel, is that she is the founder of InteraXon, the makers of the wildly popular device Muse, which is also known as the brain-sensing headband. But, what I didn't realize, is that behind Muse's award-winning wearable technology, there is a lot of neuroscience.
In fact, Ariel herself was a neuroscientific researcher. So, you can just imagine how much we geeked out about the brain, about learning, about health, and about optimizing our lives. You will immediately see why Ariel has been so successful, and you'll be fascinated to go into a side of meditation that we've not covered before, which is the science behind it. How does it actually work, what is going on in your brain and why should everybody, even those of you that think "well, I just can't meditate", be meditating.
It's a wonderful episode, which I know you folks are really going to enjoy!
-Jonathan Levi
In this episode, we discuss:
Episode start [3:53]
How did Ariel Garten get into neuroscience and creating Muse? [4:20]
When did meditation become important in Ariel's life? [5:10]
Some insights from the research backing meditation [6:00]
Meditation vs nootropics and brain-related drugs [8:40]
Why does meditation work? [9:30]
How does Ariel Garten view meditation? [10:55]
Meditation and productivity [13:40]
How can meditation help you with your procrastination? [14:15]
Meditation is not about removing every thought [15:20]
What's so special with focusing on your breath? [16:20]
What is Muse and what does it do? [17:25]
What is Muse really focusing on? [19:10]
Things you can do with Muse [21:20]
Muse helps you bring your attention back faster [22:25]
Research on meditation and Muse [25:50]
Using Muse & meditation improves your ability to make decisions with conflicting info [26:20]
Research on Muse vs regular meditation [28:10]
Why did Muse do better on the research? [31:00]
What are some things Ariel does to keep her brain at optimal performance? [32:00]
You have the option to be in control of your mood [35:35]
Controlling your mood by knowing how your body works [37:00]
Health-related products or services that Ariel Garten can't really live without [38:00]
A few words on Muse Direct [39:35]
The many factors that influence sleep [40:40]
Influencing education with research [42:10]
A piece of homework for you by Ariel [43:40]
A simple focused attention exercise, live on the episode [44:20]
What is the meditation dose Ariel recommends? [47:00]
Where can you find more about Ariel Garten? [48:00]
How to find time for meditation when you have kids [48:40]
Resources Mentioned in This Episode:
Favorite Quotes from Ariel Garten:
"Meditation really works!"
"Meditation is a practice or training that leads you to healthy and positive states of mind."
"Mindfulness is a way of being, where you are non-judgementally, moment-to-moment, aware of your thoughts, feelings, and experiences."
"You begin to recognize that you are not your thoughts."
"You don't have to be driven by your emotions, you can change your relationships to them."
"Meditation significantly increases the efficiency of the task at hand."