Tim Urban On Elon Musk, Learning, Procrastination, and Changing The Blogging Paradigm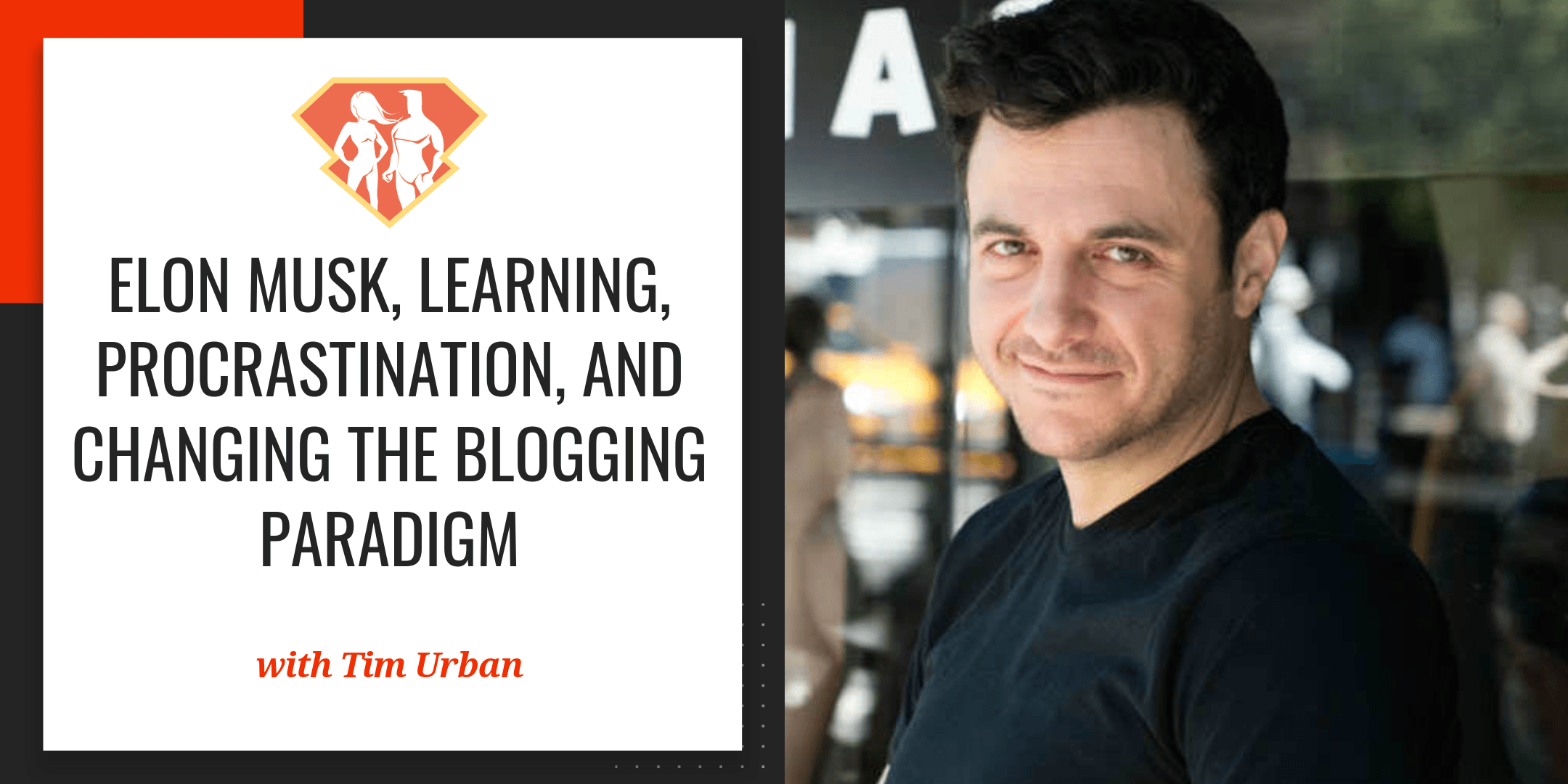 Tags:
Entrepreneurship
,
Inspiration
,
Learning
,
Podcast
,
Procrastination
,
Productivity
,
Success
"You have at least one big struggle going on, […] and you have to realize everyone has a few of those. Working on managing whichever ones you have is the core human struggle that every person is going through."
— Tim Urban
Greetings, SuperFriends!
Today we are joined by one of my personal heroes, someone whose work I've admired for years, and someone who has really shaped my thinking on a lot of different topics, ranging from A.I., Elon Musk, and electric cars, to the history of the universe and space travel.
You are probably wondering who that guy is, that writes about so many different things. Well, his name is Tim Urban, and he is the creator and writer/illustrator of Wait But Why, where he writes very in-depth posts on a wide range of topics from procrastination to A.I. It's really an incredible blog.
You probably know Tim because of some of his mega-viral posts, like his post on why Generation Y is unhappy, or his Ted Talk on procrastination. But, you might have recently learned about him because he actually got the opportunity to hang out with one of his most famous readers, Elon Musk.
Tim spent time following Elon around, just learning about everything that he could through him, and then creating posts out of it. So, he had more access to Elon Musk than most people. You'll see in the interview the amazing insights that he has about what makes Elon Musk successful, and, of course, how you can emulate that success.
By the way, his blog started in 2013, and now it has almost 600.000 email subscribers with over 1 million people visiting the site every single month. Incredible.
I was really excited to interview Tim, and an incredible episode came out of it. He has so many unique insights about writing, about procrastination, and, of course, about Elon Musk. I know you guys will enjoy this episode, and if you do, please make sure to share it.
-Jonathan Levi
In this episode, we discuss:
How did Tim Urban get to create Wait But Why? [5:30]
The beginning of Wait But Why, and an illustration of some early decisions and struggles [9:00]
Important things in setting up before publishing [11:25]
Why does Tim Urban try to talk to readers in a fun way, instead of trying to be a good writer? [12:10]
How (and why) writing is an exponential skill, along with all the process surrounding it [14:00]
How does Tim Urban tackle the enormous learning challenged he puts upon himself [15:45]
The secret to Tim Urban's writing: Transferring knowledge to readers the same way he would explain it to himself if he could turn back time [17:30]
How does Tim keep track of the immense amount of material he consumes [19:00]
Gathering all thoughts and insights together to form his understanding (and a blog post) [20:40]
How does having a simple process make Tim's work more efficient? [22:40]
Tim also uses simple processes in other parts of his life and structure [24:00]
How does Tim Urban experience procrastination in himself [25:40]
External pressure is what makes Tim (and most procrastinators) function [27:30]
A few ways in which procrastination can be a good trait to have [29:00]
You should identify your problem and then outsmart yourself [31:50]
Sometimes weaknesses can be your strengths [33:10]
How Tim Urban ended up following Elon Musk around [35:10]
What is it like having (amazing) conversations with Elon Musk? [36:00]
Starting working on a project with Elon Musk [37:10]
Tim's secret goal was to puzzle out what makes Elon Musk extraordinary [38:50]
What exactly makes Elon Musk who he is [39:45]
How Elon Musk stuck to what he knows and believes, and, despite conventional wisdom, started SpaceX [41:00]
How Elon Musk did the same with Tesla [45:20]
Elon Musk is so successful because he 'predicts' the future, and then builds it against conventional wisdom [46:00]
The skill Tim Urban is mostly working on improving [47:10]
Tools that Tim Urban uses in his daily life[48:30]
What are some of Tim's posts that he himself considers important? [49:50]
What is the takeaway message Tim wants to leave you with? [52:10]
Resources Mentioned in This Episode:
Favorite Quotes from Tim Urban:
"Being able to talk like a human as a writer, in a fun way, was a skill that people care about."
"The first step [in learning] is always 'I need to learn this thing'."
"I've tried using modern tools, and, to me, it is just noise."
"You just have to figure out how to outsmart your problem, how to get by it, and how to get better at tackling it a little every year."
"In what makes you addicted to the thing that's causing you a lot of problems, there also is a quality that is probably serving you in other ways."
"When smart people independently reason and then when, inevitably their conclusions conflict with what conventional wisdom says, they are able to have enough confidence in their reasoning process to actually act, then these people become tremendously successful and disruptive."
"We can work at our own psychology."