How to Care for Your Body's Largest Organ w/ Trina Felber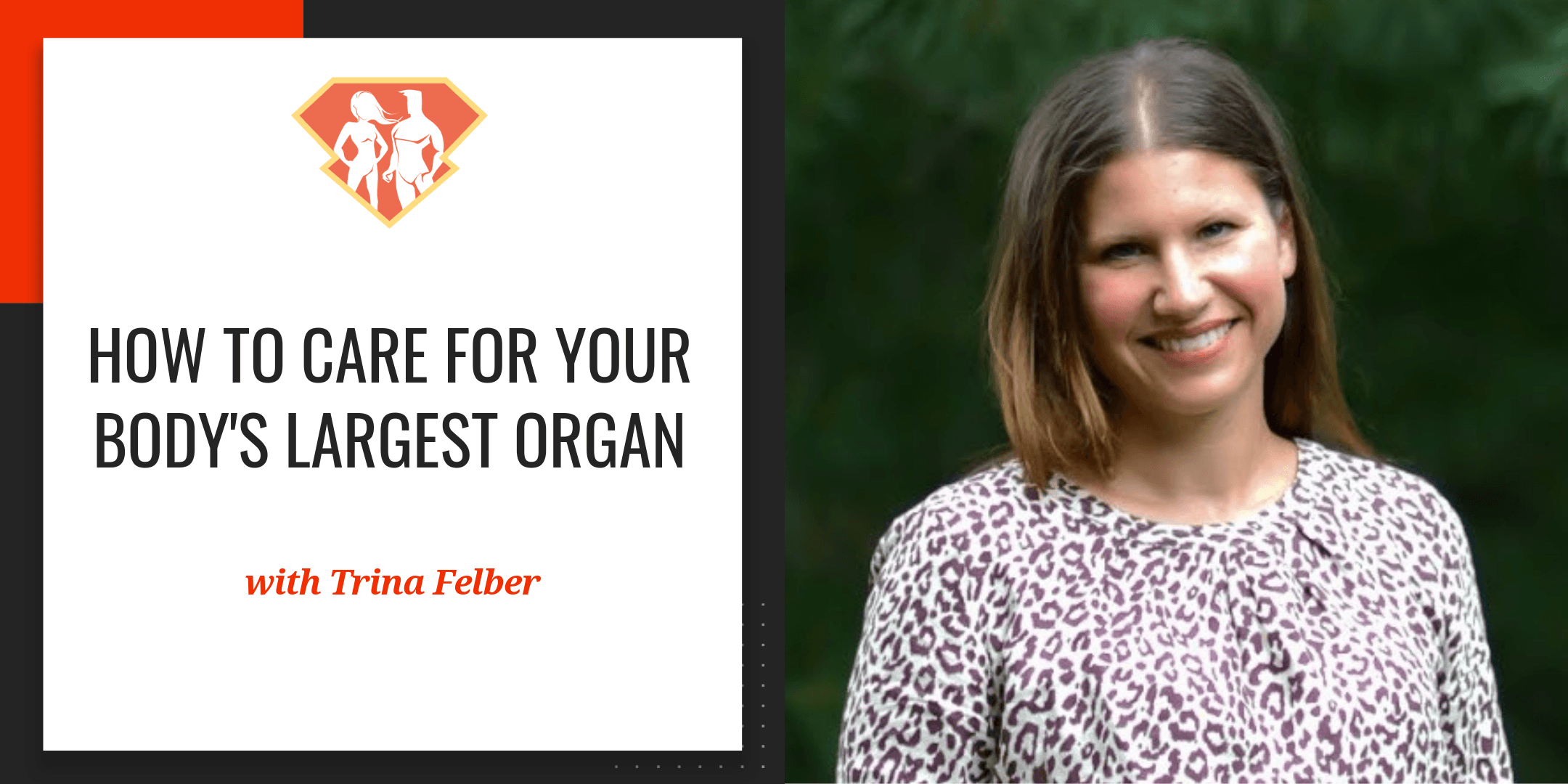 Tags:
Fitness
,
Health
,
Maker
,
Organic
,
Podcast
,
Skincare
"Your skin has a lot of functions that go way deeper than just what you see on the outside."
Greetings, SuperFriends!
Today's guest has, as many guests do, a pretty unusual story. Trina Felber started her career by spending 22 years as a nurse – starting out in a Burn Intensive Care Unit. Her experience in that world caused her to understand the vital role of our body's largest organ – our skin – in protecting us and promoting health.
Since then, she has gone on to found Primal Life Organics, a skincare company that produces and promotes natural and healing products for the skin.
At this point, especially if you're a guy, you might be thinking, "How's this superhuman? I guess I'll skip this one and tune in next week." But don't.
As Trina is going to explain to us, there are hundreds if not thousands of chemicals in your shower and in your medicine cabinet that are dramatically affecting your ability to thrive at peak health. In this episode, we're going to go into some of these chemicals, and begin understanding what they do in the body. We're going to talk about alternative ways to deal with hygiene and maintenance of your skin, and what roles the skin plays in your overall health. In fact, there are a ton of very surprising revelations in this episode that I think you guys will love.
Particularly if you share my interest and passion for testosterone and endocrine optimization, you're going to learn a lot in this episode. Plus, there's a 50% discount on Trina's products if you listen in!
Also, as a fun fact, my guest is actually married to a past guest of the show, Josh Felber, showing that superhuman couples do in fact exist!
As always, please share your thoughts with me on Twitter @gosuperhuman, and if you haven't already, please remember to leave us a review on iTunes or Stitcher.
In this episode, we discuss:
What is the big deal with skin, and why is it an important part of being superhuman?
What are the important functions of the skin for internal health?
How is your skin a good indicator for your internal health?
How can we ensure that our skin is functioning optimally?
What diet is most optimal for your skin?
How our paleolithic ancestors might have dealt with skincare
What's the deal with dirt, and how can it be great for your skin and hair?
What about sun protection?
How can water be harmful to your skin?
What are parabens, and why are they so incredibly detrimental to our health?
What other ingredients in our household products do we need to watch out for?
Natural oils, and how they've gotten a bad rap when it comes to skincare
What skincare products does Trina Felber recommend starting with?
What's the danger with antiperspirant?
What is "remineralization" and why is it important?
What books has Trina recommended the most?
Trina's company, and how she became an entrepreneur
The ideal of a "power" couple like Trina and Josh Felber
What one lesson would Trina Felber like you to take away
Resources Mentioned in This Episode:
Favorite Quotes from Trina Felber:
"I mean, when you think about the human being, or the superhuman being, your identity really wraps around your skin."
"You really need to feed your skin a diet that you would eat as well."
"The problem with most commercial skincare products is that water is the #1 ingredient on the list."
"There's no regulation by the FDA for skincare."
"When I look at it, I say 'yeah, but there's a minute amount in almost every product that I use.'"
"I don't think that you can talk about skincare without talking about diet."
"You can actually wash your face with oil."