Thoughts On The Coronavirus / COVID-19 & How We Plan To Support You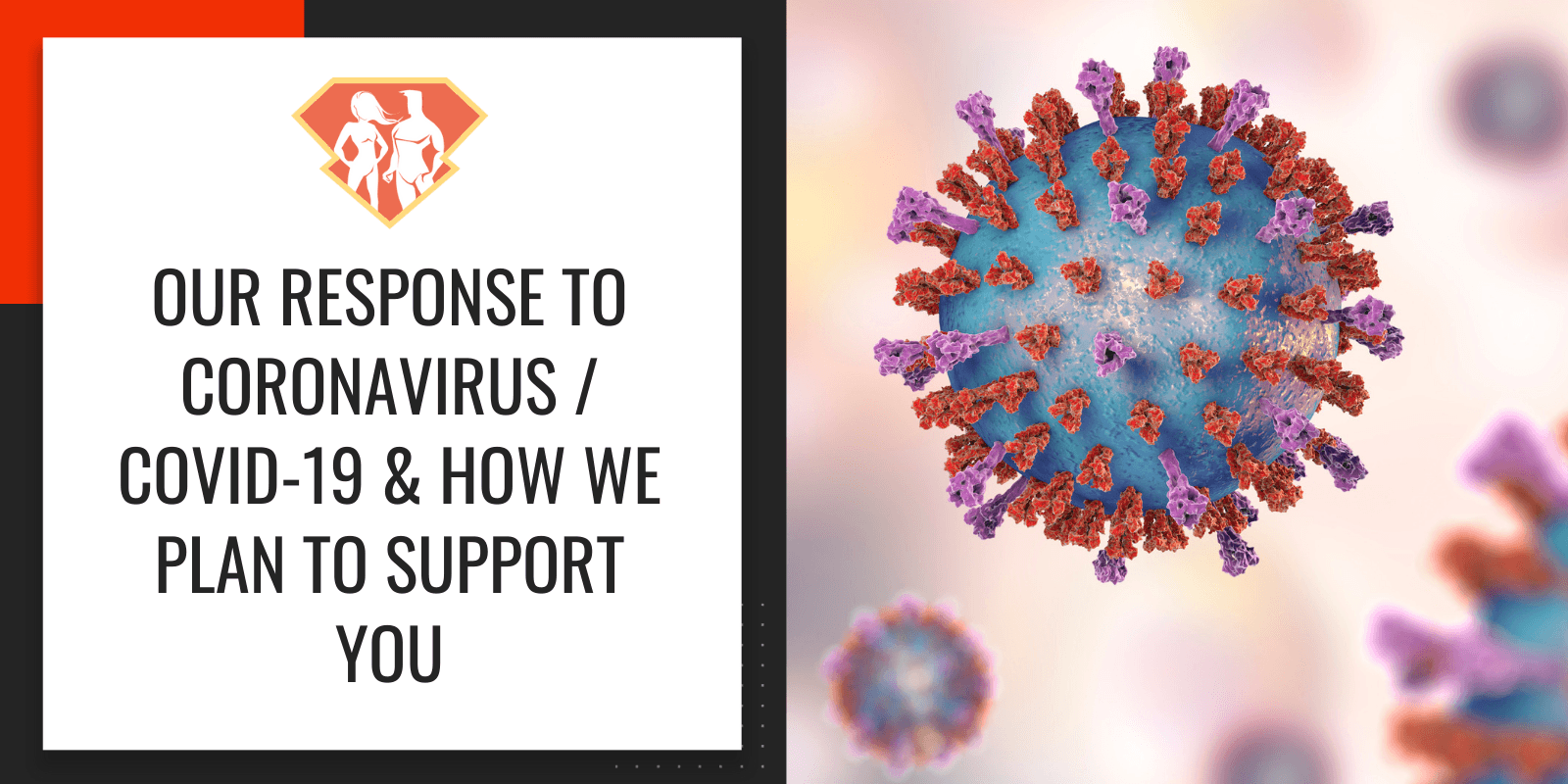 Tags:
coronavirus
,
Health
,
Life
,
Podcast
"There's a very clear line between staying informed and losing control!"
Greetings, SuperFriends.
Today, I want to take some time to record a special episode about the topic on everyone's mind: the coronavirus pandemic, COV-19, and how we as a business are responding to it to ensure that we best serve you and our community during this very scary time.
First, the important stuff: 
We are here for you. We understand that with more and more people being forced to stay home, it is likely that we are going to see increased demand on our servers for podcasts, online courses, blog content, and more. Not to worry. As of right now, our entire team is operating from home at 100%, our servers and websites are set up and ready to handle the additional load, and you should not experience any disruption in service. What's more, I want you to know that I'm personally committing to forgo my own salary and compensation if necessary, to ensure that my entire team is able to continue serving our valued customers.
Now, with that out of the way, because I'm privileged to have this platform, I want to immediately transition into some things that I think it's important to say. 
From the very beginning, our entire brand ethos has been all about "superhuman," "superheroes," and the like. We're all about empowering you to do more, be more, and achieve more. So, as such, I want to take a minute and talk about what YOU can do during this scary time to be a real-life hero to your own community and to society as a whole.
The first thing is to help spread the truth – not lies. Already, in this pandemic, there is SO much misinformation going around. People who have NO business sharing their opinions talking about what the virus does or doesn't do, how it does or doesn't spread, who's at fault, and more. NONE of this is productive. In fact, in many cases, it's downright DANGEROUS.
A great many of you are SuperLearners, and all of you are passionate about health, passionate about finding the truth, and passionate about the cause of making humanity better. As such, I expect none of you to fall for any of this hysteria or misinformation. Instead, I know that you will seek out the full truth from the proper, trustworthy sources – sources like the CDC, the World Health Organization, and respected, time-tested media outlets like the BBC, The New York Times, and more.
And once you're there, I know you will take the extra effort to actually inform and educate yourselves. Do NOT read headlines and come to conclusions. This pandemic is a war, and the primary weapon against it is information and education. This virus depends on the fact that people will not be properly educated or informed on how it spreads and how to fight it. If you are spreading or succumbing to misinformation, rumors, or half-truths – like, for example, that it's all a hoax, or that only people with symptoms can spread it, you are fighting for the other side. 
All this is to say, I implore you to follow the advice of the leading experts – people like epidemiologists and infectious disease experts. Not Steve on Facebook. Not the local conspiracy theory blog. Not a "Ph.D." in a completely unrelated field like bioengineering. Not some family doctor who has 0 experience dealing with infectious diseases. And, in some extreme cases, not even what your government may be telling you.
Though more and more of these people are finally waking up to the reality of what we're dealing with, the most RELIABLE and credible experts have been saying the same thing all along. Those experts are NOT telling you to hoard toilet paper, they're NOT telling you to avoid people of certain ethnicities, they're NOT telling you this will all blow over in the summer, and they're NOT telling you to panic. What they ARE telling you is:
Wash your hands – a LOT
Avoid touching your face
Practice social distancing – keep 2 meters or 6 feet between you and others, and
Wherever possible, STAY HOME!
I cannot stress that last one enough. Because of the way this virus spreads, each one of us has an obligation to do our part and stop the spread. THAT – not spreading conspiracy theories, not hoarding hand sanitizer… THAT is how you can be a hero in this time of uncertainty. You may not feel that this is a "big deal." You may think the hysteria is overblown. You may have seen some people posting online that this is just some "glorified flu," or that the symptoms aren't that bad.
But, remember what we said in rule #1: listen to and follow the opinions of experts. What do the experts say? They say that the actual mortality rate is much higher than the flu, and that none of that will matter if hospitals and healthcare systems are overwhelmed. They say that "flattening the curve," or spreading out the infections over a longer time period, is the most time-tested and important advice in dealing with pandemics. And beyond all that, keep in mind this simple fact: we all have immunocompromised people in our lives: pregnant women, the elderly, diabetics, asthmatics, the obese, people with pre-existing health conditions… if we don't slow the infection rate down to a rate that healthcare systems can keep up with, those people are all going to be in danger.
If hospitals are overwhelmed, then everyday things like infections and appendix ruptures suddenly become deadly. We, as a society, all have to do our part and flatten the curve. Keep in mind: your grandparents were called to war. You're being called to stay on the couch. I think you can handle this – and I know you'll do the right thing. Not out of fear, but out of responsibility. It's such a simple, small thing – and yet, it's going to make a massive difference. 
Which leads me to my next point. Over the next few weeks or months, we are all going to be spending a lot more time alone, indoors. This, as more and more governments enact harsher and harsher restrictions, is becoming a reality that we cannot control. What we CAN, however, control, is how we view this situation, and what we make of it. 
As I see it, you have two choices as to how you choose to spend this time.
In option #1, you can spend your days obsessively checking the news, reading responses on social media, stressing out, and then self-pacifying using things like Netflix and videogames. Look, I get it: what's happening is scary, and it's very easy to get "sucked in" to the hype. Plus, of course, you want to know what the heck is going on, so you can stay educated and do your part. But there's a very clear line between staying informed and losing control – and I'll admit, over the last few days, I've been on the far side of the latter.
But here's the thing: once you've crossed a certain, minimum threshold of knowledge and information – the marginal return of more information isn't just 0 – it's actually negative. While it's important to keep in-the-know of what's happening in the world and in your country, and what you need to be doing to protect yourselves and others… obsessively reading every article and refreshing stats constantly is not going to make things better. In fact, it's going to make things worse. Because every minute you spend in this stress spiral is a minute you don't spend doing something more productive.
And that leads me to option number 2. Option #2 is to choose to view this time as an opportunity – in every sense of the word. An opportunity to slow down. An opportunity to spend time with family. And an opportunity to plant seeds that will grow into orchards later on. In your professional life, you can choose to view this time as an opportunity to focus on new products, projects, investments, and ideas to keep commerce happening, to keep helping people, and to keep the economy from suffering any more shocks. On a personal level, option #2 means taking this time as an opportunity to "sharpen the axe."
So many of us walk through life saying "if only I had the time." "If only I had the time to learn a new language." "If only I had the time to read all those books on the shelf." "If only I had the time to learn a new instrument." 
Well, guess what… you just found the time.
So instead of squandering that time on Facebook, CNN, Instagram, and Netflix, ask yourself:
What are the things YOU could be doing with this solitary time to invest in yourself and be prepared for what's coming?
Whether this crisis takes a month or a decade to pass, it WILL pass. When it does, what do you want to have to show for it? Do you want to come out of this crisis better and more prepared to conquer your dreams, or do you want to look back and realize you've wasted a significant chunk of your life? Remember: Most of the world's greatest companies and billionaires established their dominance during times of tremendous turmoil, simply because these are the times of the greatest opportunities. On so many different levels, the same is very true for you and I, right now. We have a tremendous opportunity – if we can stay level-headed enough to recognize it. 
Which leads me to my closing point: what my company and I are doing to support you and your growth during this time. Naturally, given that we specialize in producing digital personal development content, we realize that we are in a unique position to help people grow during this time period. Already, in the last few days, I've been flooded with calls and invitations to speak on how others can take advantage of this new opportunity using digital content. With that said, we have no intention of abandoning our customers to chase new opportunities, or of profiteering from people's fear. Because of this, we've decided to re-open our SuperHuman Squad "All Access Pass", so that more people have access to our entire library of educational content, at a price that ANYONE can afford, regardless of what happens with the economy over the coming months. 
Prior to this crisis, we did not plan to re-open this program until the end of 2020, if at all. We also had planned to double the price, should we ever launch it again. But, today, I met with my entire team all over the world, and we all feel compelled and obligated to help you make the most of this time by providing you with as much of our premium educational content as possible – even if we have to offer it at a loss.
That's why, if you visit SuperHumanAcademy.com/Squad, you'll be able to unlock our ENTIRE course library for just $49 – and we are committing to keeping this offer up until we see the light at the end of the tunnel. Additionally, if you prefer to purchase "lifetime access" to one of our educational programs, we've decided to slash our prices by 50% – effectively covering only our costs – so that you can do so. Finally, for those of you who prefer to read, instead, we are proudly offering my book, The Only Skill That Matters, for FREE at superhumanacademy.com/freebook. Just pay shipping. We hope that these efforts will help you do your part in stopping this pandemic, and will help you make the most of these scary times – and, we'll be keeping our finger on the pulse and strategizing additional ways that we can help our customer base during this crisis. 
So, that's all for now. I hope you'll consider what I've had to say, and even share this with your friends and family. Above all, I hope you'll be smart, be safe, and be strong. This is a scary time for all of us, but if we band together as a community and as a species, we will get through it – and come out stronger than ever before. 
Special Offers Mentioned In This Episode: