Creating a Meaningful Life & Excelling in Multiple Industries w/ My Mentor, Linda Levine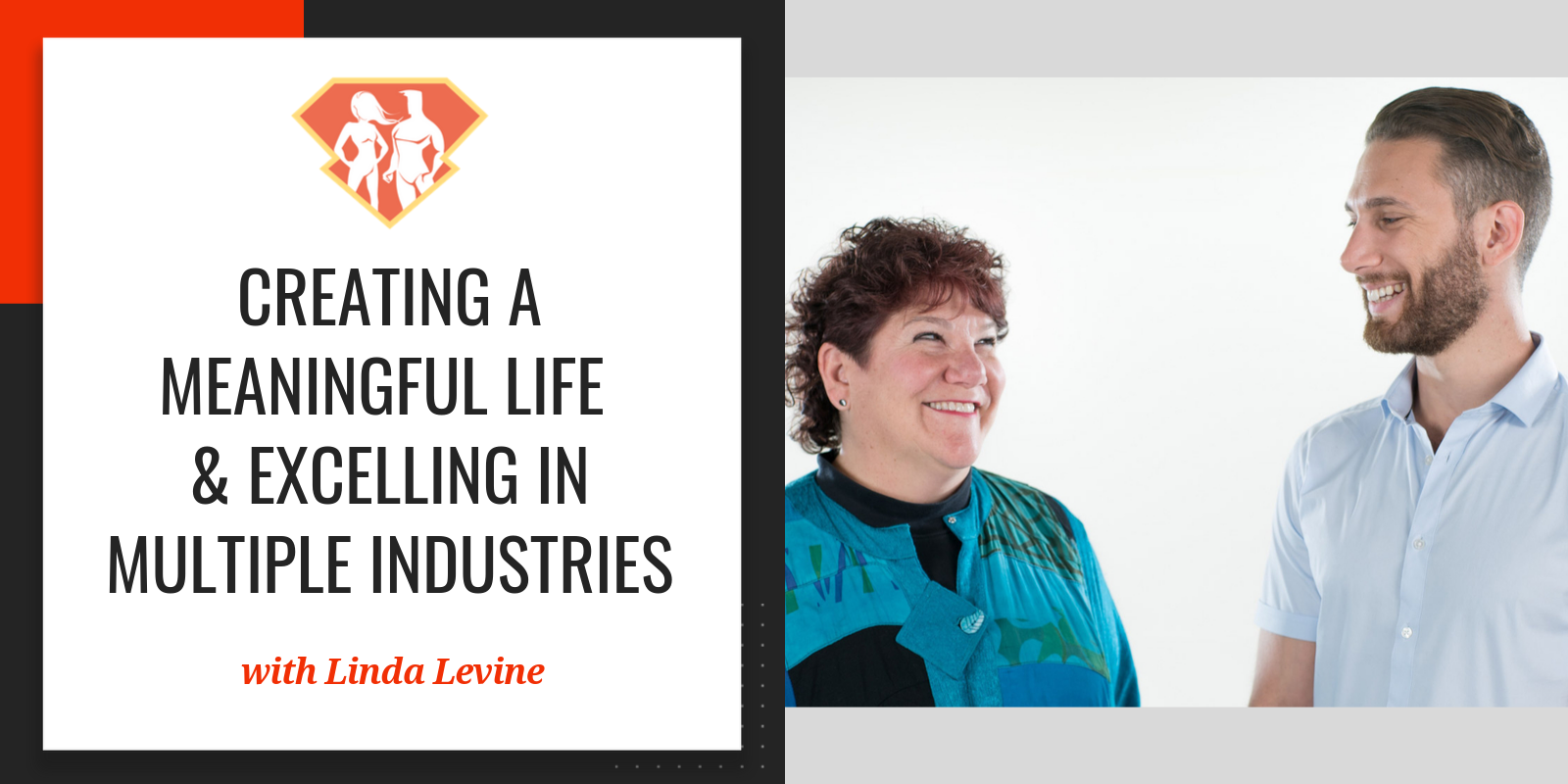 Tags:
Habits
,
Happiness
,
Inspiration
,
Learning
,
Life
,
Lifestyle Design
,
Meaning
,
Mentorship
,
Motivation
,
Podcast
,
Productivity
,
Purpose
,
Success
"I was born in that moment to live every day with passion; to remember that it's a gift."
— Linda Levine
Greetings, SuperFriends!
Today, I have an especially exciting treat for you guys. That's because today's guest is a motivational speaker, university professor, life coach, and clown, who, believe it or not, has been my personal mentor and role model since I was just 4 years old.
Through her work at San Jose State University, she has been instrumental in creating the university's top rated course, Creating a Meaningful Life. She has lectured at Fortune 500 companies, municipal governments, and audiences worldwide.
Above all of this, she's an incredible source of wisdom, joy, and inspiration, and I just can't wait to share it all with the world for the very first time.
By the way, if you enjoy this discussion, I want to let you know that my guest and I have recently launched a groundbreaking online course together, titled
Creating a Meaningful Life
. But don't worry – it's not some "fluffy" motivational course. It's actually a very hands-on, step-by-step action plan for designing the life of your dreams, using the proven strategies of the world's best life coaches. If you've ever listened to an episode of this show and thought "gee, that guy has a pretty awesome life," then this is your opportunity to learn exactly where I got it from, and build a pretty awesome life for yourself. Whether you're in a pretty good place or deeply in need of a change, the course is guaranteed to make a measurable and remarkable impact in your life, or your money back… so, to check it out and to take advantage of a special discount for listeners of this show, visit
https://jle.vi/meaning
And now, without any further adieu, allow me to introduce, my mentor… Linda Levine!
(As always, please share your thoughts with me on Twitter @gosuperhuman, and if you haven't already, please remember to leave us a review on iTunes or Stitcher).
In this episode, we discuss:
Linda Levine's background and biography, and how she came to become an expert on meaning-making
The many things that Linda incorporates into her own meaningful life
What made Linda Levine choose to live an alternative type of lifestyle?
Thoughts on "Lifestyle Design" and how it can influence is
What is Linda Levine's advice for someone who wants to have multiple careers at once?
A discussion of self-knowledge, and using it to drive yourself forward in life
How has Linda stayed so positive through life's challenges?
The near-death experience that shaped the trajectory of Linda Levine's life
How does Linda learn new things, and how has she learned about so many different careers?
How Linda has turned her learning disability into a superpower
How does Linda Levine balance so much in her life? How is she so productive?
What does mentorship mean to Linda, and why is it so important?
What are the most important habits behind Linda's happiness and success?
How can you find your direction if you don't know what yours is?
Some brilliant parenting advice from someone who's worked with thousands of children
An important homework assignment while you wait for next week's episode
What one lesson would Linda hope that you take away from this episode?
Resources Mentioned in This Episode:
Favorite Quotes from Linda Levine:
"I'm a person who has a large appetite for experiences."
"It was so clear to me that there was no one profession or no one lifestyle that would encompass all of my passions."
"Know who you are and what you can live with in terms of risk – and then, go for it!"
"How lucky am I?! I love it all!"
"I have some back discomfort every day. Well… who cares?! I'm alive!"
"I just don't have time to be bummed out. It's a waste of time."
"I would encourage anybody, with ANY learning challenges… for me, it's become my superpower."
"I can run pretty hard for pretty long. But as long as I know when that will end, that's reasonable to me. Running at full-throttle, full-time, is unacceptable to me."
"You reap so much more than you sew… I think it's the calling of everyone to reach back and to give a hand up to the person behind them."
"Most of the negativity that I experience in the world is really shining a light on myself."
"Ask the questions, because everybody has been on the journey to get there."
"Commit to one unusual (for you) activity this week… Don't just think it, ink it."