Hal Elrod on Motivation, Morning Routines, & Going From Legally Dead to Ultra-Marathons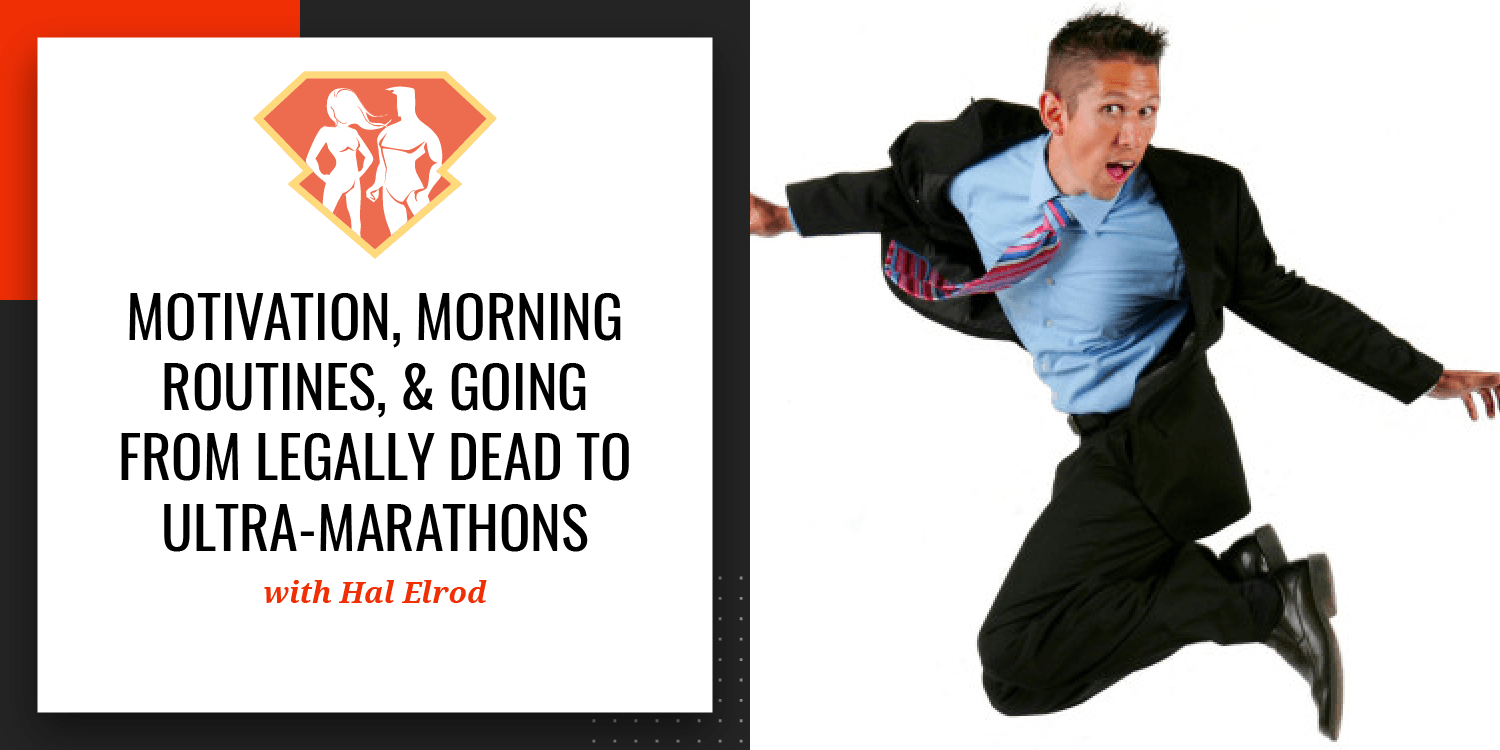 Tags:
Happiness
,
Health
,
Lifestyle
,
Meditation
,
Morning Routines
,
Motivation
,
Success
,
Survival
"It doesn't matter where you are now; anything is possible."
— Hal Elrod
Greetings, Superfriends! Welcome to this week's episode! This week's guest is Hal Elrod, someone a lot of you have requested via email and in the comments section of the blog, so thanks for reaching out and sharing his name with us. He's one of the highest rated keynote speakers in America, author of the #1 bestselling book "The Miracle Morning: The not-so-obvious secret guaranteed to transform your life before 8AM," an ultra-marathoner… and much much more.
Beyond all these impressive credentials, he's the only person I've ever met who has been dead. That's right. Hal's career and greatest triumph came about when he was hit (and killed) by a drunk driver. Miraculously, he was brought back to life, survived a coma, and defied the logic of doctors by re-learning how to walk. For the last decade, he has shared his incredible wisdom on overcoming adversity and creating extraordinary results in one's personal and professional life.
In this episode, we get an in-depth look into the heart and mind of someone with a seemingly endless supply of tenacity, willpower, inspiration, and joy. My guests story is really the story of turning unimaginably dark times into silver-lined clouds, coming back time and time again from impossibly circumstances to make the best of it and achieve tremendous happiness and success. I feel truly fortunate that he opened up and didn't hold anything back from us, sharing now only the darkest of the dark, but also his own strategies for overcoming them. I, for one, am going to be reading his most recent book very soon.
In this episode, we discuss:
How Hal Elrod went from being a self-described "mediocre" kid to local radio personality "Yo' Pal Hal"
Hal's incredible success as a Cutco salesman, and more importantly, the valuable lessons it taught him
The deeply moving story of the night Hal was literally killed by a drunk driver
The even more incredible story of how he went from "you'll never walk again" to running ultra-marathons
How could a 20 year old kid have so much wisdom and tenacity to beat the odds with a smile?
The "5 Minute Rule" that Hal learned in Cutco sales training, and how it changed his life
How can you create miracles in your life?
The story behind both of Hal's books
The idea of being able to truly love your life no matter what
How Hal Elrod went from a massive success to losing everything, and suffering with suicidal depression
The method's he used to build himself and his life back up from there (and how it became his second book)
What was the one quote that completely turned Hal's life around again?
How did Hal create the formula for his miracle morning, when there's so much advice out there?
The story of a major celebrity who's life was changed by The Miracle Morning
The 3 pieces of homework that Hal Elrod would like to assign to everyone in the audience
What are Hal's top recommended books?
The 17 projects that Hal Elrod is working on
Resources Mentioned in This Episode:
Favorite Quotes from Hal Elrod:
"If I'm stuck in a wheelchair for the rest of my life, I will be the happiest person you've ever seen in a wheelchair for the rest of my life. Because, either way, I'm in a wheelchair."
"Every negative emotion that we've ever experienced in our life was self created. It was self-created by our level of resistance to our reality."
"If I want level 10 success, I've got to become a level 10 person through daily personal development."