Hollywood's Body Transformation Secrets Exposed w/ Eric the Trainer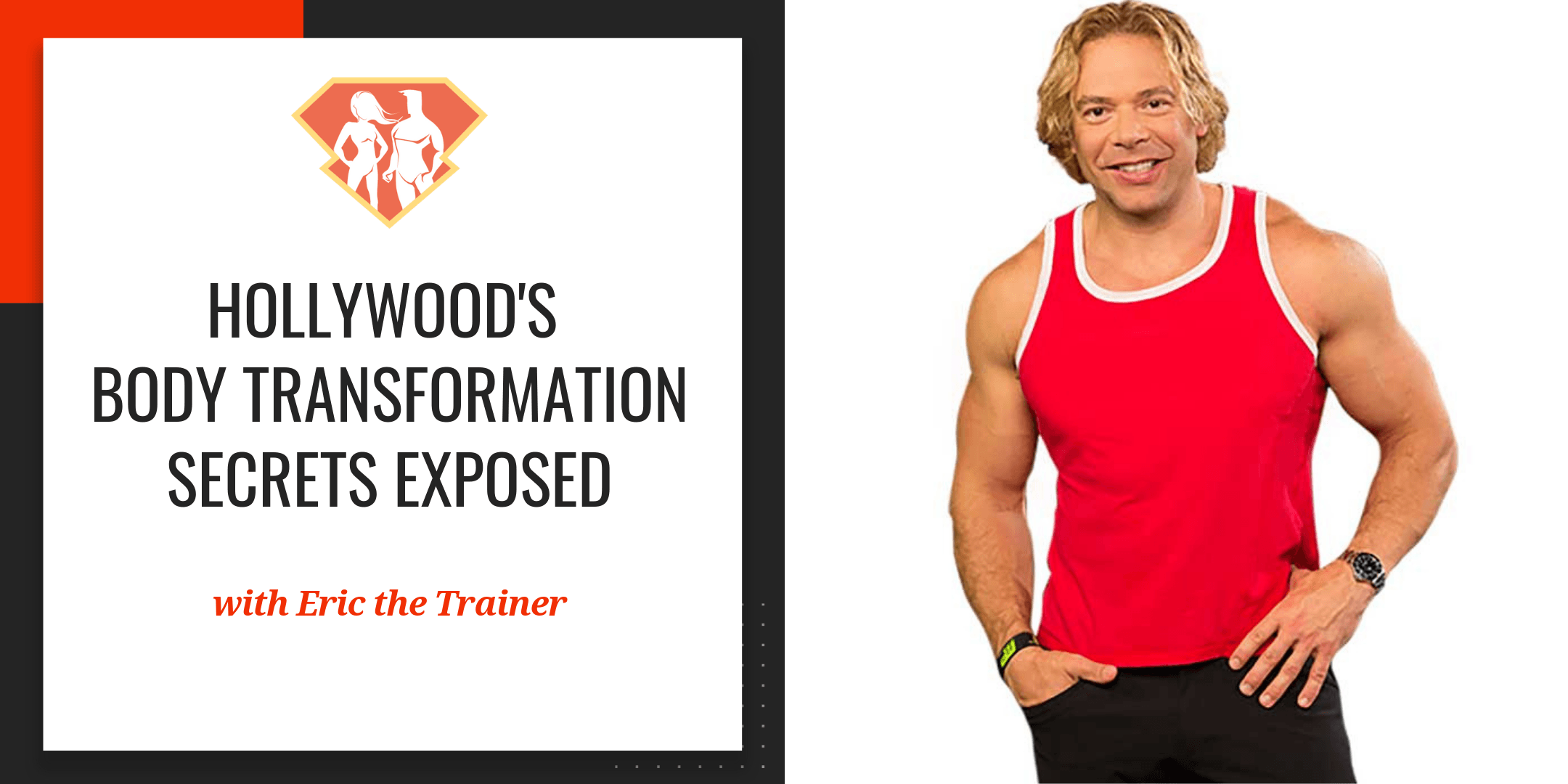 Tags:
Bodybuilding
,
Learning
,
Nutrition
,
Personal Training
,
Sleep
,
Weightlifting
"We get
days –
not weeks or months – to change these people… I have no learning curve."
— Eric the Trainer
Greetings, SuperFriends!
Today, we are joined by Eric the Trainer, a renowned fitness trainer who has worked with some of the greatest names in Hollywood. He's trained UFC fighters, celebrities, and police academies alike, and he's a spokesperson for Gold's Gym, a writer for Muscle and Fitness and TRAIN magazine, and the Host of "Celebrity Sweat" on Spike TV.
In this episode, I wanted to gain some clearer understanding on the world of fitness training and muscle development, from someone who knows so much about it. But, in reality, I got much, much more than I was bargaining for. You see, because my guest today is literally THE force behind some of the most incredible physical transformations in Hollywood – the ones that make your jaw drop when you see them – my mind was opened up to a whole new realm of possibility.
We talk about diet, nutrition, and exercise – as we do in many episodes – but with the distinct difference that in this episode, we talk about the extreme end of the spectrum. The end where people's bodies can be radically transformed in a matter of weeks or even days. And then, we tie it back to practical tips that you can use to do the same to create the body of your dreams – whatever that is. I just know you're going to LOVE it.
In this episode, we discuss:
How did Eric the Trainer get his nickname, and what is his background story?
How Eric the Trainer went from a scrawny weakling to where he is today
The process that Eric went through to learn everything he knows about training
What is one of the biggest missing things in the world of fitness & training?
What are your 3 distinct options in transforming your body?
Which 3 elements are used to enact dramatic physical change?
How do the most radical "bulk up" transformations actually work?
What are the 3 cutting-edge techniques in the weight gain and bodybuilding industry today?
What are "jet reps" and why are they beneficial?
What are the most impressive celebrity transformations that Eric the Trainer has been involved with?
A chat about Eric's book and what it can teach you
Eric the Trainer's opinions on CrossFit
Thoughts on carbohydrates and where you should get them from if you want to be attractive
Where does Eric stand on dietary fats?
A few extra really cool tips that Eric the Trainer offers on how to accelerate your transformation
A very important on sleep and why it's so important
What are Eric the Trainer's thoughts on supplements and supplementation and why?
Thoughts on motivation and how you can push through when it gets tough
What 1 lesson would Eric like you to take away?
Resources Mentioned in This Episode:
Favorite Quotes from Eric the Trainer:
"I remember what it was like to be that small – and it's a drag."
"To take someone from normal to extraordinary is something I really take a lot of pleasure in."
"Most people get together with a trainer… jump into the workout, and whatever happens, they think that's their destiny. But actually, that's absurd."
"Sleep is the only time the body can transform."
"Bodybuilding is the art of illusion."
"I consider myself much  more of an artist than I do a physical fitness practitioner."
"The hours before midnight are worth nearly twice as much as the hours after midnight from a transformation standpoint."
"We are much more focused on the end results… We don't obsess about the journey."
"A lot of people have never seen themselves in the best possible version."
"It's not about making you look like somebody else. It's about taking the person that you are, and making it fully realized."