How to Reach Your Peak Potential & Be an Ultra High Performer w/ Coach Josh Felber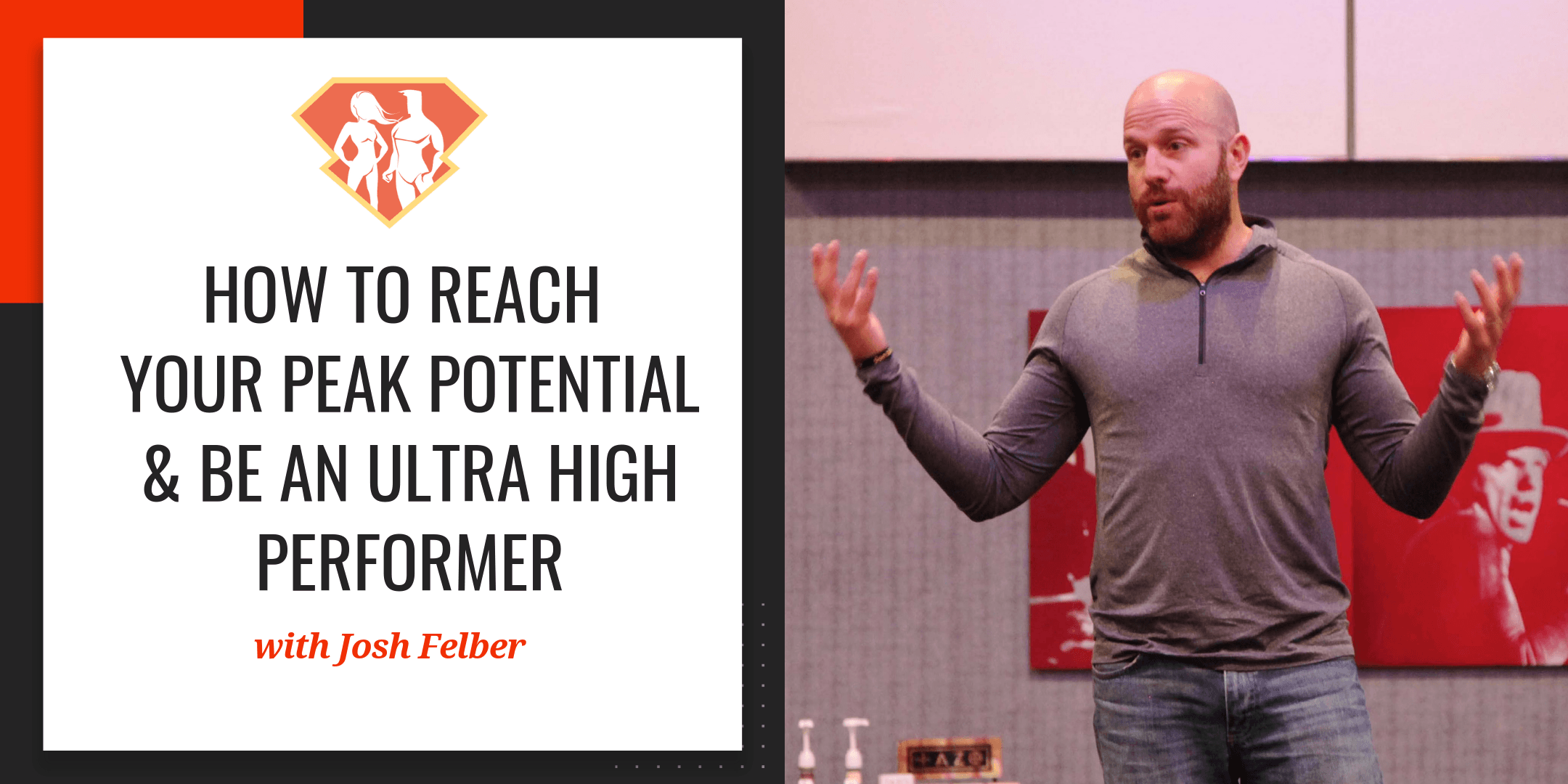 Tags:
Achievement
,
Entrepreneurship
,
Excellence
,
Meditation
,
Motivation
,
Podcast
,
Productivity
"When it comes to your own personal achievement and your own growth, the majority of the limiting factors are what we put on ourselves."
— Josh Felber
Greetings, Superfriends, and welcome to this week's show!
This week, we welcome a serial entrepreneur and high performance coach Josh Felber to help us deconstruct the science of excellent. My guest's vision is to transform the lives of 100 million people, helping them have more time, freedom, and passion… sounds amazing to me!
He's co-authored two books on Amazon's bestseller's list, one of them with Steve Forbes, and was the executive producer of an award-winning documentary about Singularity University co-founder Peter Diamandis. He's also an active contributor to Entrepreneur.com, BusinessInsider.com, and Forbes.com.
Given how much time he spends working with and creating high performing individuals, I was excited to sit down and see what makes these folks tick.
In the episode, we're going to talk about what differentiates the world's top performers from everyone else. We go into habits, behaviors, mindset shifts, dietary choices, routines, and even get some concrete tips and hacks for productivity and motivation. We also explore the idea of coaching as a method of reaching your best performance.
You're going to love it!
In this episode with Josh Felber, we discuss:
Who is Josh, what does he do, and how does he describe it to people?
What were Josh's 15 companies, and how many succeeded?
What productivity strategies does Josh Felber swear by?
What is a "high performance coach" and what value do they provide in your life?
What does it mean to be a high performance individual? What is it like? 
What lessons can we learn from famed footballer Jerry Rice?
What are the low-hanging fruits and most impactful steps you can take to become a high performer?
What 2 small adjustments will make you achieve your goals 3X more effectively?
What are the "quick win" productivity hacks that Josh gives to all of his clients
The ONE bad habit that we ALL do that kills our productivity by 30% (!!)
What is Josh Felber's morning routine?
Meditation and how much you need to do to reap the benefits
How do you break through your limiting beliefs to achieve excellence?
How do you know when you need a coach, and why might that be a good idea?
The roles of nature vs. nurture in an individual's performance
1 practical, hands-on homework assignment for you from Josh Felber
What's the most impactful $500 Josh Felber has spent recently?
The importance of reading
Resources Mentioned in This Episode:
Favorite Quotes from Josh Felber:
"I'm a serial entrepreneur. I've owned 15 different companies since I was 14 years old. I love helping people push to new levels of higher achievement!"
"When we try to be perfect… No one's ever going to be perfect!"
"That's the difference between higher achievers and non-higher achievers… every time that their hand touches the ball, they score a touchdown."
"All the top people in the world have some kind of high performance coach to help them push through… to help them reset those barriers."
"When it comes to your own personal achievement and your own growth, the majority of the limiting factors are what we put on ourselves."
"You can either take your $100 and go out and meet your friends at the bar and spend it there, or you can take it and acquire something that is going to help you acquire more knowledge… BOOKS!"