How Scientific Research (& Supplement Companies) Mislead You with Kamal Patel, Examine.com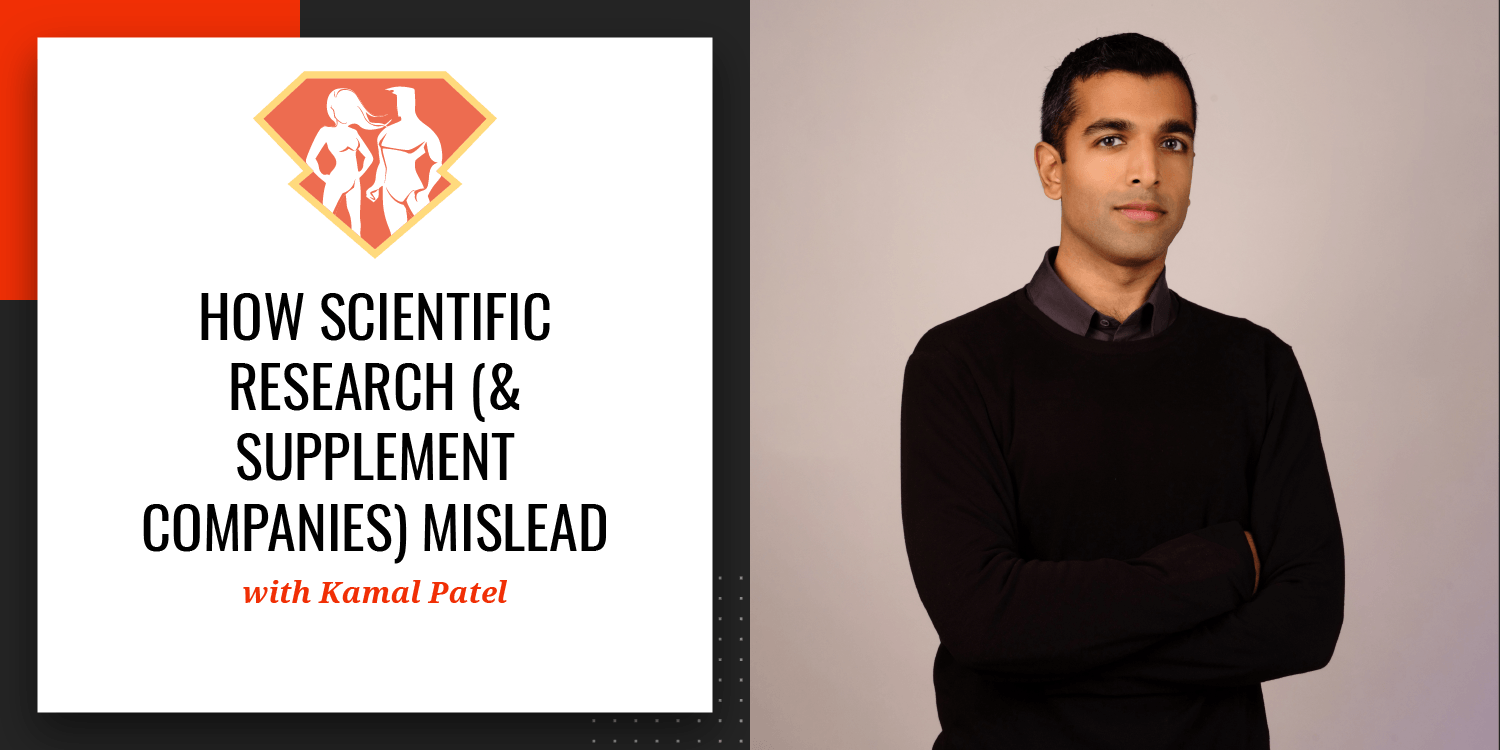 Tags:
Nootropics
,
Nutrition
,
Supplements
,
Testosterone
,
Weightlifting
Greetings, superfriends!
In this week's episode, we have a really exciting guest. In a lot of previous episodes, we've talked about the idea that research can be manipulated to deliver the results that the researchers often want to generate… So time and time again, the question has come up… who can we trust?
Well, my guest today is Kamal Patel, a man who definitely has some suggestions on just that. He's the director of an organization called Examine.com, which provides does unbiased evaluation of supplements and nutrition. He has a master's in public health and an MBA, and actually put a PHD in nutrition on hold to start his organization.
In this episode, we cover the difficulties with trusting and interpreting research, supplementation, overtraining, and much more. It's a bit more of a laid back episode than usual, and has a bit of a more conversational pace. Nonetheless, there are a lot of great takeaways and interesting points. In fact, I would love it if you guys would let me know what your favorite piece of information was by sending us a tweet to @gosuperhuman.
In this episode with Kamal Patel of Examine.com, we discuss:
The importance of Vitamin D in proper mood and energy levels
Kamal's story, and how he got to where he is today, an expert on supplements
What is Examine.com, what do they do, and why is it important?
How much trust can we place in the information we find online today?
How can we validate the information and research studies we find?
Some examples of how the media misinterprets research to generate click-bait
What is the most popular and referenced supplement on Examine.com right now?
Which supplements absolutely work, and which ones do not?
How do public health and business school classes relate to how Kamal thinks about supplements?
Which things should you be eating to improve your athletic performance?
What does Kamal say about caffeine, raspberry ketones, and other "fat loss" supplements?
A longer discussion of increasing testosterone naturally and safely
Thoughts on overtraining, adrenal fatigue, and taking time off training
What would a $100 health optimization kit designed by Kamal look like
What is Kamal's dream for Examine.com's future?
Resources Mentioned in This Episode:
Favorite Quotes from Kamal Patel of Examine.com:
"Almost everybody feels better outside, and I do too, and when I have particularly bad days, that's probably the biggest thing that I need to do – get outside!"
"If you have a website relaying nutrition information or supplement information, you need to fund it – and often that comes from selling products."
"The vast majority of supplements don't work."
"A lot of people are so focused on the results that they'll dip their toes into the illegal sphere quite happily."
"The body has been honed over however many thousands or hundreds of thousands of years, so it's like a finely tuned sports car. And it won't hurt the body to throw some experimental fuel in there once in a while… but over the course of years, I don't know."
"If you're just trying to look good, I'd say there's not a lot of things that are worth trying unless you have extra money lying around and you love trying stuff."
"People need very different things to make health changes. Some people just need the snippets to practically effect their health. Some people need a buddy. It's really hard to predict."