Learning How To Not Die W/ Michael Greger, Nutrition Expert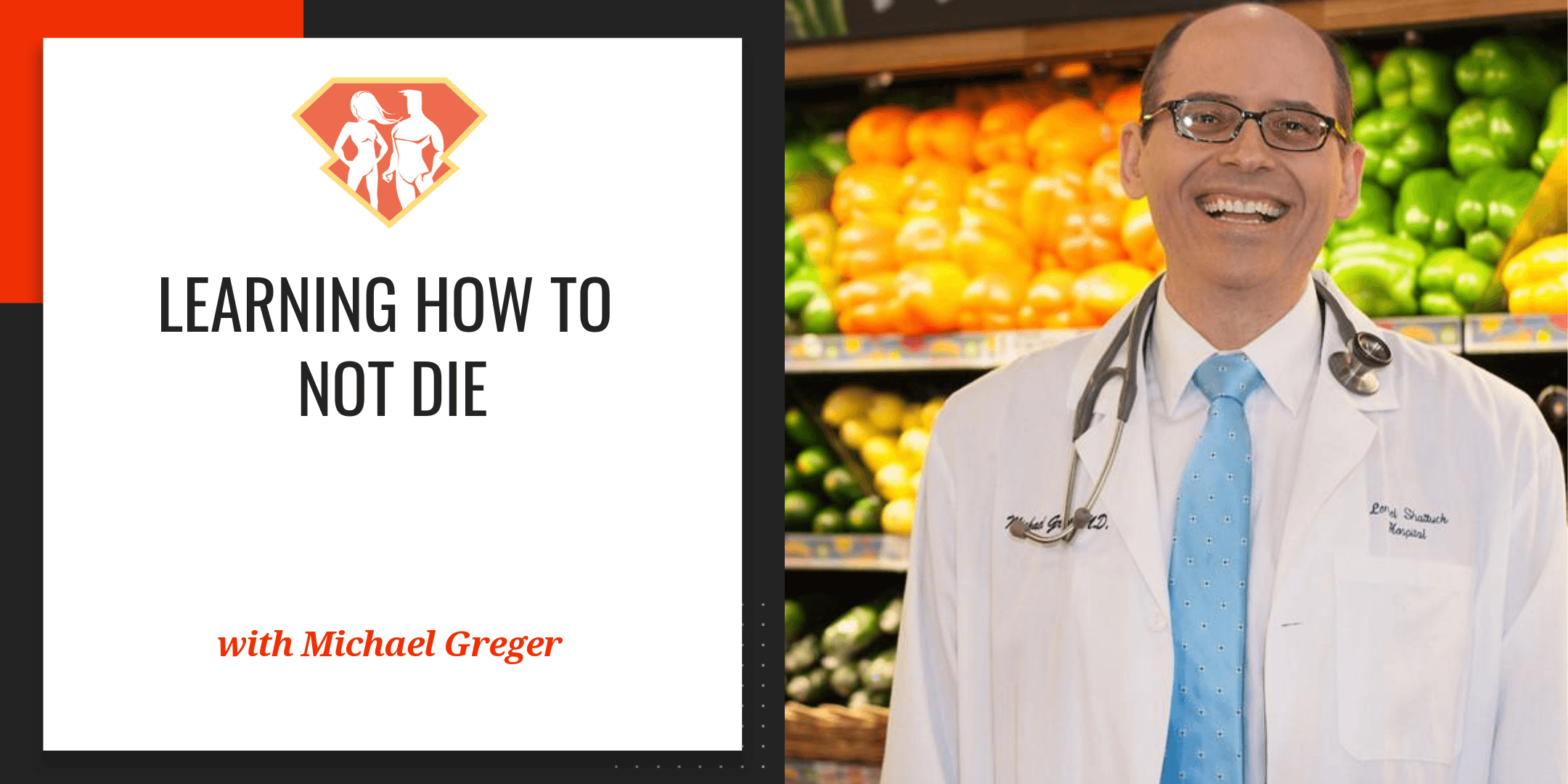 Tags:
Biohacking
,
Diet
,
Health
,
Nutrition
,
Paleo
,
Podcast
"Food is a zero-sum game. By putting something in our mouth we are, by definition, not putting something else in our mouth."
— Michael Greger
Greetings, SuperFriends!
Today we are joined by Dr. Michael Greger. Michael is a New York Times best-selling author, a physician, an internationally recognized professional speaker, and, well, a really interesting dude, as you will find out. He has appeared on The Colbert Report, The Dr. Oz Show and was an expert witness for Oprah Winfrey at the infamous "meat defamation" trial.
Another interesting fun fact that I learned as I researched Dr. Greger is that he donates all the speaking fees and proceeds from his books and DVDs, which I just think is really amazing and worth noting.
You've probably heard of some of his books including How Not To Die and Carbophobia: The Scary Truth About America's Low-carb Craze. You can probably tell just from that title that he and I disagreed about a few things. We also agreed about a lot of things. Which ones? Well, listen to find out.
In the episode, we talk about fruit, about nutrition, about legumes, which is an interesting topic, and we also talk about animal protein. We get quite nitty-gritty on how nutrition works and why there are so many different opinions about it.
One side note is that Dr. Greger works on a treadmill desk, not a standing desk, and I do apologize in case you can hear it in the background. We tried to do our best to minimize the sound. Nevertheless, we talk about it in the episode, and so it kind of works out.
So, without further ado, let's dive into the episode, which I really believe you will enjoy!
In this episode, we discuss:
How did Michael Greger become one of the leading experts in nutrition? [5:20]
The major impact nutrition can have on heart disease [6:40]
Why does Michael work on a treadmill desk and how did he come to this habit [7:35]
Michael Greger talks about the healthiest choices in nutrition [9:20]
How inadequate food consumption is the number one killer factor nutrition-wise [11:00]
How much fruit is too much? [12:45]
The body reactions that follow a high sugar intake [14:00]
How eating fruit, despite the added sugar, prevents the severe responses from the high sugar intake [15:00]
Foods are not good or bad, rather they are better or worse than other foods [16:30]
Michael Greger's view on animal protein in our nutrition [18:30]
The number one killing factor in America: the American diet [20:30]
Other health-related advice from Michael Greger [21:00]
The 'dream team' of food for Michael [22:10]
A brief conversation on the paleo diet [23:00]
Legumes and their great impact on our nutrition and health [24:30]
Where can you learn more about (and from) Michael Greger [26:00]
Resources Mentioned in This Episode:
Favorite Quotes from Michael Greger:
"The healthiest diet is the one that maximizes the intake of real food that grows out of the ground."
"Foods aren't good or bad as much as better or worse."
"We have tremendous power over our health destiny."
"There is one diet that has been proven to reverse heart disease: a plant-based diet."