Lessons From A 1 Year Meditation Sabbatical w/ Karan Bajaj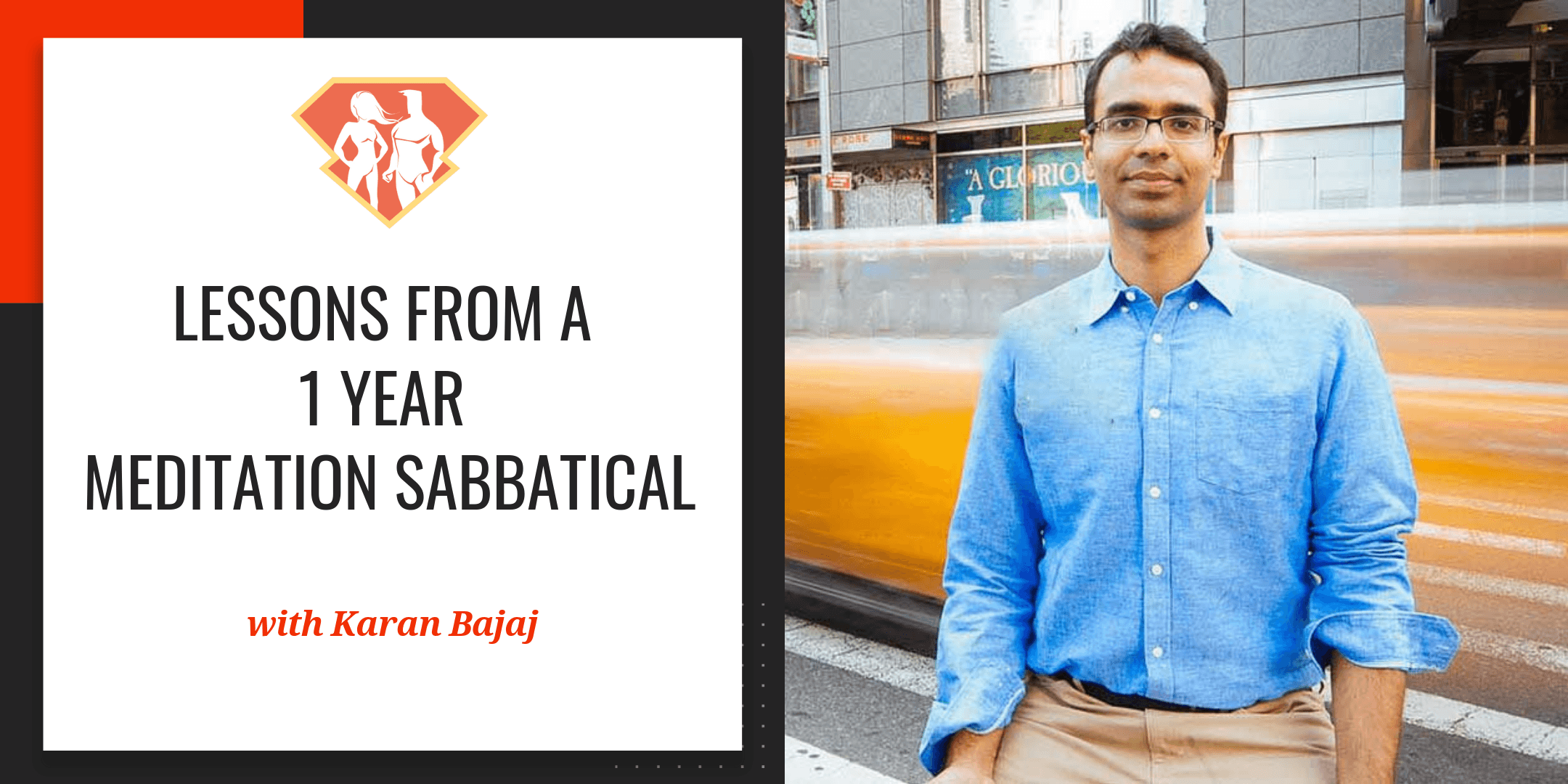 Tags:
Meaning
,
Meditation
,
Personal Growth
,
Success
"I had this very intangible kind of a goal… I wanted to get a very clear insight into the nature of reality."
— Karan Bajaj
Greetings, SuperFriends!
My guest today is Indian-American author Karan Bajaj, who is known for the 3 bestselling novels he has written.
However, that's not why he's joining us today.
In fact, Karan is here to tell us about the incredible journey he embarked on a few years ago, after attaining his success. It was a journey of spiritual awakening, detachment from the world of work, and of discovery.
In May of 2016, he will be publishing his third novel, The Yoga of Max's Discontent, inspired by this spiritual sabbatical. I have yet to read it, but The Daily Telegraph has called it "The greatest adventure of our generation" and the Wall Street Journal is saying "This book can change your life."
My goal for this episode is to help discover how my guest went from being "stuck" in a rut to discovering meditation, and how he used a year away from work to actually advance his career and find greater satisfaction in his life.
In it, we'll talk about the idea of using a sabbatical or a year off to find purpose and meaning in your life, we talk about the power of meditation, the virtues of practicing poverty, and so, so much more. I really, really enjoyed this conversation and took away a lot of meaningful life tips – and I know you will, too.
By the way, Karan has generously offered a free meditation course, a Quit Sugar in 7 days nutrition guide, a yoga flow video course and other gifts worth $299 when you order his book today. Details at www.karanbajaj.com/yogamax
As always, please share your thoughts with me on Twitter @gosuperhuman, and if you haven't already, please remember to leave us a review on iTunes or Stitcher.
In this episode, we discuss:
Who is Karan Bajaj, and what has he accomplished in his career?
What sacrifices did Karan have to make to, as he put it, "truly be excellent" in his writing?
How did Karan design his own 1-year sabbatical, and why did he include each component in it?
What is "conscious goalessness," and why is it such a powerful tool?
Why did Karan choose to only bring 2 books with him on his sabbatical?
What is "willful poverty" and why did Karan and his wife choose to incorporate it into their journey?
Was Karan "happy" during his 1-year sabbatical?
Powerful insights into meditation and "preparing" to meditate
What improvements did Karan experience in his meditation practice?
Some very intense and earth-shattering insights into the dissolution of self through meditation
How to transition from "preparing" to meditate to actually doing it? How can you get started?
What is Karan Bajaj's personal meditation regimen?
What are Vipassana retreats, and how have they impacted Karan Bajaj's life?
How will you know when a meditation practice is working?
What were the unexpected side effects of Karan's increased meditation?
What would Karan say to someone who doesn't think they could do their own sabbatical?
Which books has Karan Bajaj given the most as gifts, and why?
The idea of the "incompleteness" of the human experience, and what that means
Resources Mentioned in This Episode:
Favorite Quotes from Karan Bajaj:
"It sounds kind of romantic – but it was very hard for me."
"I was also consuming a lot of knowledge, and that leads to a cluttering of the mind."
"My language in New York had become very alien to me… it was very comfort-based… I was becoming someone who I didn't want to be."
"There was more silence than happiness."
"My meditation practice before this was not truly meditation. It was preparing to meditate."
"Meditation truly is the act of just knowing the nature of reality as it is. And in the process of knowing, you end up dissolving your sense or concrete self."
"I lost 20 pounds within 6 months, without trying at all."
"I could calculate things in a way I couldn't believe."
"We're all kind of chasing the infinite in a finite world."
"I like books that acknowledge first the incompleteness of the [human] experience, and then try to solve it."
"Strip yourself of comfort very often. The attachment to comfort leads to very limiting choices."