Discovering the Magical Power of Medicinal Mushrooms w/ Four Sigmatic's Tero Isokauppila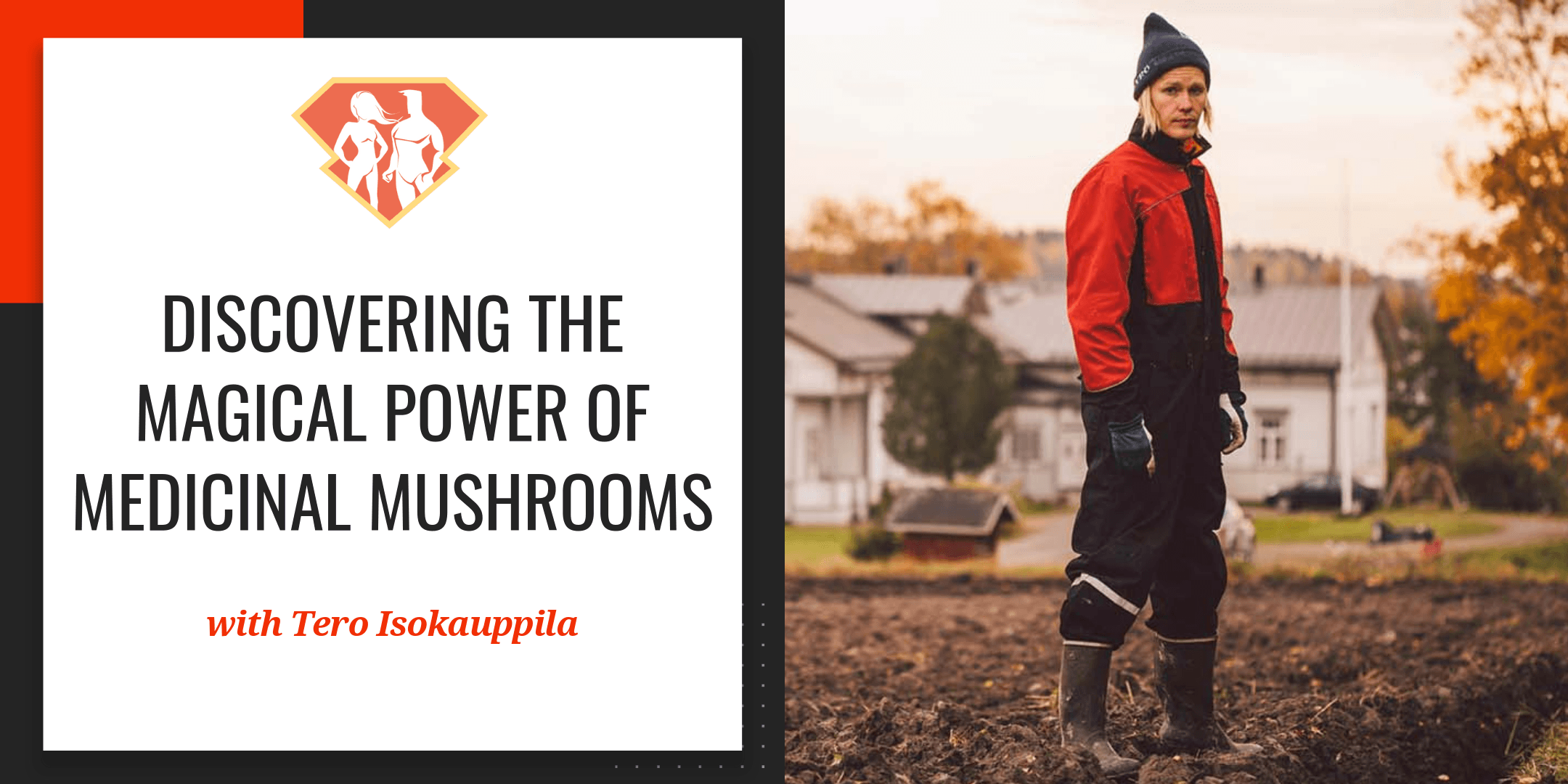 Tags:
Nootropics
,
Nutrition
,
Supplements
"I just want to ask people to have an open mind. Give mushrooms a chance! They're part of everything we do on this planet."
— Tero Isokauppila
Greetings, SuperFriends!
Welcome to today's show, where we're going to talk about magic mushrooms.
Not those kind of magic mushrooms.
But still, pretty magical.
That's because today, we're joined by a 13th generation mushroom farmer turned entrepreneur and biohacker from Finland.
…I couldn't make this stuff up if I wanted to.
Through his company, Four Sigmatic Foods – Click for a 15% off discount, today's guest is working hard to bring the ancient wisdom of mushrooms and their nutritional and medicinal benefits back into the modern era. There are a ton of health benefits which we're going to learn about in the coming hour, but beyond just that, for every product you buy, they donate a portion of medicinal mushrooms to a cancer patient in need. Pretty cool, if you ask me.
Since meeting him at Summit at Sea, I've been enjoying a ton of Four Sigmatic's products – click for a 15% off discount!, and I have to say, I think there is really something to what they're doing, and I'm really enjoying exploring the different types of magical potions they offer.
In this episode, we discuss:
Who is Tero Isokauppila, and where the heck did I find him?!
What is "Four Sigma," and why did Tero name is company after it?
Learning about the Fungi kingdom, and debunking some common misconceptions
What percentage of pharmaceuticals are derived from mushrooms (shocking!)
What are the different ways that mushrooms can boost our health? (very surprising)
Which mushrooms have nootropic effects, and how do they work?
What are adaptogenics and polysaccharides, and how do they improve our health?
How mushrooms work, grow, and why they're so rugged and durable in nature
Which mushrooms make you a better athlete, and how? 
What is the Chaga mushroom and how does it protect our bodies?
Can you just buy these medicinal mushrooms in the store and eat them?!
What are Tero Isokauppila's favorite mushroom products, and the ones he uses?
How can mushrooms stimulate nerve growth factor – and which ones do it?
How does coffee stack up to other nootropics?
How Tero Isokauppila spends $30,000-40,000 a year on whole foods(!)
The sanskrit concept of "neti neti"
An exclusive 15% off coupon
Resources Mentioned in This Episode:
Four Sigmatic Foods Websites:           USA   |    International
(These special links will apply the 15% discount code mentioned in the show. Just in case they don't, you can use the code "superhuman")

Lion's Mane
Mushroom coffee
Mushroom hot chocolate
Chaga elixir

Mushroom breeds mentioned:
Books:
Google "Santa Claus mushrooms" and see the story behind it 😉
Favorite Quotes from Tero Isokauppila:
"We have a farm [in Nokia, Finland]. We don't exactly know actually how long we've had it. But at least we're the 13th generation."
"A lot of people still think that mushrooms are some kind of a sub-group of plants… but they're drastically different… They're a kingdom."
"We share almost half the same DNA as mushrooms, so we're very prone to mushroom illnesses."
"Wherever you are right now… anywhere… under the ground, there are mushrooms."
"Wherever you are in life, your needs might be different… What worked for me when I was 20 might not work for me when I'm 30 or 40."
"I'm a lot on the airplane – which I call the 'fart tube.'"