Nelson Dellis On Teaching And On How To Turn Failures Into Fuel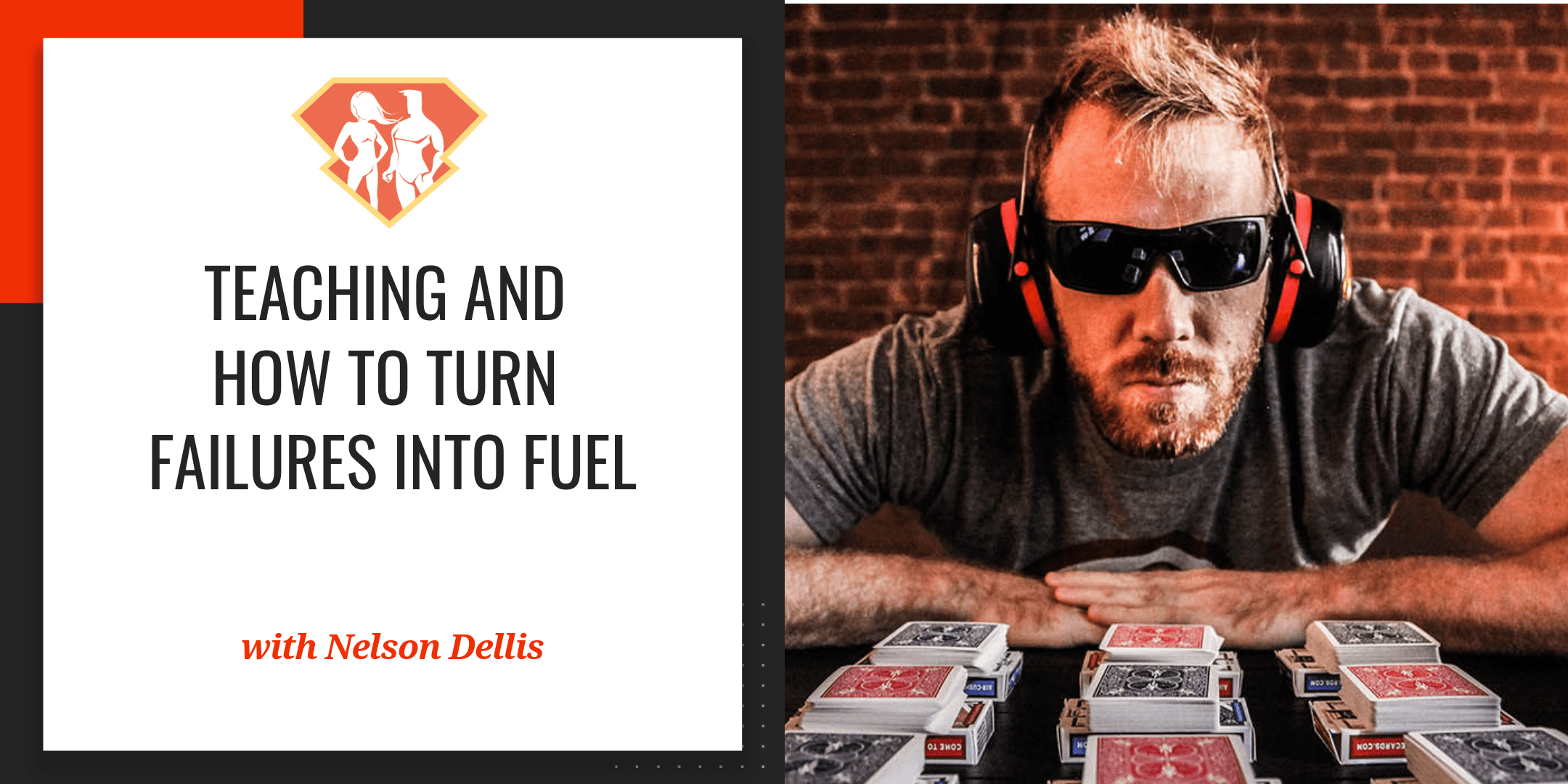 Tags:
Happiness
,
Inspiration
,
Learning
,
Memory
,
Mnemonics
,
Motivation
,
Podcast
,
Superlearning
,
Tenacity
"Nothing good has really come out of winning for me. In terms of personal development, the most has come from losing."
— Nelson Dellis
Greetings, SuperFriends!
Today we are re-joined by Nelson Dellis. And this is a big deal, not just because Nelson is the 4-time USA Memory Champion, but because he was the 5th ever episode guest on this show! I think I've gotten a lot better at interviewing since then. Nelson, on the other hand, has gotten a lot better at many things, including writing.
In fact, he came back to talk to us about the 2 books that he has published since, as well as about numerous climbs up some of the world's largest mountains. Nelson also runs a thriving charity called "Climb For Memory", and travels all around the world teaching these incredible memory techniques.
We had a very far and wide-ranging conversation, where we talk about everything from dealing with failure, to the difference between being a subject matter expert and teaching. Of course, as you can expect, we go all the way to some memory hacks that you can implement in your own life.
It's a great episode, and I always enjoy talking to Nelson. That is why he has become a SuperFriend in the years since he originally came on the show! So, I just know that you are going to enjoy this episode with Nelson Dellis!
-Jonathan Levi
In this episode, we discuss:
What are some of the stuff Nelson Dellis has been working on these past few years? [4:30]
Getting from having no idea about memory techniques to Nelson's level [6:35]
The state of memory records nowadays (spoiler: it's amazing) [9:10]
Do you need any special talents to start working on your memory? [10:10]
How and why Nelson Dellis is transitioning from being the best to being a teacher [11:00] 
How does Nelson Dellis teach memory techniques? [12:30]
How fast can people learn memory techniques? [15:00]
Nelson Dellis's simple formula for memorizing anything [16:10]
The power of learning from different angles/people [17:30]
Condensing memory learning while increasing its breadth of application [19:15]
Teaching memory techniques to children [20:45]
Why is learning how to learn one of the first things we should be learning in school? [23:10]
Getting the education system to include memory techniques [25:10]
Introducing memory to schools through pop culture [27:10]
What is the next project Nelson Dellis is working on? [28:10]
Not winning this year's memory championship [30:10]
The difference between being young and hungry vs older and accomplished [31:20]
How Nelson Dellis sets different goals for each championship [32:40]
What happened in this year's championship? [33:30]
Mountain climbing, and going for another try on Mt. Everest [36:40]
How to turn failures into fuel [38:00]
What are some SuperHuman hacks Nelson Dellis utilizes? [39:40]
Resources Mentioned in This Episode:
Favorite Quotes from Nelson Dellis:
"That's the awesome thing about the sport – you are at the top and then suddenly someone new comes in and blows everybody away."
"You gotta see something as a picture in your mind, then you've gotta link it to something that's already rooted there, and then finally it's to add as much visual and sensory information so that you make it stick."
"If we can get kids to learn these stuff at a young age, […] that would save so much stress on kids growing up!"
"I really enjoy just taking people along for the ride, whether it's mountain climbing or memorizing."
"Failing is great."