Productivity Guru Chris Bailey on What Works, What Doesn't, & Living Purposefully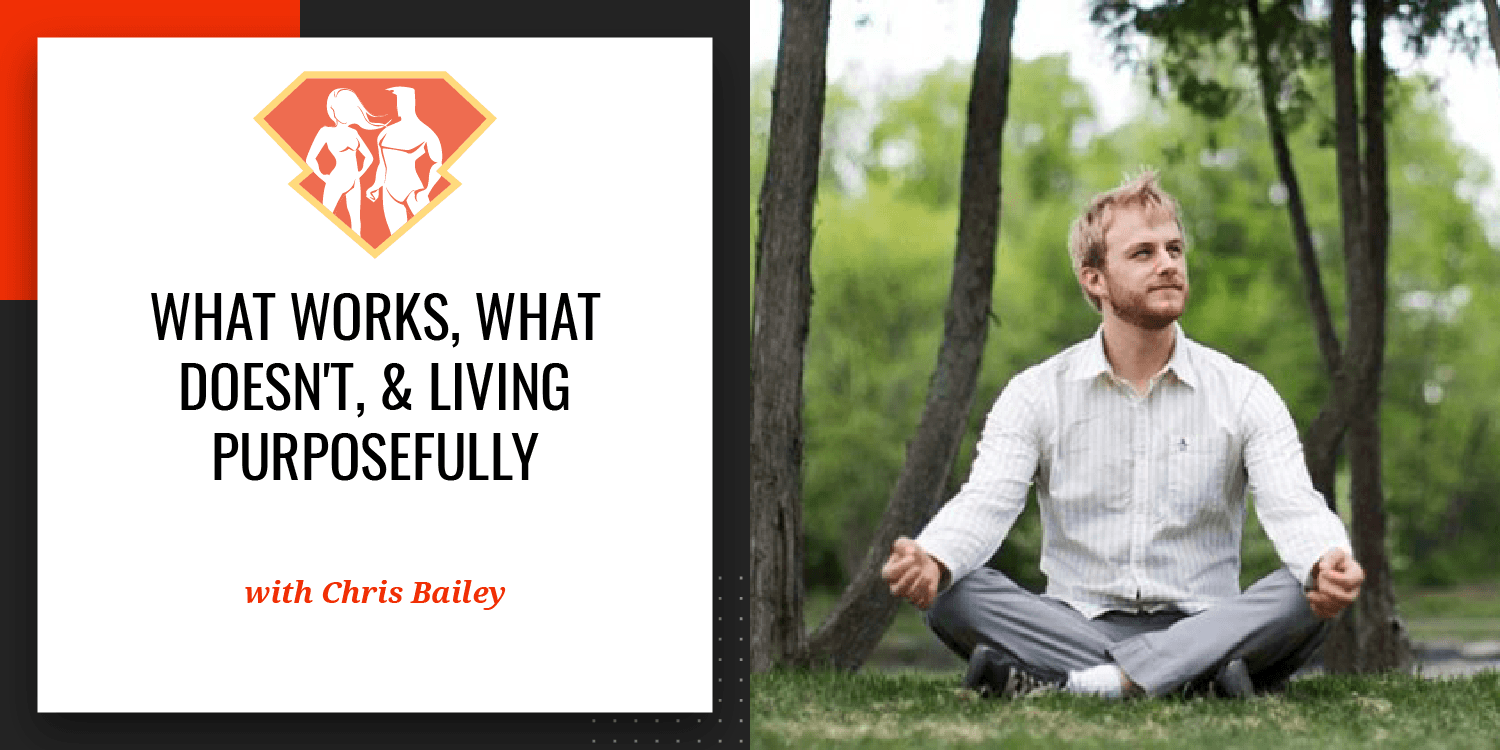 Tags:
Burning Man
,
Charity
,
Fasting
,
Happiness
,
Meditation
,
Napping
,
Procrastination
,
Productivity
,
Self Talk
,
Volunteering
"I don't think productivity is how much you produce, it's how much you accomplish."
— 'Chris
Greetings, Superfriends! This week, we're going to be revisiting that big, scary word: productivity. In a past episode with Rory Vaden, we learned a TON about the strategies and theories behind productivity and "time management." So now, how about seeing the other side – diving deeper with someone who has literally devoted every waking hour to testing and applying these techniques in a practical setting? Sound interesting? Keep listening.
My guest this week is the well-known blogger behind "A Year of Productivity," where he blogged daily about his one year experiment to find, study, and apply all the productivity tips and tricks he could get his hands on. After the year was up, his blog had attracted such a following, he continued with this passion project, turning it into A Life of Productivity, and becoming a renowned expert on all things productivity.
This episode is a bit different in nature and tone than other ones, as you've probably already picked up – and I think it's improvement! There's plenty of humor – some of it crude – and lots of entertaining discussion. With that said, we also uncover what I think are some of the most important habits, behaviors, and practices that lend themselves to leading a happier, more joyous, and more productive life. I'm not going to spoil the fun… just turn up the volume and enjoy some wisdom from the delightful Mr. Chris Bailey.
In this episode, we discuss:
Chris Bailey's journey from turning a "side project" blog into a full-time gig
What are the surprising and impactful lessons that Chris learned on his one year journey?
The differences between managing your time, managing your attention, and managing your focus
Mindfulness, meditation, and how they play into productivity
Which works and books most impacted Chris during his journey?
What challenges did Chris face when it came to productivity
What are the 7 criteria that make a task more susceptible to procrastination?
What does Chris Bailey suck at?
Comparing cheeseburgers to orgasms (wait, what?)
How nutrition and processed foods affect productivity, including thoughts on hyperglycemia/glycemic index
Self-talk and the importance of monitoring our internal dialogue
Intermittent fasting, and how it can affect your productivity
"Burning Man" type events, and the incredibly powerful personal growth that you can achieve there
The power of the "why" behind the activities you do
An experiment where Chris woke up at 05:30 every morning, and what happened
The science behind waking up early (or not)
Being truly, fundamentally honest and compassionate with yourself
Napping, meditation, and nootropics for focus
What tools (if any) are must-haves for Chris and his productivity?
The rule of 3, and why our brains are trained to think in threes
A very useful thought exercise for convincing yourself to meditate every day
Resources Mentioned in This Episode:
Favorite Quotes from Chris Bailey:
"Our work doesn't live in that kind of 9 to 5 box anymore."
"I think if everybody followed those 2 rules, obesity would fall off the face of the planet."
"You have to have this 'why' behind whatever it is that you're doing. That's what the most productive people have. That's what the most passionate people have."
"I realized a few months into doing this experiment, 6 months into my project, that… I f$#@ing hated that ritual."
"There's just an incredible amount of time, and energy, and attention that you can save if you make sure that what you do is aligned with what you value."
"An app can't make you care about what you have to do."