Raising Genius Children & Hacking Memory with Dr. Lev & Prof. Anna Goldentouch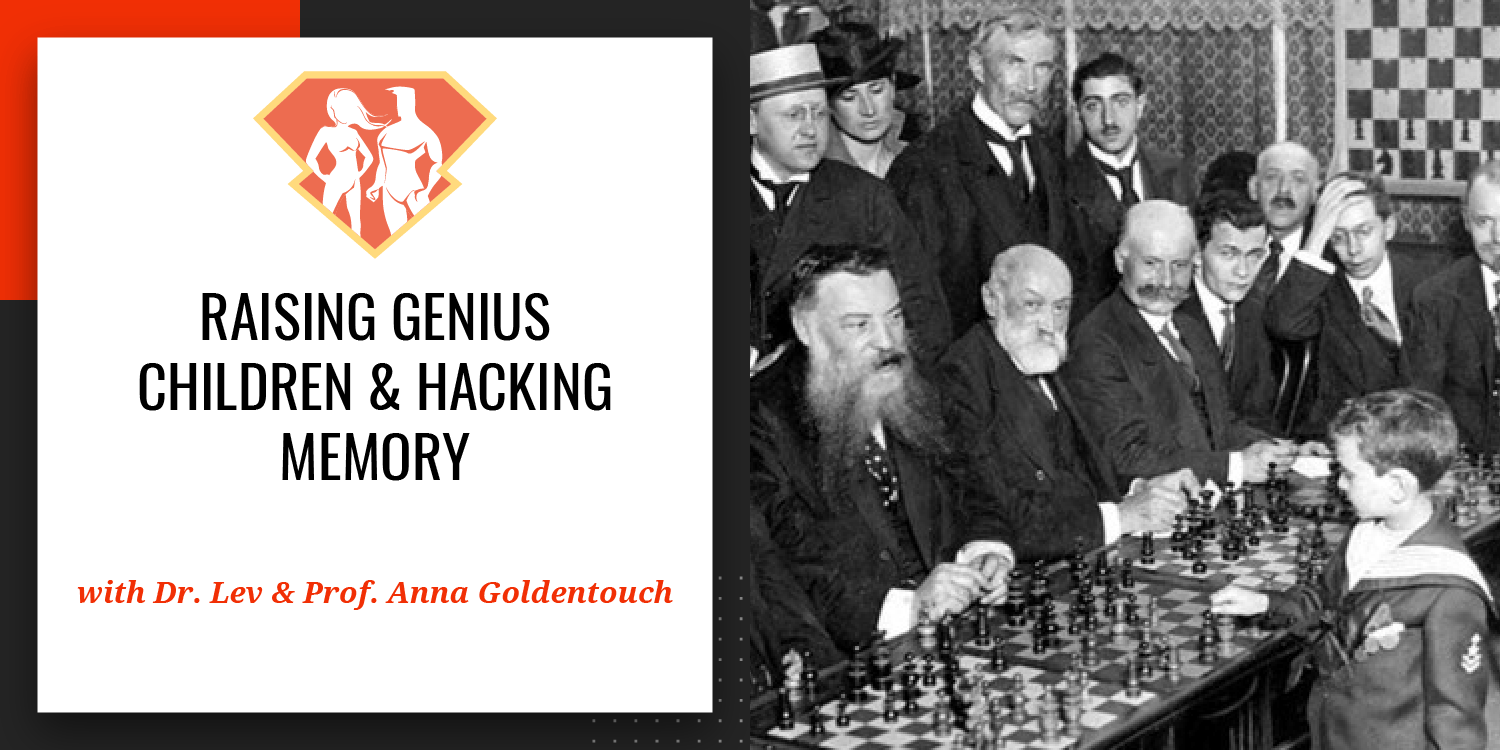 Tags:
Children
,
Memory
,
Parenting
,
Podcast
,
Reading
,
Speed Reading
,
Superlearning
"Every opportunity is a learning opportunity. So, first you play, and then you think about how to use it."
— Dr. Lev Goldentouch
Greetings, Superfriends, and welcome to the show!
As I'm sure most of you know, my journey towards becoming the humble host of this show started when I built an online course translating the materials of two of my mentors and tutors, on the topics of memory, speed reading, and accelerated learning. That course grew into the 50,000 student army it is today, as well as a bestselling book, and… long story short, it was the platform upon which I decided to go full time into content creation.
In our first ever episode, we went into this a bit with my co-authors, Dr. Lev and Professor Anna Goldentouch, and explored what exactly accelerated learning means. After that episode – which is one of our most popular of all time – there were lots of questions left over, and so I recently took the opportunity to have Dr. Lev and Professor Anna back on the show, to answer your questions, particularly on new topics not ever discussed before.
If you're not an existing student of the course and haven't heard the previous episode, some of the concepts might not be familiar to you – though, we do try to explain when we use jargon and so on. Either way, no prior knowledge is really assumed. If you are a student or have heard the first episode, this episode will answer a lot of the questions that you've been burning to ask.
We talk about language learning, applying superlearning techniques to teaching children, hacking motivation, real-life examples of how to learn, and much, much more. Whether or not you have kids, this episode will be an interesting one. We all have children in our lives, whether they're our own, our nieces and nephews, cousins, or siblings, and we all want to make sure that the next generation succeeds. Let us know what you think of this episode either in the comments or on Twitter!
In this episode, we discuss:
How can superlearning principles be taught to and adapted for children?
What can we, as adults, learn from children?
What are Dr. Lev and Prof. Anna working on right now?
How can we learn languages more effectively, particular grammar?
How can you hack motivation and keep yourself motivated to when learning gets difficult?
How have Dr. Lev and Professor Anna raised their children to become exceptional life-long learners
What are the different needs of children vs. adult learners?
The story of how Anna turned a C- student to an A student in just a few days
What is the role of creativity in learning?
How can you get your children "unstuck" when they have difficulty in learning
"The 5 Year Rule," or how my parents raised me
The idea of being a "kid" with your kids, and the delicate balance
How to apply superlearning techniques to advanced techniques like math and science
How learning examples and cases can give a natural or intuitive understanding of the rules
What are the most impactful things Dr. Lev and Prof. Anna have ever learned?
Live demonstrations of how to create "markers" (or visual memories)
The difference between markers and details of markers
How do we remember historical dates when we learn something?
Dual encoding and enriching your memories
Creative markers vs. logical markers
When are children ready to use markers and other memory techniques
How Dr. Lev and Professor Anna are using cartoons to educate their children
Is there a risk of confusing languages if they're exposed to more than 1?
Resources Mentioned in This Episode:
Favorite Quotes from Dr. Lev and Prof. Anna Goldentouch:
"Motivation is very easy to hack."
"Every kid comes with his own challenges. We tried to use our superlearner skills, and this just didn't work."
"When I started to talk to my kids about finance and economics, and they started to explain it back to me… that was a good one!"
"The teacher cannot really teach every child in the way that is proper for that particular child."
"It's easy to think that we can just take our knowledge and give it to a child – just put it into his head. It's harder to take the learning speed of the child."
"Very often, we create the markers, and we don't understand that we've created them. This happens to all of us."
"If you store the information in the form of question and answer around that marker, it will arrange all the other details."
"If you start a sentence and a conversation in one language, you have to finish it in the same language."