Elaina Love On How Raw Foods Help The Body Heal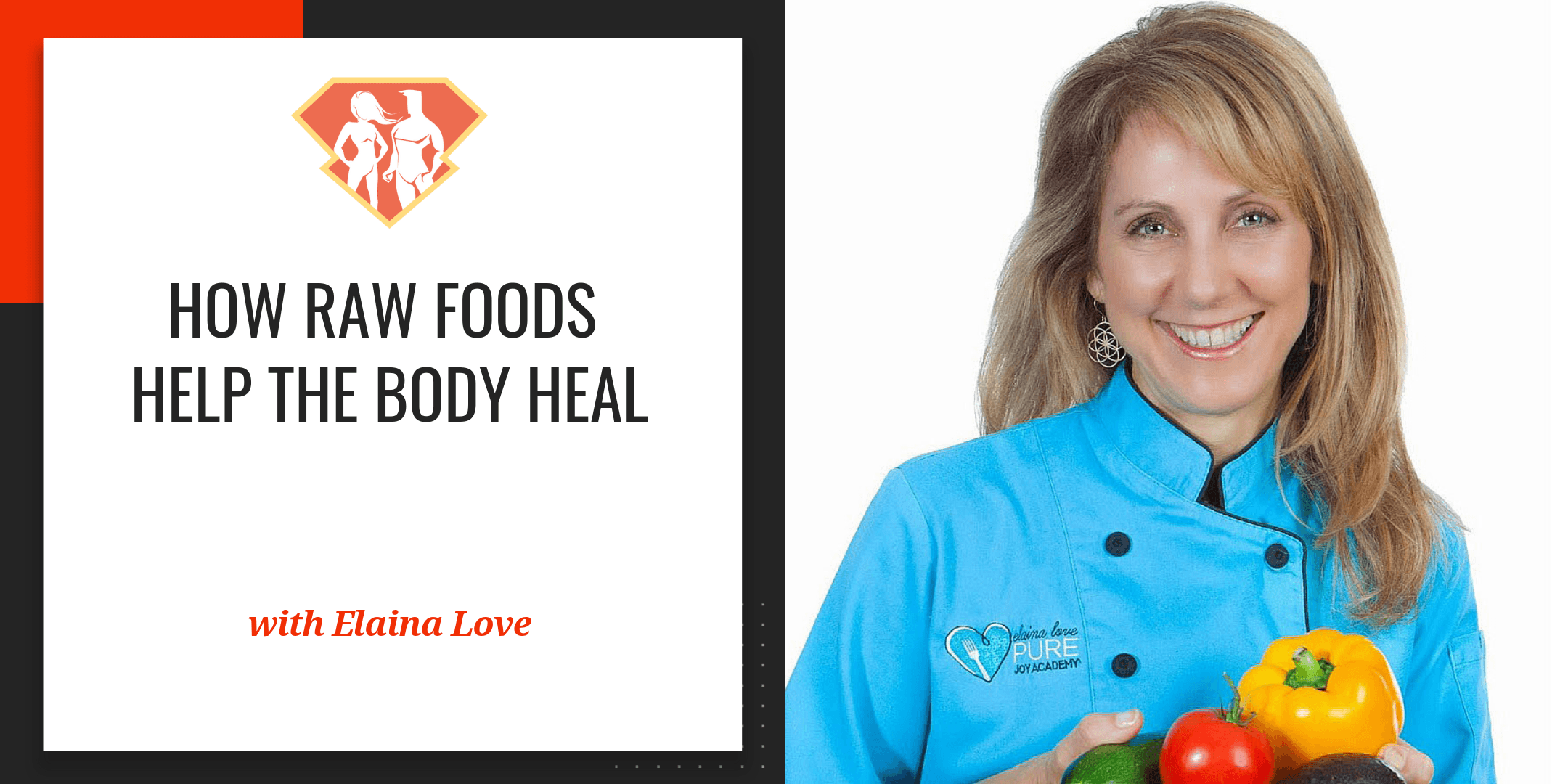 Tags:
Health
,
Nutrition
,
Podcast
,
Veganism
"Our DNA is perfect, and it knows exactly what it needs to do… when we stop putting in the junk and the crap, our bodies can actually heal themselves."
— Elaina Love
Greetings, SuperFriends!
This week, we are joined by Elaina Love from Pure Joy Planet, and the Pure Joy Culinary School, and one of the pioneers in the growing "raw, plant based diet" movement. Like so many of the nutrition experts we've had on the show, Elaina focuses on a low carb, higher-fat diet free from artificial junk and processed foods. What makes Elaina unique is that she is known as one of the more respected authorities both in the raw and in the vegan communities, though as we found out in the interview, her diet isn't as black-and-white as you might expect. Because we've never done a show about veganism, much less about raw food, I wanted to understand that side of the story a little bit better, and challenge some of my own assumptions and long-held beliefs about diet and nutrition.
In this episode, we talk about dietary suggestions, the benefits of raw food, and a whole entire new world of enzymes and why you should consider taking them. I really expected to find her much more extreme, but was surprised to find that we agreed on just about everything! I also learned a great deal in this episode, which was surprising given how many episodes we've done on diet and nutrition. I came away with a long shopping list of new products and supplements to try out, and a bunch of new ideas to test in my own life. I think you guys are going to LOVE this episode!
In this episode, we discuss:
Who is Elaina Love, what's she do, and how did she get into it?
What were the health issues that brought Elaina into such an extreme, raw vegan diet?
Is a standard vegan diet really a healthy diet?
A discussion of gluten, grains, and other things that vegans often live off of
Thoughts on the meat industry and the future of ethical animal products
What are the reasons that someone might want to go all the way to raw food veganism?
What exactly are digestive enzymes? What are the 3 types? What do they do in the body?
What kinds of enzymes should you experiment with?
A discussion of candida, a yeast that plagues millions and millions of people
What is "surfing the edge," and how is it Elaina's methodology for indulging in less healthy foods?
How should you get rid of candida, if you have it?
Probiotics, coffee enemas, and more
Some cooking pro-tips from the chef herself!
What homework assignment would Elaina give you for this week?
A pro-tip for having way more energy in the morning!
How to bring nutrition back to the water you drink
How to get in touch with Elaina Love!
What's the #1 message you should take away from this episode today?
Resources Mentioned in This Episode:
Favorite Quotes from Elaina Love:
"I do understand that going vegan can actually be detrimental to your health."
"I think a regular vegan diet – I call it 'junk food veganism' – is not a healthy diet."
"Whatever we're putting into our body is creating our life."
"When we start putting these high enzyme foods in our body, it actually is able to start healing the body."
"Don't scrub your food!"
"80% of our energy goes towards digesting. Most of us aren't tired – we're just digesting."
"There's never a bad time to take an enzyme."
"Stop feeding the bad stuff, start feeding the good stuff."
"The #1 thing is to love yourself."