Separating The Gold From The Garbage: We Talk Supplements w/ Industry Insider Ben Harris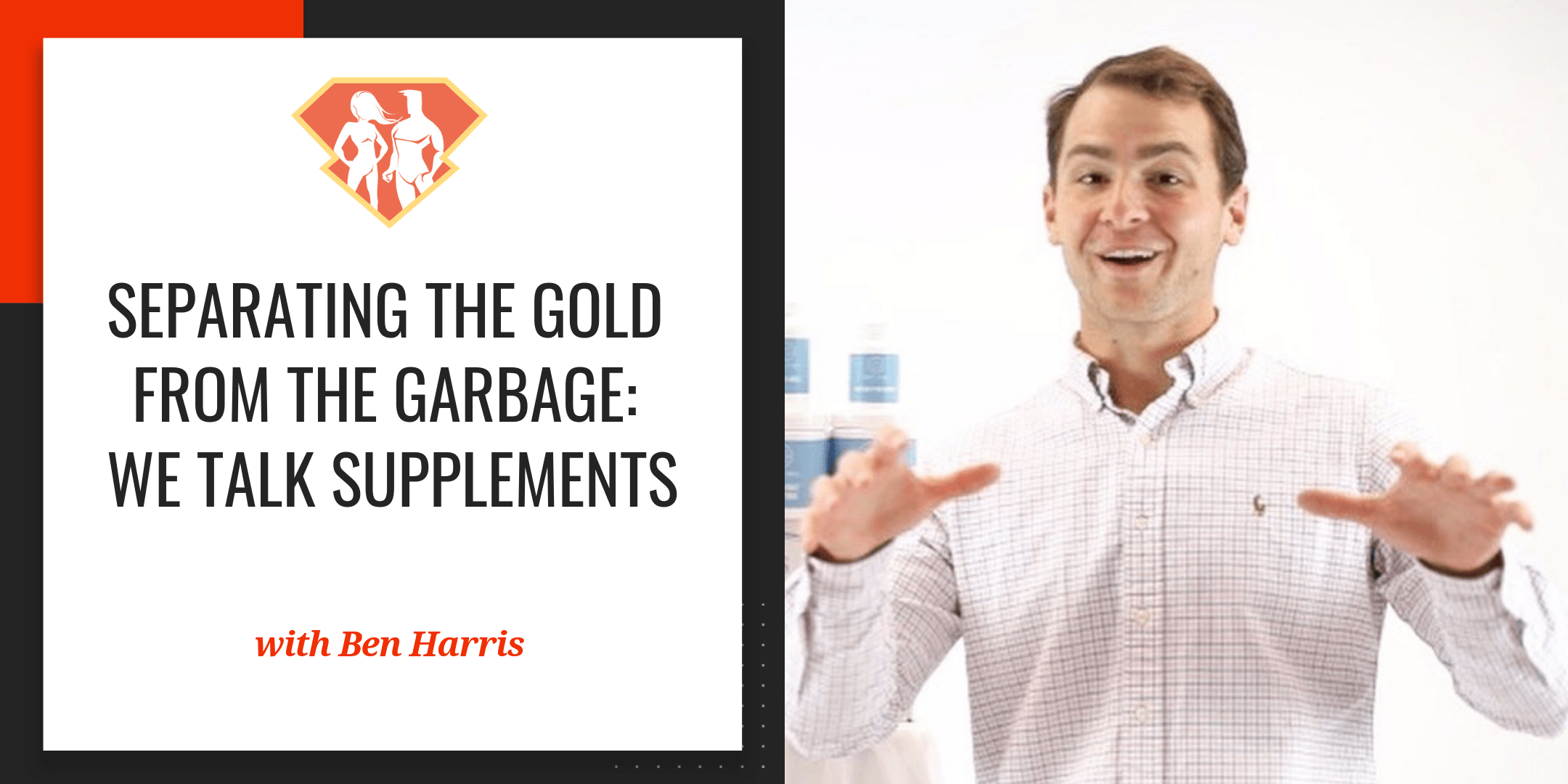 Tags:
Health
,
Nutrition
,
Podcast
,
Supplements
"When I first stumbled across this industry, I thought that it couldn't be that easy… but it was… maybe that's why there's not a lot of trust."
— Ben Harris
Greetings, SuperFriends!
Today we are going to be talking about a subject that we have not really covered in to too much depth, and that is the supplement industry. You might hear me or many other thought leaders talking about supplementation, about vitamins, about powders and nutrients and supplements… But you might not know much about the industry. You might think "well, is this for me? Is this something that I actually need to do?" And you're probably overwhelmed just by the sheer amount of options that are out there. So to help us sort through this a little bit, we've invited Benjamin Harris to the show. He is the co-founder of Nickel and Dime Supplement Club, a new company that is trying to make supplementation cheaper, easier, and more affordable for everybody.
Although this episode is not a sales pitch, we definitely do talk a little bit about their products and how they're different. But then, we go into how you can discern the facts from the B.S. when it comes to supplementation, and a bunch of other incredible life hacks around productivity and motivation. I think you guys are really going to enjoy this episode, and if you do make sure to leave a comment!
In this episode, we discuss:
Who is Ben Harris, and how did he get to where he is today?
What's wrong with the supplement industry today? What problem is Ben trying to solve?
Is supplementation for everyone? Do "everyday Joes" need to take supplements? 
What products are Ben and his company focusing on, and why?
What supplements are important, for what part of the population, and why?
A discussion of protein intake – are we eating too much, too little, or what?
Which supplements are manufacturers "cheaping out" on and putting ineffective ingredients in?
What's the issue with "proprietary blends," and how do manufacturers mislead us with them?
A discussion of the lack of regulations around supplements, and what it means to you
What is a pre-workout supplement? Should you use it or not? Why and why not?
What other hacks, habits, and routines does Ben Harris use to perform better?
How did Ben overcome his struggles with ADHD?
A discussion on nootropics – should you use them? If so, which ones?
What are some tools or services Ben Harris can't live without?
What is this week's homework assignment?
A discussion of habits and how they can transform your life
Where can you learn more and check out Ben's work?
What's the #1 takeaway for this episode?
Resources Mentioned in This Episode:
Favorite Quotes from Ben Harris:
"With supplements…Everyone claims they're superior. Everyone claims they're the best… how do you choose?"
"Workout supplements are primarily what they say: They supplement the work that you're doing… Most important is diet and exercise."
"You can't intake all of your protein at one time during the day. Your body just cannot break down those amounts in grams in one sitting."
"Your body reacts so much more to your quality of intake than people realize."
"Do something every day that makes you a little uncomfortable… you'll be so surprised."