Shane Snow On Lateral Thinking And On Building Dream Teams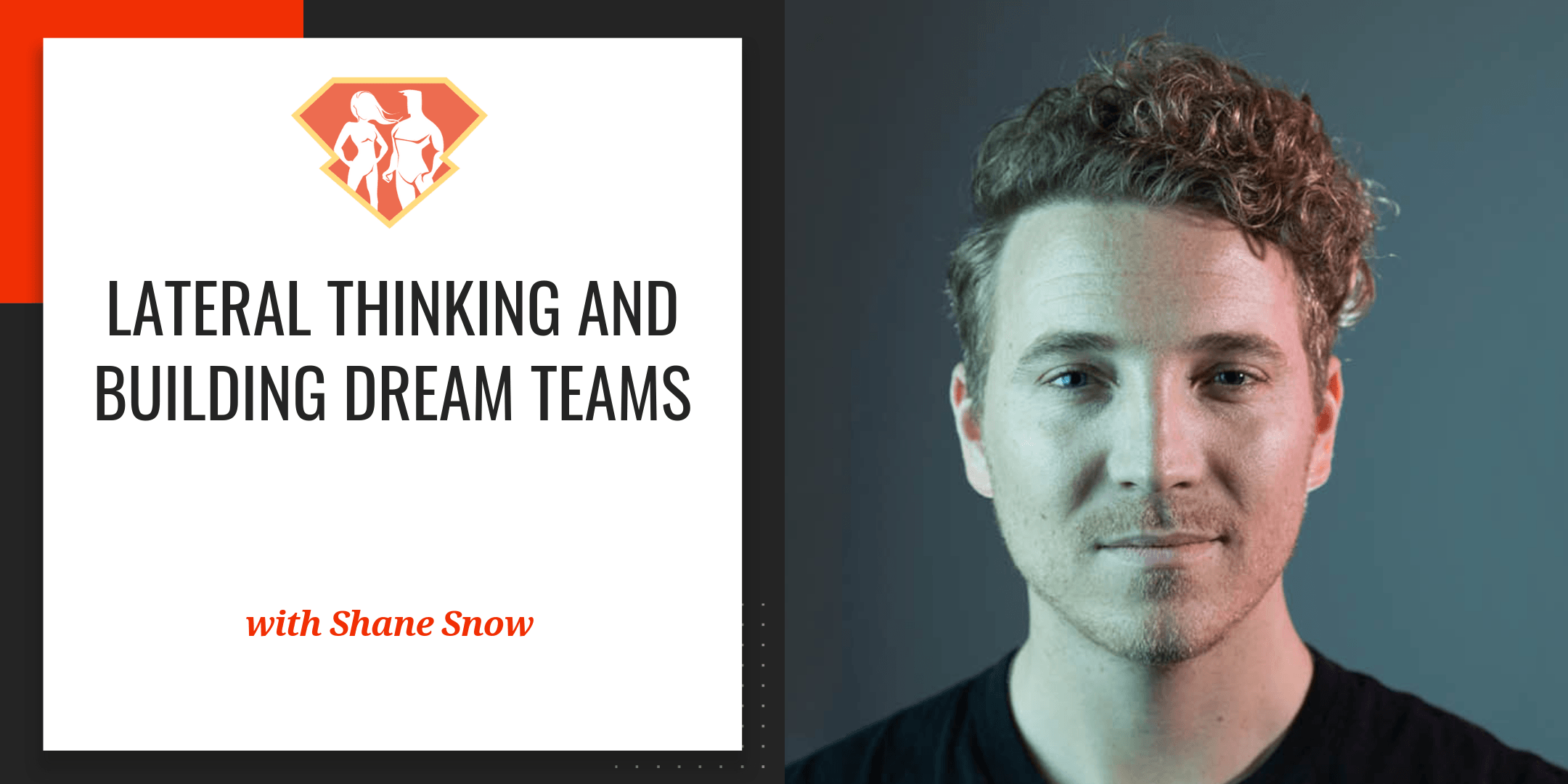 Tags:
Entrepreneurship
,
Inspiration
,
Lifehacks
,
Performance
,
Podcast
,
Productivity
,
Success
"People are the most important thing, and we need to not dismiss people because of who they are."
— Shane Snow
Greetings, SuperFriends!
Today's guest is an award-winning journalist, celebrated entrepreneur, and the bestselling author of a book called Smartcuts, of an upcoming book (by the time you hear it, a new book) called Dream Teams, and the co-author of The Storytelling Edge.
He is also the co-founder of the content technology company Contently, and you've probably seen his work in Fast Company, Wired, The New Yorker, and dozens more top publications. His name, for those of you who are now wondering, is Shane Snow.
In this wide-ranging conversation, we talk about lateral thinking, what it is and how you can utilize it. We also talk about teams, and how you can work better in them. We all work with other people (at least occasionally), and so we talked, Shane and I, about how you can leverage those connections to get more out of them, rather than being distracted and held back by the people you work with. That is a very important topic for everyone, and a very interesting topic for me particularly at this moment at the time of recording, as we are as always trying to grow and scale our business for you folks.
And, to top these off, we talked about productivity hacks, life-hacks and health hacks that help Shane do so much with the same 24 hours that the rest of us have.
I really enjoyed this conversation. You folks will notice that, lately, we've been doing slightly shorter conversations, and that is because I want you folks to spend less time with your digital devices, and more time in deep thought. Let me know if you enjoy that, or if you want us to go back to the slightly longer format.
-Jonathan Levi
P.S. Do you dream of starting your own business on the internet to achieve financial freedom, empower tens of thousands of people, and one day…one day… find yourself in the company of other great entrepreneurs and thought leaders like Ray Kurzweil, Peter Diamandis, Joe Polish, Dean Graziosi, Russell Brunson, and more?
Well… What if that day was today?
In this episode, we discuss:
Who is Shane Snow and what does he do? [6:15]
What are smartcuts? [7:30]
The power of taking ideas and inspiration from different fields [9:55] 
2 important points on lateral thinking [13:15]
Can a team really add up to more than the sum of its parts? [14:55]
How do we collaborate more effectively? [18:45]
Staying in the ideal zone of collaboration [21:40]
How Shane is balancing his time between his projects [25:00]
The importance of consistently devoting time to exploring new things [26:20] 
What are some SuperHuman hacks that Shane Snow utilizes to perform at such a high level? [28:35]
Some products and services Shane can't live without [32:10]
Where to find out more about Shane Snow [36:00]
Shane's takeaway message [36:55] 
Resources Mentioned in This Episode:
Favorite Quotes from Shane Snow:
"The pattern that you see, when you look at anyone who has made breakthroughs, is they do so not by playing the same game that everyone else is playing and doing it better, but by changing the game."
"All of our heroes in history, they didn't follow the traditional path."
"Instead of looking at best practices when studying something, look for cross practices."
"Good artists copy, great artists steal."
"The reason that humans won on planet Earth is because we are so good at cooperating and coordinating."
"The more of us there are, the harder it is to work."
"Two heads are better than one only if these heads think differently from each other."
"My main project, I try to have as 80% of my focus, but no more."