The Art Of Moment Making W/ Jon Vroman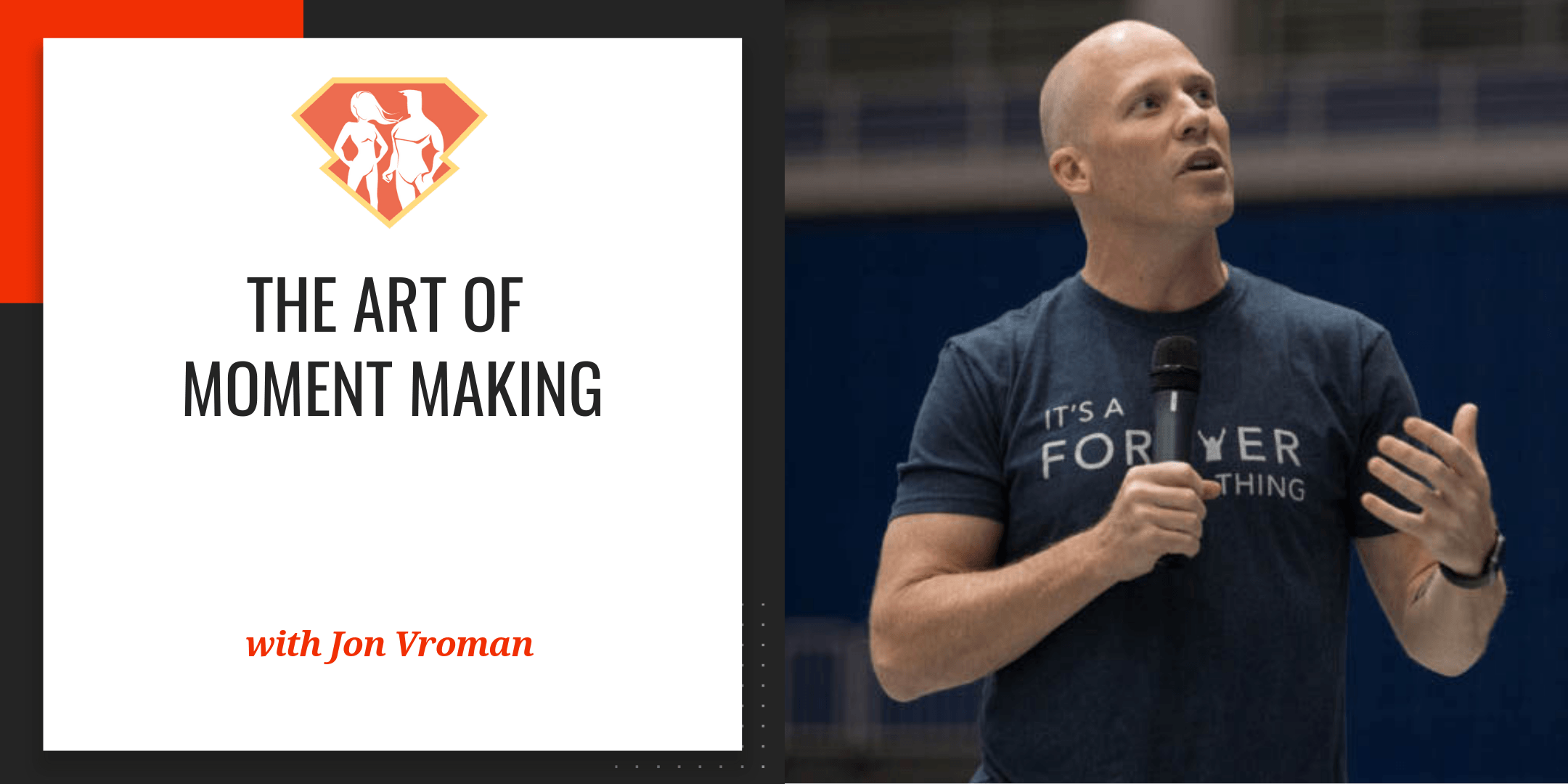 Tags:
Inspiration
,
Lifestyle
,
Mindset
,
Moment Making
,
Podcast
,
Relationships
"You have to choose who you give a front row ticket to in your life, and you also have to choose who you are going to be front row to."
— Jon Vroman
Greetings, SuperFriends!
Today we are joined by Jon Vroman. If you haven't heard of Jon Vroman, he is a philanthropist, a speaker, a bestselling author, an ultra-marathon runner and the founder of the Front Row Foundation. Jon has been doing incredible work for many years, working with people at the end of their lives, mainly people with terminal illnesses. The lessons that he's learned and the inspiration that he's taken away has led him to write an incredible book and come up with an entire philosophy about how to make moments.
It's normal if you don't understand what that means, what making a moment is actually about. I was unclear about it as well and I was also unclear on what it means to live life in the front row. We went into both of these in the episode, and I have to say I was pleasantly surprised to find out that they meant something way cooler, way more meaningful and way more inspiring than even I could have imagined.
So I am very excited to bring you guys this episode and I am sure you guys are going to enjoy it!
In this episode, we discuss:
Who is Jon Vroman and how did he get there? [4:45]
What does it mean to "make a moment"? [6:10]
Which three forces help people make the most of their moments? [6:30]
The power of hope in making our moments [7:00]
The power of celebration and utilizing past moments [9:30]
Using presence to make your life count [12:30]
How making moments can be a culture of giving, not just taking [14:00]
How do we consistently make our moments? [15:00]
The power of relationships in living your life [15:30]
How can mindset change even the hardest situations? [17:20]
Shaping your environment to assist in making your moments [19:30]
L.I.F.T.: the pillar behind making your moments [24:20]
An amazing experience from Jon Vroman's immediate environment [27:30]
An exercise you can do starting this week [31:30]
Jon Vroman's habits to tackle life [36:20]
The balance between crushing it and helping others crush it [40:30]
Where can you find more about Jon Vroman? [41:30]
Jon Vroman's keynote message [44:00]
Resources Mentioned in This Episode:
Favorite Quotes from Jon Vroman:
"Hope brings the power of a future moment into this one."
"Celebration is the power of bringing past moments into this one. It's about utilizing the power of a front row moment in our lives in order to change our state right now."
"All we can do is the best we can with every moment we are given."
"Let's not underestimate the power of being there for somebody, of making somebody else the star. Being a moment maker isn't just about making it great for you, it's about making it great for somebody else."
"You have to create an environment that empowers you, and you have to be intentional about that."
"Through gratitude, our moments expand."
"I am not a businessman with a family. I am a family man with a business."
"Being in the front row is the concept of showing up for others."