Building A Happy Body W/ Jerzy Gregorek, Olympic Weightlifter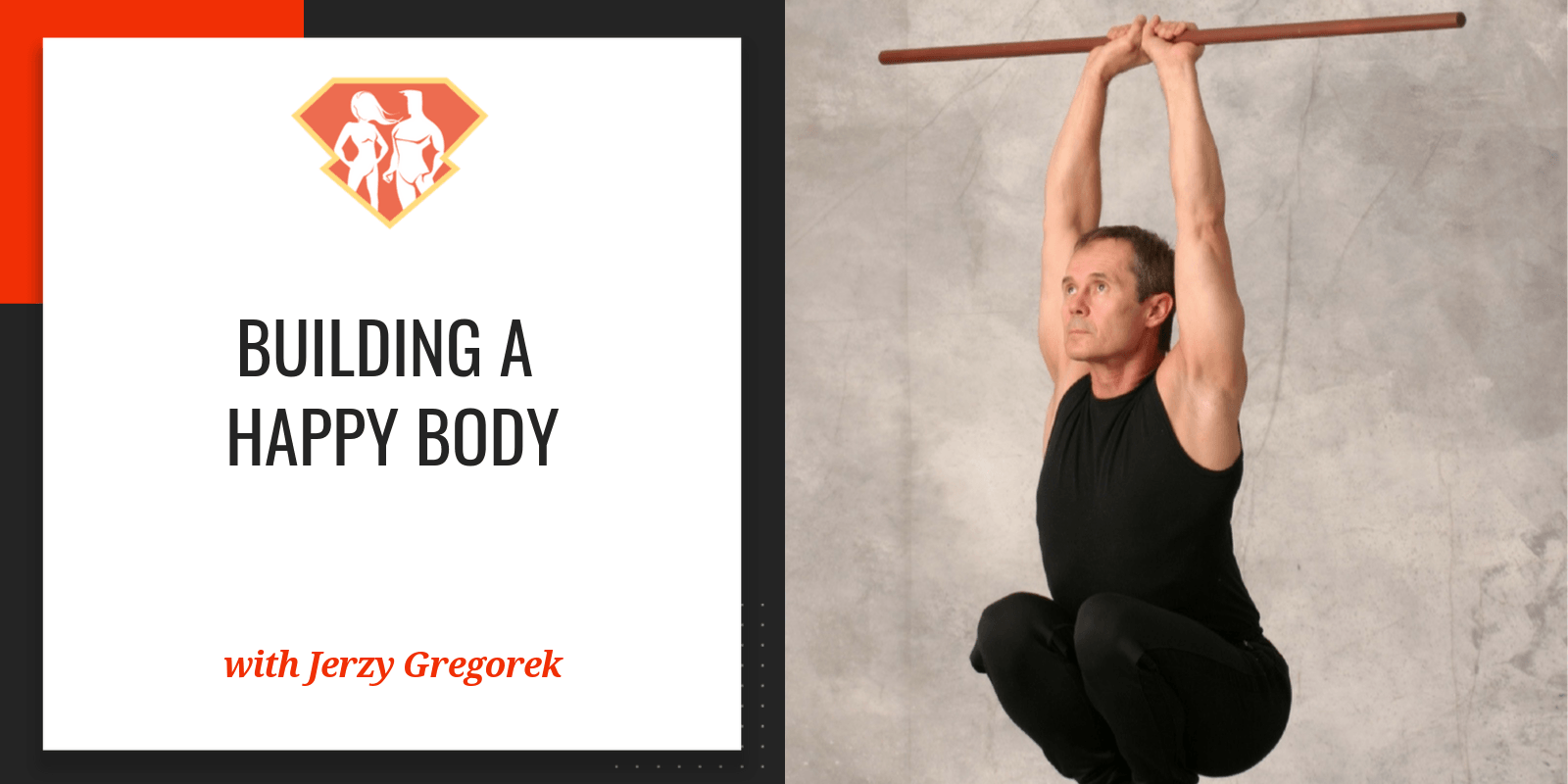 Tags:
Exercise
,
Fitness
,
Health
,
Inspiration
,
Podcast
,
Weightlifting
"The most important thing in life is to progress, to become better over time."
— Jerzy Gregorek
Greetings, SuperFriends!
Today we are joined by a guest that we've had a lot of requests for, and finally were introduced to thanks to one of our students. It is Jerzy Gregorek.
You guys have probably heard about Jerzy, as he is in Tim Ferriss's latest book, as well as in one of the longest and most popular episodes of The Tim Ferriss Show. But, that is not his biggest claim to fame at all.
In fact, Jerzy is the creator and founder of the UCLA Weightlifting Team, he is a 4-time champion Olympic Weightlifter, and he still has a world record that has been standing for 17 years, which nobody has been able to beat.
Jerzy immigrated from Poland to the United States together with his wife, Aniela, in 1986, as a political refugee and rose through the ranks of being a trainer and mentor to people, for over 30 years. He went on to develop the Happy Body Program, which is a fitness regime and routine that you follow every single day. It is designed to improve upon the issue of fitness and help people create bodies that actually function and work.
Jerzy is 63 years old and he can still beat pretty much all of us around when it comes to Olympic weightlifting power and strength. He is an incredible individual, and, on top of all of that, he has also been awarded various awards as a poet and as a published author. He has written a number of books including books on grit and books on, obviously, the Happy Body Method.
There apparently are a whole lot of things to say about Jerzy Gregorek, and, as you'll see in this episode, we did not cover even a fraction of them. I have to admit that we jumped around and I tried to get as much of Jerzy's life wisdom and advice into 1 episode as I could, but we reached the end of the episode and realized we'd have to do another one.
I did my best guys and I think you are really gonna love the episode, I believe you will learn a lot and I think you are going to appreciate Jerzy's perspective. I'd love if you guys leave a comment below or send me a note on Twitter to let me know what I should have gone into in more depth, and what you would like to hear on my next episode with my new superfriend, Mr. Jerzy Gregorek.
In this episode, we discuss:
Who is Jerzy Gregorek, what does he do and why does he do it? [6:20]
How did becoming a firefighter provide Jerzy with a goal and vision? [8:30]
The importance of "walking the talk" [9:30]
The political unrest in Poland that made Jerzy spend 4 years underground [11:20]
How that experience had a huge impact on Jerzy Gregorek's life [13:00]
What did Olympic weightlifters do in the US back in 1986? [14:35]
How did Jerzy become a personal trainer? [15:10]
The initial progress of Jerzy's training business [16:30]
The story of Jerzy's training of professional martial artists [19:30]
How Jerzy made his clients take ownership of their fitness [21:30]
Transition to the Happy Body Program and breathing exercises [23:00]
The fundamental principle behind the Happy Body Program [24:00]
The importance of knowing the ideal body weight [25:00]
Why the body-mass index can be a really big lie [27:00]
The addition of flexibility, strength, and speed in the Happy Body Method [28:00]
Why Olympic weightlifting is an important part of the Happy Body Method [31:45]
The importance of the lower body in sports [34:00]
The energy required for different moves in weightlifting [36:00]
Power is more important than strength in many aspects [38:00]
What can you do starting today to improve your fitness? [41:20]
How to accelerate the Happy Body system [43:00]
How Jerzy got paralyzed at the age of 23 [44:20]
The way that Jerzy approached (and approaches) his injury [45:00]
The 3 levels of the Happy Body Method [48:00]
How all exercises add up to the 1 main exercise [49:30]
The importance of keeping workouts (and daily routines) constant in order to track your progress [52:00]
Why recovery is important to the consistency of athletic training [53:45]
Having a good time in training is an essential part for successful athletes [54:30]
A poem that Jerzy Gregorek wants to share with us [56:00]
Where can you find more about Jerzy? [59:30]
A brief takeaway from Jerzy's experience with Tim Ferriss [1:02:00]
The importance of progressing over time [1:03:20]
Resources Mentioned in This Episode:
Favorite Quotes from Jerzy Gregorek:
"Role modeling is one of the most important inspirations in life."
"I decided to create something that would force people to be independent and not just being coached."
"The body-mass index is not right. You can have perfect BMI and be obese at the same time."
"When you analyze all athletics and sports, it's all legs. Leg power and flexibility are extremely needed."
"After 35, we simply deteriorate 2% every year. To be the same, we need to at least improve 2% every year."
"Becoming better over time is the purpose of a learning system."
"If you don't get better over time and you don't measure it, then you just don't know that you are not getting better."
"If you do different things every day, then you will never be able to actually find out why something not good happens to you."
"To be successful in any athletics, you have to be having a good time."
"The tools are ok to have, but if you don't apply them then you can't really help yourself."
"Becoming better over time is the most beautiful thing that you can have."