Calisthenics, Kaizen Philosophy, and Business Management W/ Tee Major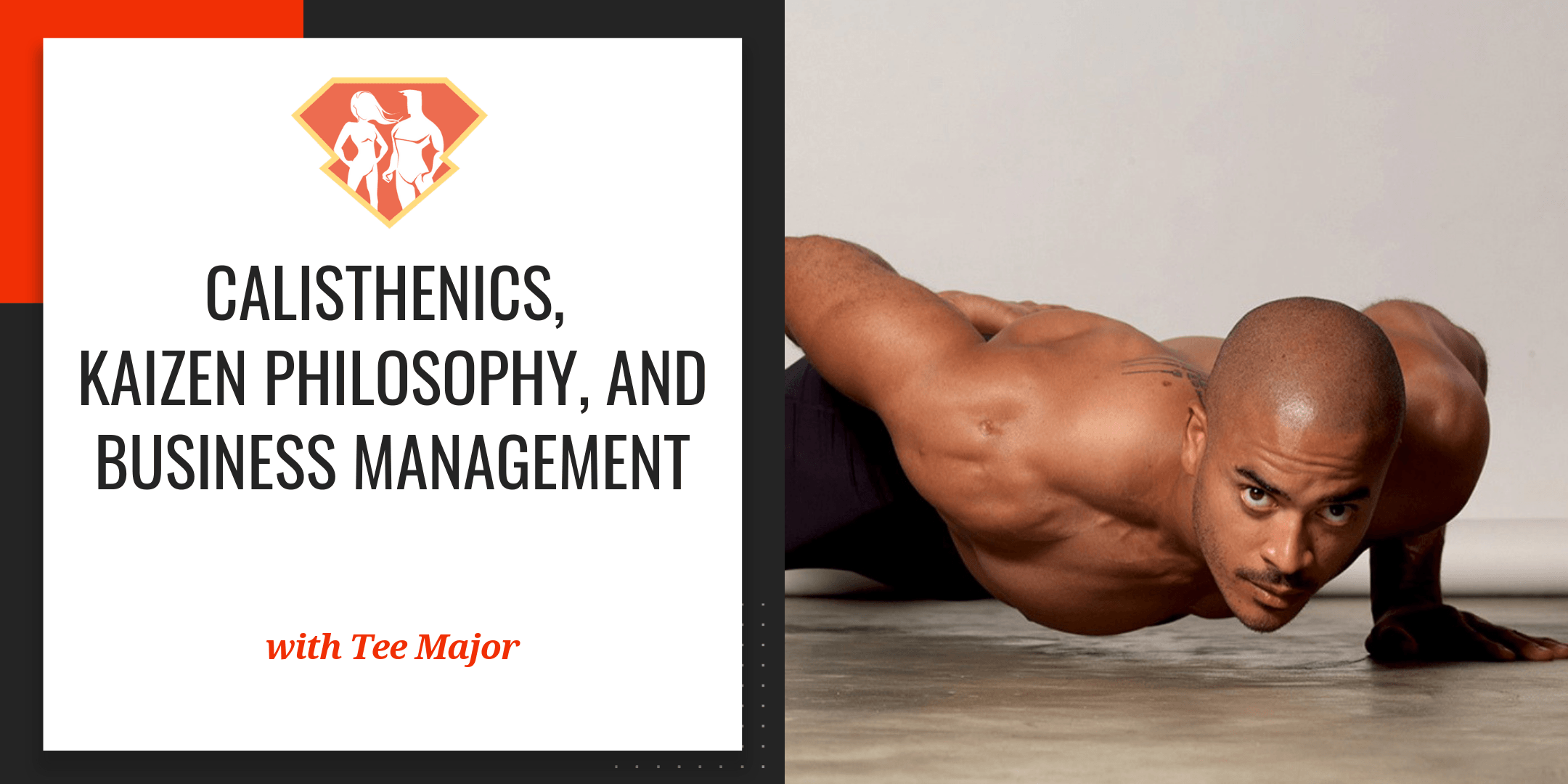 Tags:
Calisthenics
,
Entrepreneurship
,
Exercise
,
Fitness
,
Health
,
Inspiration
,
Meditation
,
Podcast
"The best piece of equipment is the one that you use."
— Tee Major
Greetings, SuperFriends!
Today we are joined, once again, by my friend Tee Major. If you haven't heard our first episode with Tee, you might want to check it out. He's a pretty awesome guy!
In that episode, we talked about all his experiences and the things that he has learned from training the world's most elite warriors. He's actually trained every single branch of the military, in their fitness regimen, and he's lived in places like Kyrgyzstan, Iraq, and Afghanistan.
But now, in this episode, we're talking a little bit more about the actual, practical, hands-on of Calisthenics. For instance, what is Calisthenics, how does it fit into your fitness routine, and how you can remain fit and healthy on the go if you don't have access to equipment.
We also talked about some other stuff. In fact, we went into a total tangent about business management, and how the lessons learned there can make you a better human being in all of your relationships. I hope you folks get a lot of value out of that!
I really wanted to go on this tangent, as it's something I'm learning so much about. It was an opportunity for me to use the Feynman Technique and teach someone else what I've been learning.
So, without any further ado, I know you folks are really going to enjoy this episode with Tee Major!
-Jonathan Levi
In this episode, we discuss:
How did Tee Major come to writing his book on Calisthenics [6:30]
Walking the talk [7:45]
What exactly are Calisthenics? [9:10] 
Training with minimal need for equipment [10:45]
Traveling and working out [11:10]
Tee Major's content redesign to include Calisthenics [11:45]
The book is for the people interested in Calisthenics, not for the average person working out [12:25]
Being able to work out anywhere with Calisthenics [13:00]
Are Calisthenics a training program on its own, or is it to be integrated with others? [14:15]
The problem of extremism in training [15:30]
Why we should be looking for movements based on our evolution until today [16:50]
A lesson from martial arts [18:00]
Breaking down movements in the book [19:05]
How Tee Major uses simplicity to teach movements [20:15]
Kaizen: The importance of small, sustainable changes [21:30]
What are Tee Major's next steps? [26:50]
It's hard to keep up with cutting-edge technologies and strategies [29:00]
How to keep the balance between learning and delegating [30:30] 
Focusing on the big outcomes and the vision [32:00] 
Not working in the business, but on the business [32:45] 
The true nature of leadership [34:00]
Producing content based on when you have value to provide [35:00]
The magic of working on your own business[36:30]
Books that have changed Tee Major's life [37:20]
Books that have changed Jonathan's life [38:40]
How does Tee Major keep himself at optimal performance? [40:30]
Where can you learn more about Tee Major? [43:30]
Tee Major's takeaway message [44:20]
Resources Mentioned in This Episode:
Favorite Quotes from Tee Major:
"Calisthenics literally means strength and beauty."
"Educate, eliminate, and evaluate."
"[Make] large goals into small bite-sized chunks."
"Time is the most precious commodity on the planet."
Photo Credit: Don Flood