Diving Deep Into Mindset And Power Couples W/ Brian Grasso & Carrie Campbell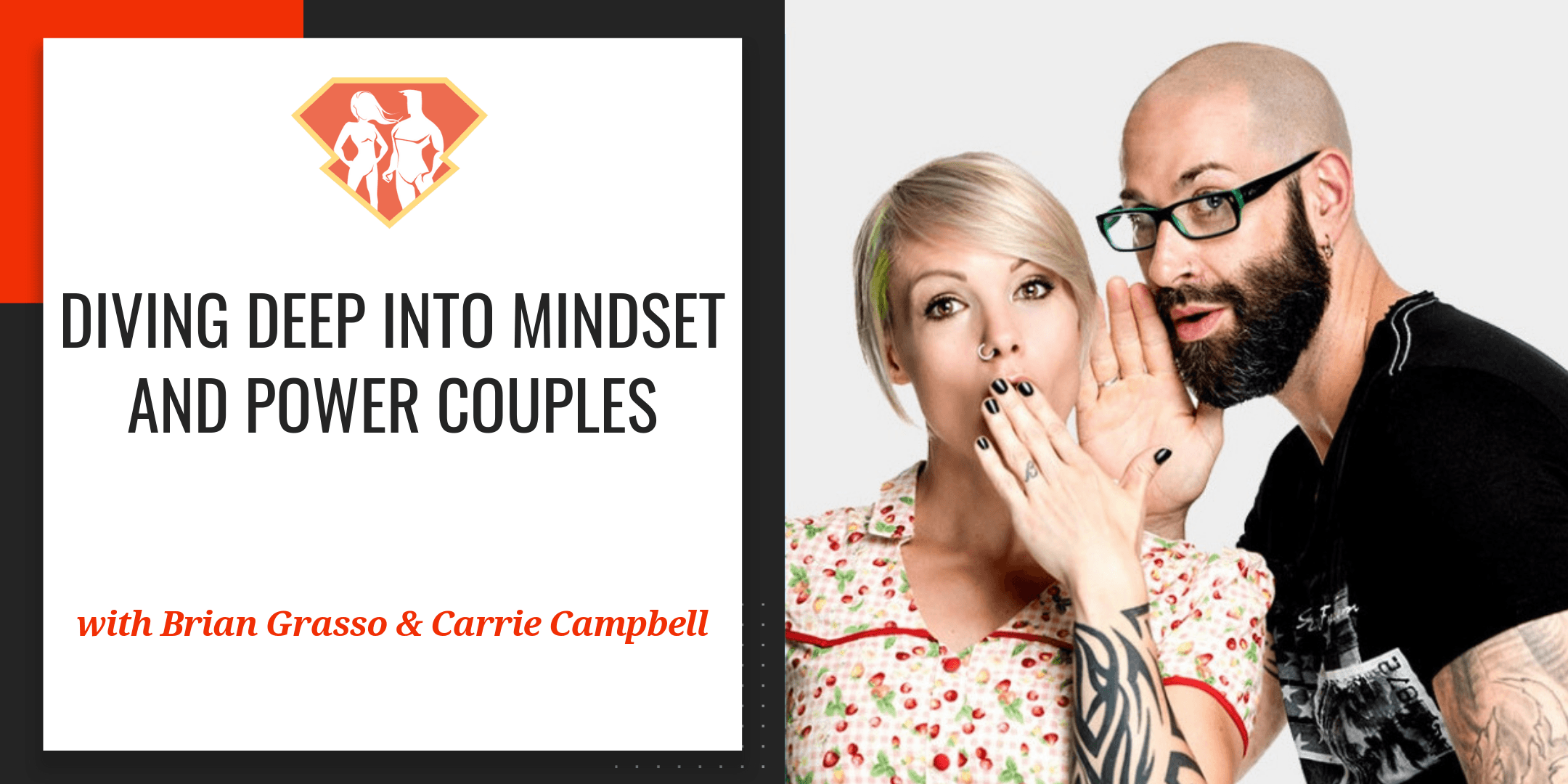 Tags:
Goals
,
Habits
,
Happiness
,
Inspiration
,
Life
,
Lifestyle
,
Lifestyle Design
,
Mindset
,
Podcast
,
Relationships
"Consistency of doing the work creates the sustainability that you're seeking in life."
— Carrie Campbell
"Simplicity plus consistency equals success in anything. Success is not a mystery, it's about doing the simple things every day."
— Brian Grasso
Greetings, SuperFriends!
Today we are joined by my fellow Genius Network
members, Brian Grasso & Carrie Campbell. They are of "Brian & Carrie – In the Morning", a 5-day a week live show that used to offer daily mindset training.
Brian & Carrie are considered some of the top experts in mindset training, and they've even developed their own "Eliminate Your Limits" system. They've actually spent decades, together and individually, in the trenches, coaching and working with people and helping them reach their greatest levels of success and happiness, in everything from health, to wealth, to relationships.
In case you didn't know, Brian & Carrie are a happily married couple with an incredible story – they work together, they live together, they love together.
In the episode, we didn't just go into mindset and why it's so important. We go way deeper than just the fluff of "you need to set your mindset for success" – we actually went into what happens in the brain and how do you actually change your mindset and upgrade the way that you think so that you will succeed. But, we also go into their secrets for having a wonderful power couple relationship, which I really enjoyed, as I'm currently building my own relationship.
I'm sure that you folks are going to just love this episode. Brian & Carrie have such an incredible relationship together, and they're so complementary to one another. Enjoy!
-Jonathan Levi
In this episode, we discuss:
Who are Brian Grasso & Carrie Campbell and what do they do? [4:00]
Change is not enough on its own – it needs to be sustainable [7:00]
What is the difference between motivation and a mindset shift? [7:50]
The importance and the role of the unconscious mind [8:50]
Why is mindset so important? [10:15]
The system that Brian Grasso & Carrie Campbell have created [12:55]
The power of awareness and the necessity of understanding our own consciousness [14:35]
What is the 1st pillar of Brian & Carrie's system? [16:00]
The second, and probably most important, pillar [18:45]
What is the difference between counting your wins and gratitude exercises? [21:00]
An incredible story of one of Brian & Carrie's clients [22:15]
How to keep your goals always on the top of your awareness [24:45]
Using the 3rd pillar to defeat your own self-doubts [28:50]
The importance of repetition in mindset [30:00]
How to use your imagination for your own benefit, instead of using it for your anxiety and worries [31:40]
Consistency of application (of the above 4 pillars) is the key [35:00]
How to balance satisfaction with working for more [36:20]
A few notes on spirituality [38:20]
The dynamic of Brian & Carrie's relationship [42:00]
Brian Grasso & Carrie Campbell's story as a couple [43:25]
The effect powerful unconscious personal stories have in relationships [45:20]
The 4 pillars of Brian & Carrie's relationship [47:30]
Working together on the relationships [50:00]
Why you shouldn't focus on one area of life with your partner, like business [52:30]
What are Brian Grasso & Carrie Campbell working on right now, and where can you find them? [53:30]
Brian & Carrie's final takeaway message [55:30]
Resources Mentioned in This Episode:
Favorite Quotes from Brian Grasso & Carrie Campbell:
"Everybody has something they want to change, but then making the change a sustainable one is always the shortcoming."
"Having a state-regulated environmental burst of momentum or motivation is not the same thing as understanding how to renovate your own mindset for a sustainable period of time."
"Until you make the unconscious conscious, it will direct your life and you will call it fate."
— C.G. Jung
"There are invisible drivers and motivators, that most people walk a lifetime without having any awareness of whatsoever. Those drivers are directing their actions, their habits, and their behaviors, unbeknownst to these people."
"When you change your mindset, you change your perspective on everything, and everything changes. If you don't change your mindset, nothing changes."
"Start paying close attention to how you and your body are talking to yourself."
"If we're not revolving our conversation and our thoughts around our direction, our unconscious mind is going to take over and is going to revolve it around something that is not going to be serving to us."
"Your mindset is a muscle, just like your body and everything else, and it requires constant repetition, no matter how redundant that seems."
"Most couples don't actually have relationship problems. What they have is their own unconscious non-serving stories."