Hormones: The Hidden Secret to Health, Youth, Performance, & Vitality with Dr. Tami Meraglia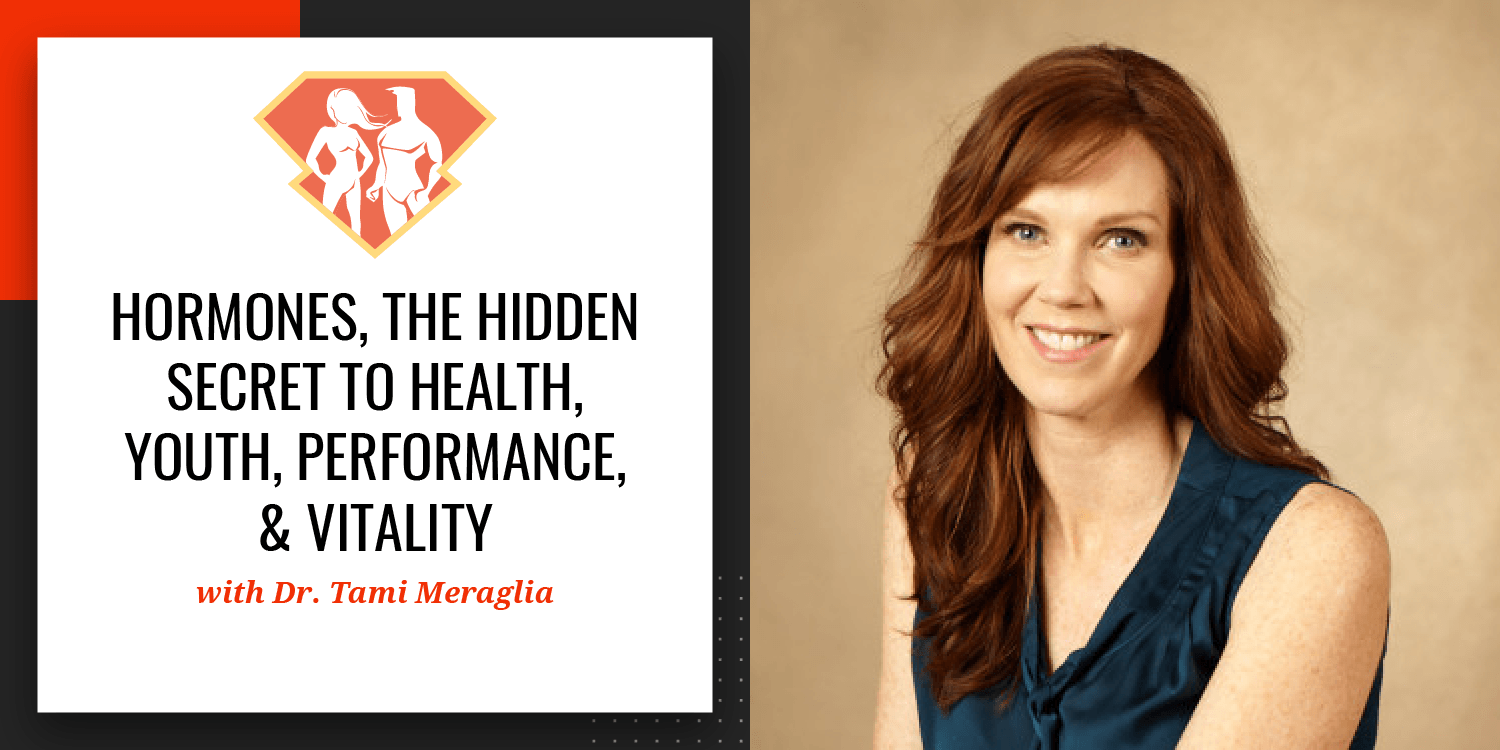 Tags:
Biohacking
,
Depression
,
Fitness
,
Health
,
Hormones
,
Meditation
,
Testosterone
"I like to think of your hormones as a symphony. If there is one part of the symphony that is out of tune, the entire symphony won't sound good."
— Dr. Tami Meraglia
Greetings, superfriends! Welcome to this week's show.
Today, I invite you to take a journey into one of my own personal interests – hormones. I spend a lot of time – perhaps too much time – thinking about the various hormones that control my mood, my energy level, my recovery times, and my performance. And after listening to our guest today, I hope you'll understand why you should, too. Hormones are some of the most important signaling mechanisms our bodies have, and they can make us feel great, healthy, and full of energy, or depressed, overweight, and constantly tired.
My guest today is an expert in all things hormone related. She's the national bestselling author behind the book "The Hormone Secret." Through her clinic, the Vitality MediSpa and Wellness center, and her book, she's helped thousands of people reach optimal health through her unique focus on hormones. She's also been accepted into Premiere speakers, an honor she shares with such greats as Arnold Schwarzenneger, Bill Clinton, and more.
In this episode, we're going to discuss what you need to look out for, foods that optimize the ideal hormonal balance, environmental factors to avoid, and much, much more.
So, without any further adieu, let me introduce you guys to Dr. Tami Meraglia.
In this episode with Dr. Tami Meraglia, we discuss:
How Dr. Tami Meraglia "started her education over again" after medical school, on what topics, and why
Some common symptoms or health issues that you might not know are caused by hormone imbalances
What are the roles of the various hormones in our bodies, and why is it so important to have a correct balance
Why testosterone is so important – especially for women!
Two safe, all-natural herbal supplements that can boost your natural testosterone
What are the physiological costs versus the benefits of drinking alcohol?
What kind of diet does Dr. Tami Meraglia advocate for optimizing endocrine and hormonal health?
How dangerous are the compounds in our soaps, colognes, and household products, and what should we look out for?
How to fire your doctor (and when), and why doctors aren't necessarily 100% right
Two important pieces of homework for you to complete this week
How to get yourself to do new habits every day with one simple mental exercise
Which skills are the most important to teach our kids?
What books have Dr. Tami recommended the most?
How physical activity can improve your family life – and your brain
The #1 top lesson Dr. Tami Meraglia would you like you to take away from this episode
Resources Mentioned in This Episode:
Favorite Quotes from GUEST:
"I think people forget that how they're feeling, actually, is probably effected by their hormones… Hormones affect how we look, how we feel, AND how we function."
"It would be a lot easier and quicker to talk about what functions [hormones] DON'T cover."
"[Testosterone] is basically the secret anti-aging hormone."
"If you have a doctor that doesn't listen to you, or dismisses natural means to approach a problem, FIRE THEM! They work for YOU!"
"I have a successful practice, a book… a beautiful family, and two businesses. It's not because I'm the smartest, it's because I learned how to get organized. THAT'S what we need to teach our kids!"
"You have choices. And whether you think you're choosing, or not choosing, you are."