Dr. Marilyn Glenville: Nutrition Is Behind Nearly All Degenerative Illness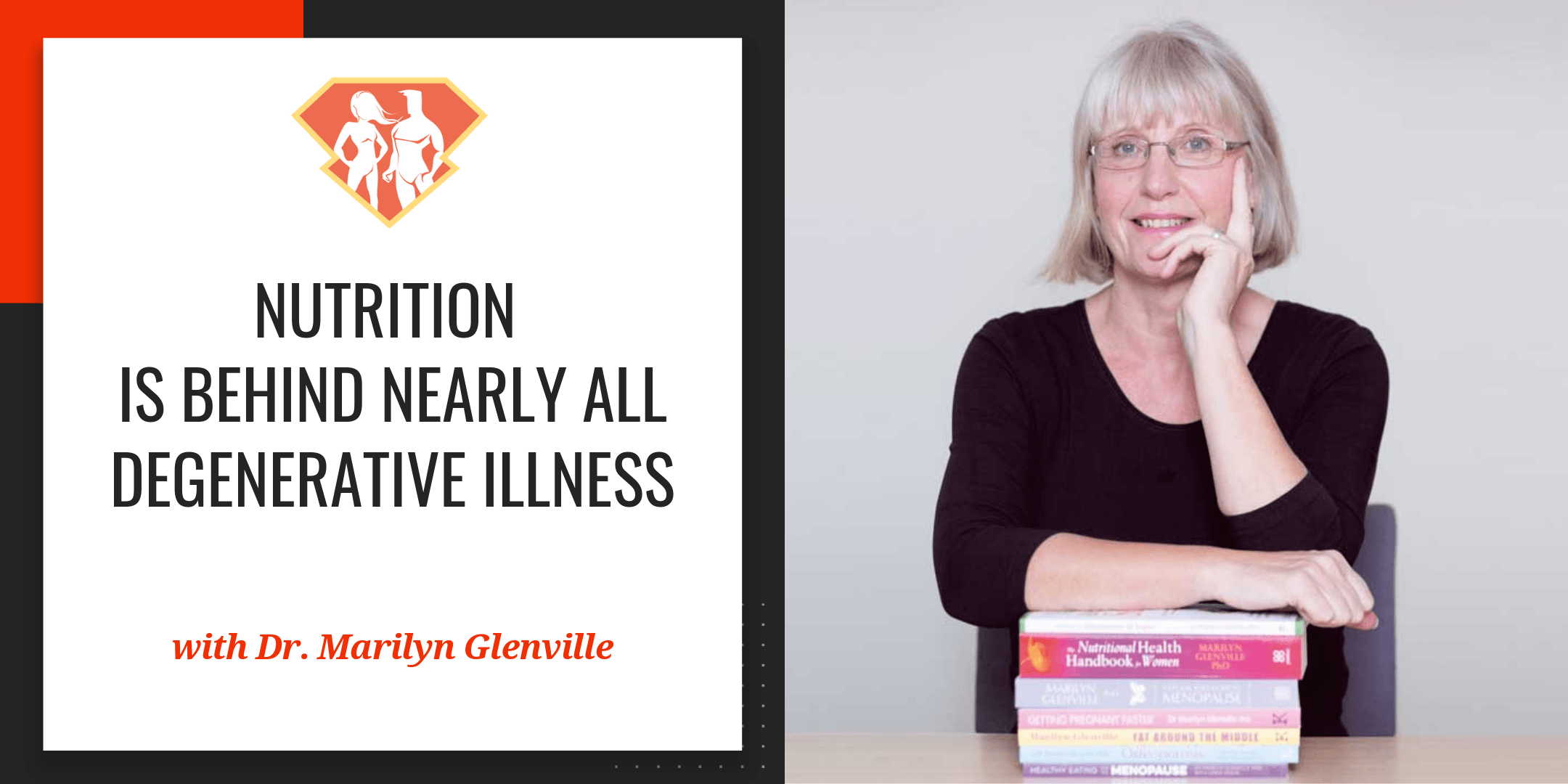 Tags:
Dementia
,
Diet
,
Migraines
,
Nutrition
,
Obesity
,
Osteoporosis
,
Podcast
"When we look at the nutritional research in the medical literature, it's outstanding how we can work on ourselves, change our diet, and make such a significant difference."
— Dr. Marilyn Glenville
Greetings, SuperFriends!
Today we are joined by Dr. Marilyn Glenville. If you haven't heard of Marilyn, well, you probably don't live in the UK, because she is the U.K.'s leading nutritionist and she specializes in women's health. But she's an inspiring public speaker, she's very easy to listen to, and very practical in her approach. She's also the former president of the Food and Health Forum at the Royal Society of Medicine… and she's written over 20 books.
In the episode, we talk about nutrition, we talk about all the various aspects, the ins and outs, we discover some interesting stuff we discover some interesting ways that ancestral health or a Mediterranean diet can improve maladies that you might not know it can improve. And, in general, we give some great homework for you to play around with and see how you can optimize and improve your diet. I know you guys are going to enjoy this episode, so I don't have to say I hope!
In this episode, we discuss:
Who is Dr. Marilyn Glenville, and how did she start her career in this direction?
How did Dr. Marilyn Glenville cure herself of chronic migraines?
What's the deal with artificial sweeteners? Are they bad for you? How?
How the micro biome may unlock secrets about much more than obesity
What are the commonalities between the various guidelines in Dr. Glenville's books for Alzheimers vs. Migraine etc.
A discussion of Omega 3 Fatty acids, and why they're so important
How can we prevent osteoporosis? Top suggestions that everyone should follow
A discussion of Vitamin D, and why we're all deficient
What are the 2 most important nutritional tests you should do immediately?
What's the #1 piece of homework you should do this week?
What does Dr. Marilyn Glenville believe that other people still think is crazy?
What's the biggest misconception that people have about nutrition?
Why are essential fatty acids so important? What do they do in the body?
Dairy: yay or nay?
"Gluten free" foods, and other so-called health foods that are awful
Where to reach out to Dr. Marilyn Glenville
Resources Mentioned in This Episode:
Favorite Quotes from Dr. Marilyn Glenville:
"Certain amounts of the B vitamins… Actually prevented 90% of brain shrinkage."
"My feeling is always… What have you got to lose? There's no downside to putting these nutrients in… there's only the upside."
"Some people are getting up to 45 teaspoons of added sugar a day, because it's in all of these other foods."
"These are called 'essential fatty acids' for a reason… your body cannot produce them."
"We have to be bit careful where our food appears to be healthy, and yet, it's been altered in some way."