Nick Sonnenberg On The Magic Of Automation & Outsourcing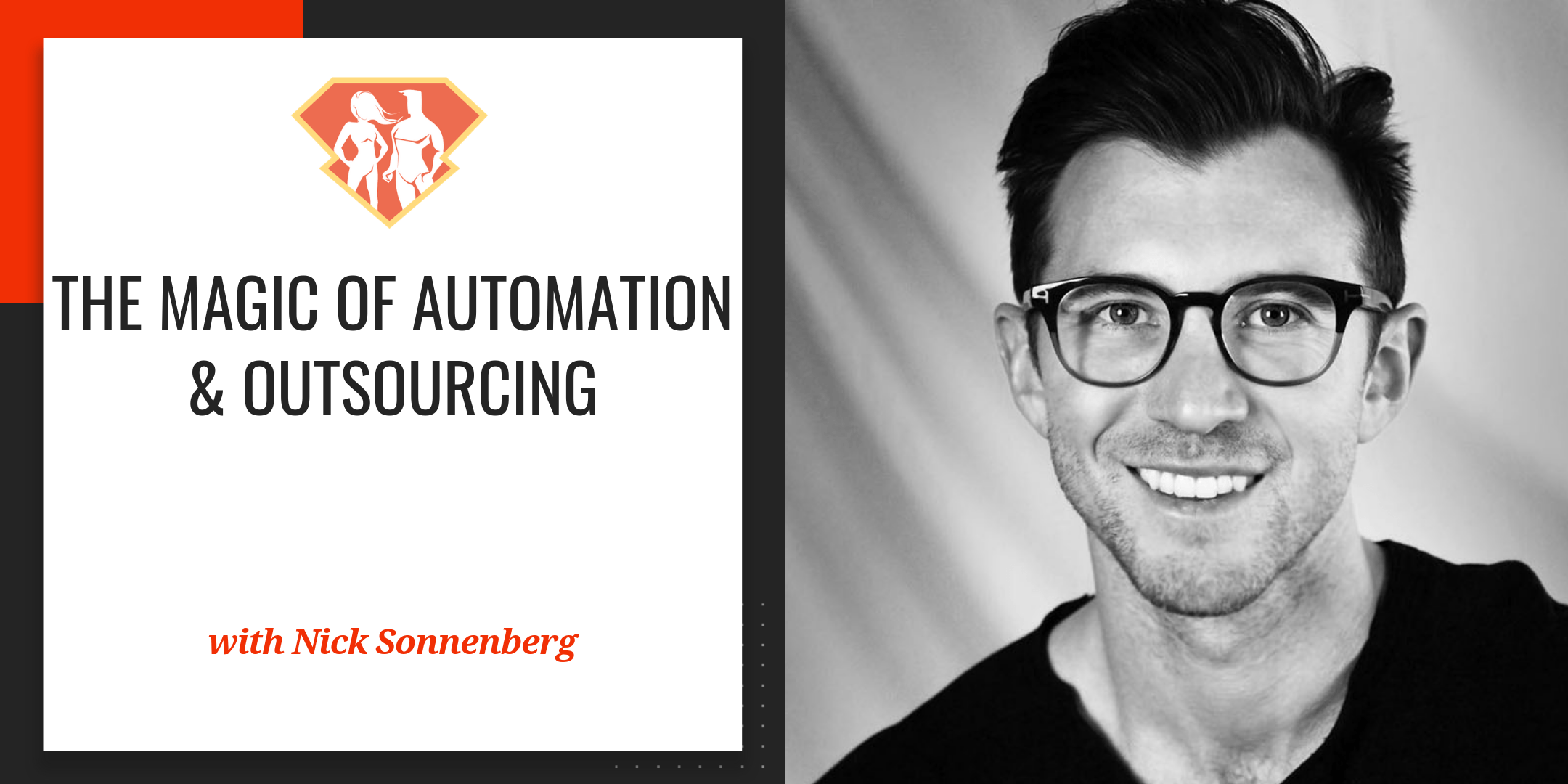 Tags:
Automation
,
Entrepreneurship
,
Inspiration
,
Lifestyle
,
Lifestyle Design
,
Outsourcing
,
Performance
,
Podcast
,
Productivity
,
Success
"The way that you do one thing is the way that you do everything."
— Nick Sonnenberg
Greetings, SuperFriends!
Today we are joined by Nick Sonnenberg. Nick is a former binary options software developer and fellow life-hacker, turned into a founder of a company called Leverage.
In case you didn't know, Nick is a renowned expert in productivity and life-hacking – and, unsurprisingly, that is largely what Leverage does. They are a company that helps you outsource a lot of tasks to a high-level workforce.
In the episode, we didn't talk that much about outsourcing, but we did geek out about our favorite productivity and automation hacks, and all the different things that we have managed to get off of our plate from learning about all these kinds of hacks.
As often happens, this is a far-ranging conversation. I really enjoyed talking to Nick, and I know that you will do so, too!
-Jonathan Levi
Did you know that you can hire a wide range of professional freelancers on Fiverr – in minutes?
In fact, this podcast episode was edited by a Fiverr freelancer!
Start searching for your next project above!
In this episode, we discuss:
Who is Nick Sonnenberg, and how did he get here? [5:00]
How did Nick get into team productivity? [8:40]
What is the way Nick view personal productivity? [10:20]
What are some of Nick's favorite and most effective productivity hacks? [11:20]
The power of saying 'no' [13:10]
How Nick outsourced his first book [14:45]
What are some more amazing outsourcing processes that Nick has set up? [17:15]
The people you outsource to don't need to achieve the same level as you would [19:50]
A conversation on outsourcing travel [21:20]
Successful productivity and outsourcing is the accumulation of many small things [24:30]
Automating before outsourcing [25:20]
Small hacks that you can utilize to save time and improve quality of life [26:40]
Various apps that you can use to increase your productivity [29:15]
Some homework that you can start applying today [35:45] 
A few ideas on how to use your calendar [36:30]
How can people use Leverage, and why? [40:00]
When should you outsource? [42:00]
Nick Sonnenberg's final takeaway message [45:00]
Resources Mentioned in This Episode:
Favorite Quotes from Nick Sonnenberg:
"Personal productivity is relatively easy compared to business efficiency and making teams more productive."
"It all starts with individual productivity."
"If you know how to maintain an 'Inbox Zero', then you're 90% there."
"If you can get someone to do things for you at 80%, that's still very good enough."
"For me, return on time is what I'm thinking about."
"I'm not trying to save an hour at a time. I'm excited to save even five seconds."
"Your brain is for having ideas, not holding ideas."