Realizing Your Full Potential & Learning To Invest Your Energy W/ Matt Ward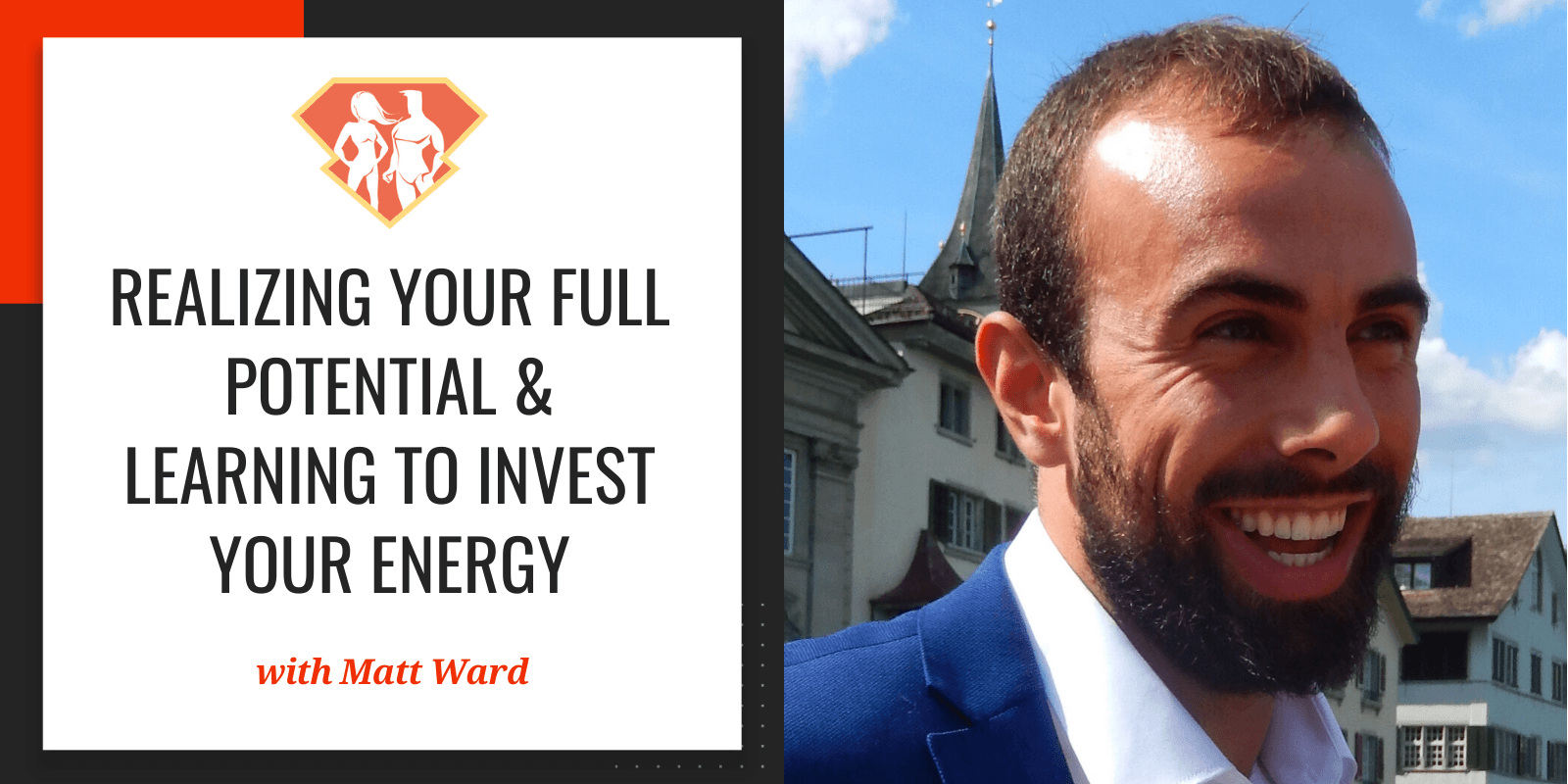 Tags:
Entrepreneurship
,
Fasting
,
Goals
,
Habits
,
Inspiration
,
Learning
,
Lifestyle Design
,
Mindset
,
Motivation
,
Performance
,
Podcast
,
Productivity
"There are no rules. You don't have to have that picket fence. You don't have to go to college."
— Matt Ward
Greetings, SuperFriends!
Today we are joined by Matt Ward. Matt is a serial entrepreneur, a startup advisor, an investor and a futurist podcaster at Disruptors.FM, a TED-esque long-form podcast with top scientists, creatives, and world-leaders focused on a better future through innovation and entrepreneurship.
Matt is also a top writer on Medium, he has built and sold 3 companies (incl. a 7-figure exit in 12 months), has created four top 5 podcasts and, on top of all that, is writing a post-gene-editing Sci-Fi novel.
I wanted to have Matt on the show because I wanted to know how he is so multidisciplinary, how he manages to do so much, focus on so much, have so many different interests, and create such an interesting and meaningful life.
We also talked a little about the future and what that holds, and all the various things that he has learned interviewing some of the world's top authorities on the future. As we know, technology and innovation are going to make us all SuperHuman, so it's nice to know what is coming down the pipeline.
It was a great episode, I really enjoyed chatting with Matt, and I'm sure you will enjoy this conversation as well!
– Jonathan Levi
In this episode, we discuss:
Who is Matt Ward and how did he get here? [4:00]
Where is Matt Ward at this point in his life? [6:35]
What is Matt Ward's superpower that helps him power through all that? [8:05]
How can you move towards realizing your full potential? [10:45]
How does Matt choose where to invest his energy? [12:35]
How is Matt regulating where he is headed? [20:45]
What are the things that have stood out from Matt's long podcasting experience? [23:50]
What habits does Matt utilize to keep himself performing at a SuperHuman level? [25:55]
Some homework for you by Matt Ward [29:15]
What is some product or service Matt can't live without? [30:20]
Some of Matt's favorite books [30:55]
Where can you learn more about Matt Ward and his work? [32:00]
Matt Ward's final takeaway message [36:20]
Resources Mentioned in This Episode:
Favorite Quotes from Matt Ward:
"The vast majority of people are working in jobs they don't like, and oftentimes hate."
"Most people are giving busywork to the world because that is what the world rewards."
"Learning is one of the most important things we can do."
"If it makes you happy, it can't be that bad."
"I think everyone can dream bigger and accomplish more."