Sunny Lenarduzzi on How To Build Authentic Relationships (And Businesses) Online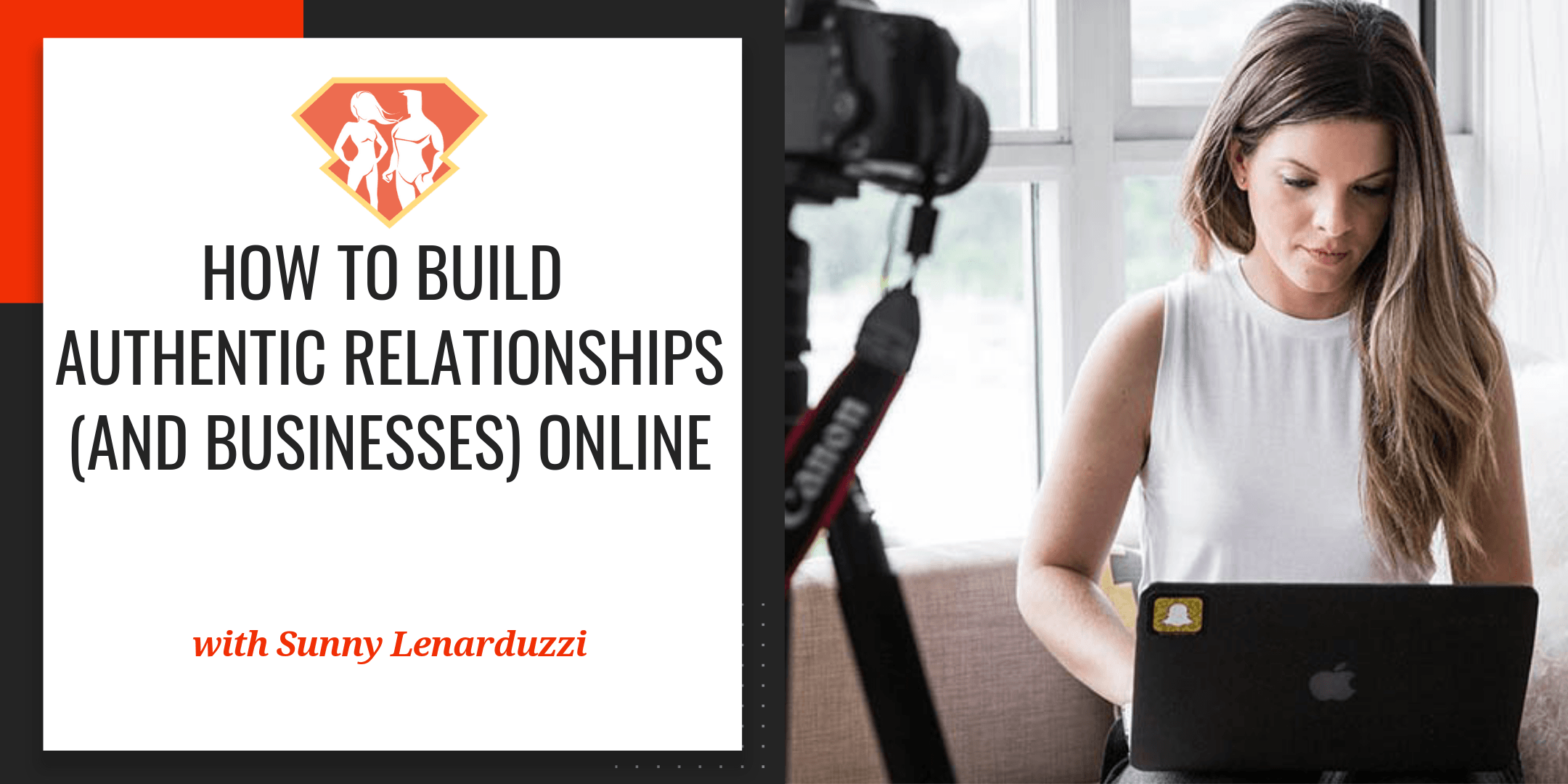 Tags:
Entrepreneurship
,
Inspiration
,
Lifestyle
,
Performance
,
Podcast
,
Productivity
,
Relationships
,
Youtube
"In order to be the CEO of your life, you need to show up for yourself first."
— Sunny Lenarduzzi
Greetings, SuperFriends!
Today we are joined by the amazing Sunny Lenarduzzi, who, to be honest, I don't think I could have gotten this interview with if we weren't already friends since years before.
Sunny has almost a decade of experience as an award-winning video, social media and online business strategist. From tech start up's to authors, you've probably seen her working with HootSuite, with Lewis Howes, with Gary Vee, and you've also seen her do amazing and incredible campaigns, such as one she did with Applebee's that had a billion impressions in one-freaking-day.
Sunny is the creator of Youtube for Bosses, and also teaches all kinds of amazing courses online. You may have seen her speak at NATO's headquarters, and you can also find all kinds of amazing stuff from her in Entrepreneur, Forbes and the Huffington Post. She is also on Youtube, and has been awarded 'Best in Social Media' in western Canada.
Enough about the brag reel. Sunny is an amazing human being and an amazing entrepreneur. The reason I wanted to do this episode was, well, first that I wanted to catch up with Sunny and I thought it would be interesting for you guys to hear the conversation, but I also wanted to get her to share her experience about something that I think a lot of people struggle with.
As you guys know, I'm trying to spend less time on social media, and I recently did an episode about how I'm trying to spend less time on my phone. And yet, I know people like Sunny, who not only are able to not spend all their lives on their phone, but are able to use social media tools and digital tools to their advantage to build strong and meaningful relationships with other people.
So, I wanted to ask Sunny, how the heck are you doing this? How are you building such a strong business, such a strong brand and also such strong relationships with such amazing people without spending all your time on the freaking smartphone?
We talked about that, we talked a lot about business and how Sunny has grown a million dollar one out of pretty much nothing. We also covered some of her hacks for productivity. What's more, we talked about how she overcame a massive stress breakdown, and rose to become even greater, even more grounded and even more calm.
In general, we got to talk about all kinds of amazing stuff, that I think you guys are really gonna enjoy. If you guys do enjoy it, let me know it with a comment or a review. I want to know if you guys are interested in these episodes, which aren't about nutrition or fitness, but are talking about ways that we can all do something better in our lives.
In this episode, we discuss:
Who is Sunny Lenarduzzi, and what does she do? [7:00]
The "aha" moment that led Sunny to build video content [8:00]
The many ways that Youtube changed Sunny's life [9:30]
Sunny Lenarduzzi's current projects [10:30]
How does Sunny utilize social media to build real relationships with people? [12:00]
The importance of focusing on one platform and really harvesting the results [14:00]
The amount of time Sunny devotes on social media every day will surprise you [15:00]
What tools does Sunny Lenarduzzi use to enhance her productivity? [16:45]
How Sunny's connection with her audience has impacted her business [19:00]
How can someone crash it on Youtube? [20:30]
Some of the things that have helped Sunny in her entrepreneurial journey [22:30]
Sunny Lenarduzzi's SuperHuman strategies [24:40]
The importance of focusing on yourself first [26:00]
How Sunny deals with stress and anxiety in her life right now [28:00]
Sunny's burnout during last summer, and the revelations it led to [30:00]
The importance of trust and delegation [31:30]
Resources that have impacted Sunny Lenarduzzi's life [34:30]
Homework for everyone by Sunny Lenarduzzi [36:30]
Resources Mentioned in This Episode:
Favorite Quotes from Sunny Lenarduzzi:
"I maintain the connection with my audience by listening to them A LOT."
"I am so grateful for anyone who takes a second or a minute to watch, comment or like any of my content."
"It's really important that entrepreneurs focus on one platform and really harvest that platform."
"Scheduling for me is a huge piece of how I manage everything."
"Start from a place of education towards your target audience, and then build from there."
"You really have to love what you are doing. You have to be invested in it to actually push through and be the best at it."
"Show up for yourself first, so you can show up for everything else personally and professionally."