Using The Paleo Diet To Cure Disease w/ Chris Kresser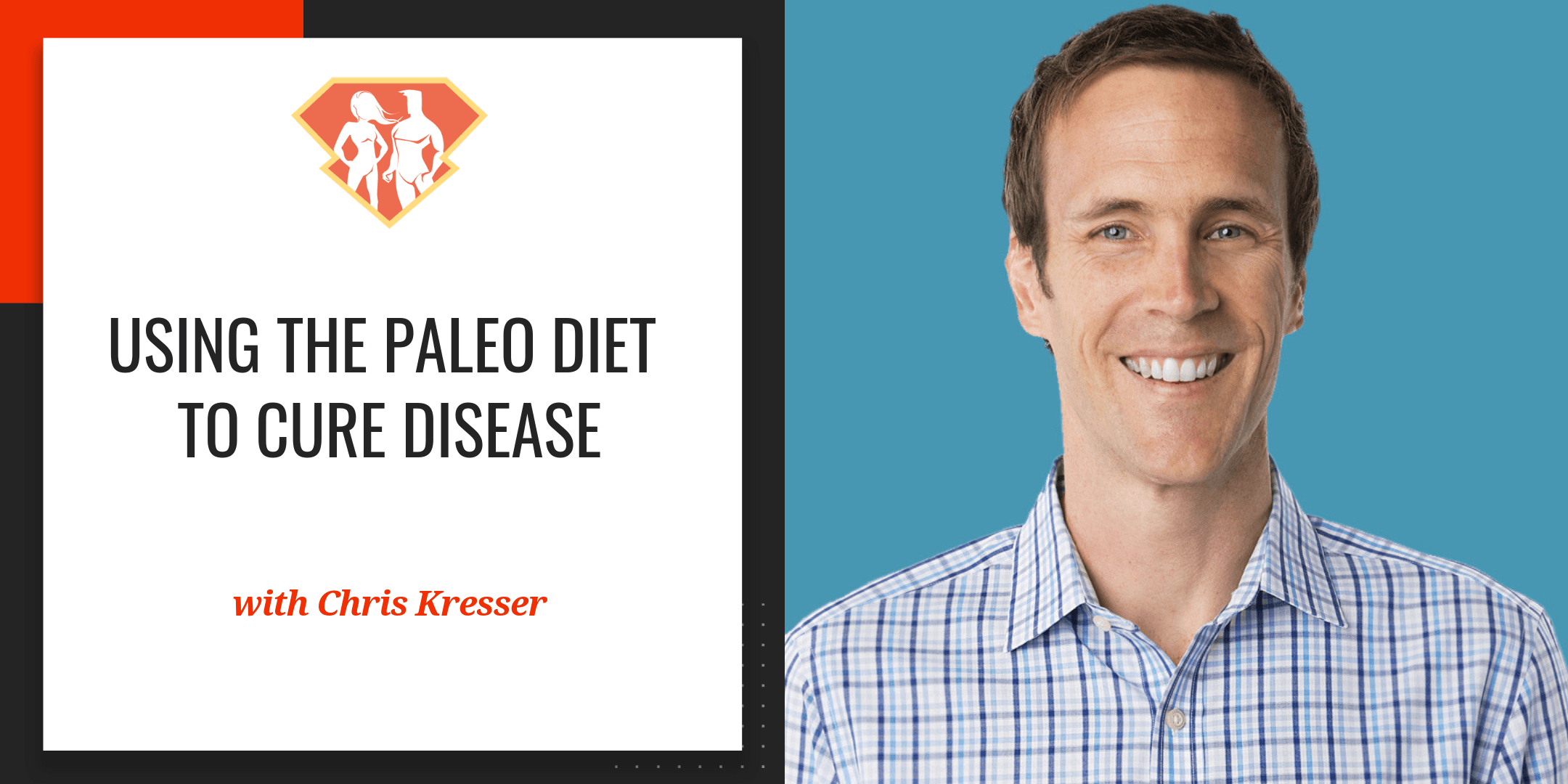 Tags:
Diet
,
Disease
,
Health
,
Nutrition
,
Paleo
"I sincerely believe that if people just ate real food, the vast majority of our health problems would disappear."
— Chris Kresser
Greetings, SuperFriends, and welcome to this week's show.
Today we are joined by the New York Times Bestselling Author behind the book, "The Paleo Cure" and the host of Revolution Health Radio Podcast. You might remember in the past, we had my friend and role model Robb Wolf on the show, who is considered one of the most central folks to the Paleo movement. Well, Robb called today's guest the most knowledgable clinician in the paleo world – and for that reason, we just had to get him on today's show.
You've seen him and his work in TIME, NPR, The Atlantic, and more – but it turns out that as a licensed acupuncturist and a self-described "health detective," today's guest has a lot more to teach us about health than just dieting.
In this episode, we talk about everything from the paleo diet, to how it can repair quite a bit of chronic health ailments, to the many issues with our modern lifestyles, and much, much more.
In this episode, we discuss:
How Chris Kresser discovered the paleo diet – after a life-threatening illness
What made Chris so sick, and why wasn't he able to recover?
Why is it that the paleo diet is so incredibly effective at restoring health for so many maladies?
The idea that nearly all forms of disease come from a dissonance from natural evolutionary conditions
The many ways our conditions differ from how we're evolved to live – and why they make us sick
In what ways, if any, does Chris Kresser agree or disagree with Robb Wolf and Dr. Loren Cordain?
How has Chris' work as a clinician informed his approach to "the paleo diet"
What kinds of disease has Chris Kresser been able to cure with the paleo diet?
What is the most gratifying result Chris has ever seen in his work?
How exactly do genes and blood type influence how you apply the paleo diet?
What is "methylation" and why is it a core part of our physiology?
An example of how genetic expression has been altered for billions of people
How does Chris Kresser's understanding of Chinese medicine influence his understanding of the paleo diet?
The 80/20 rule, and how Chris applies it to diet and nutrition
A discussion of orthorexia, and when "clean" eating becomes "too clean"
Thoughts on life balance, pragmatism, and what it means to be truly "superhuman"
What 1 thing would make most people much better off?
Which books have most changed Chris Kresser's life?
A discussion on reading – and how Chris reads a staggering 3 books a week
Where to learn more and download free eBooks
What is the #1 biggest takeaway from this episode?
Resources Mentioned in This Episode:
Favorite Quotes from Chris Kresser:
"My generation was the first to grow up taking antibiotics like candy."
"Sometimes the treatment is worse than the cure."
"All organisms are adapted to survive and thrive in a particular environment – and when that environment changes faster than the organism can adapt, a mismatch occurs."
"Today, the top 6 foods that Americans eat are sugar-sweetened beverages, grain-based desserts, alcohol, chicken-based dishes… and bread. These are completely outside that evolutionary template."
"You can apply the same evolutionary mismatch theory to all other aspects of the modern environment that are making us sick."
"I think what differentiates my approach somewhat is that I'm first and foremost a clinician."
"There's 'no one size fit's all' approach."
"Genes load the gun – but environment pulls the trigger."
"The Chinese recognized 2,500 years ago that the idea of recommending one general diet to every single person is just ridiculous."
"It's better to eat the wrong food with the right attitude than the right food with the wrong attitude."
"I sincerely believe that if people just ate real food, the vast majority of our health problems would disappear."
"We don't have to put on a loin cloth and sleep in our backyard to get the benefits of this approach, but we can alter our current diet and lifestyle to be more in sync with our evolutionary template."