Benjamin Spall On Morning Routines And Starting Your Day Inspired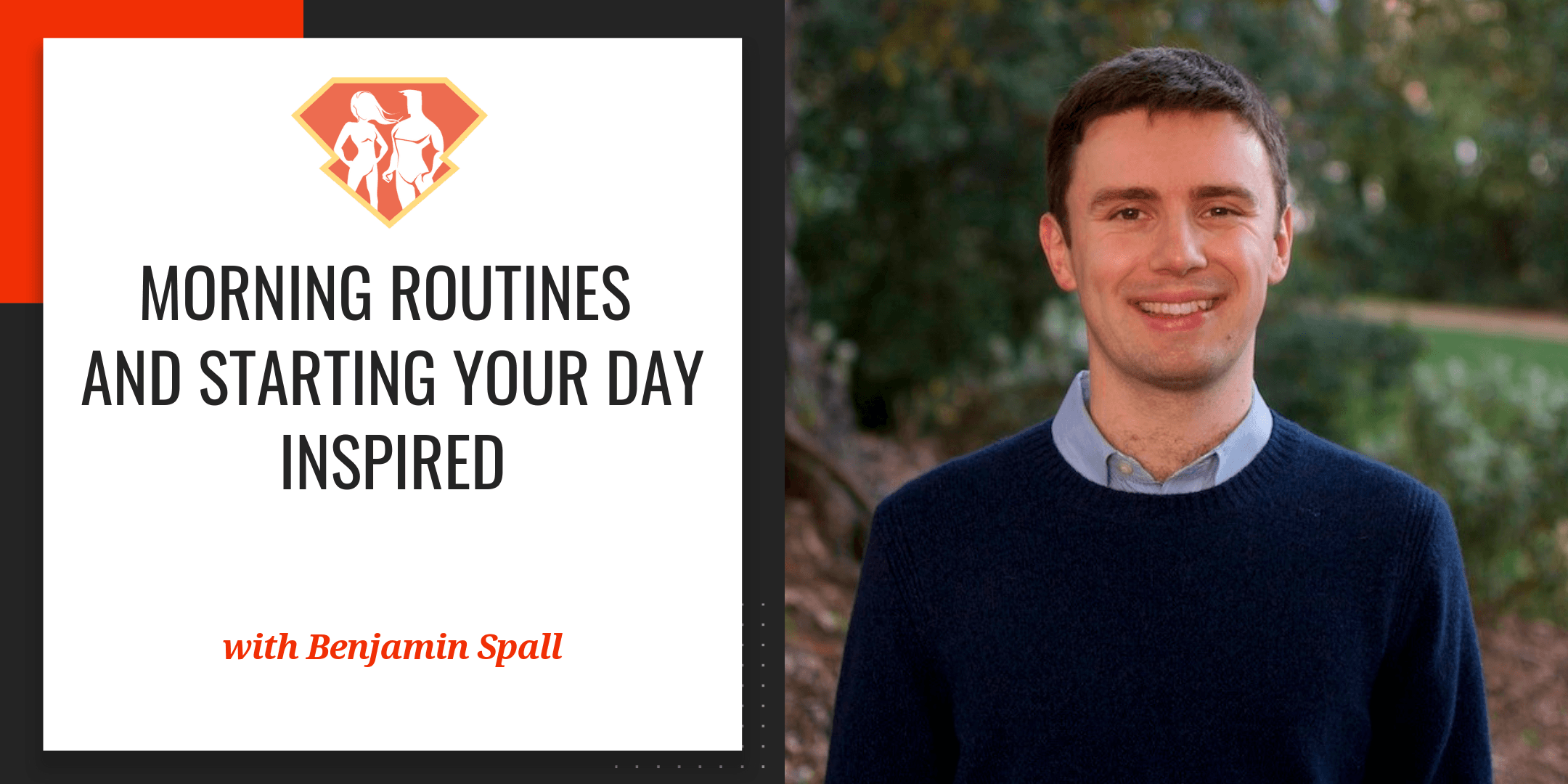 Tags:
Exercise
,
Habits
,
Happiness
,
Inspiration
,
Lifestyle
,
Lifestyle Design
,
Meditation
,
Morning Routines
,
Podcast
,
Productivity
,
Sleep
"Keep your routine short and easy to accomplish, especially in the beginning."
— Benjamin Spall
Greetings, SuperFriends!
Welcome to this week's episode, where we dive into a very interesting topic that has come up time and time again, and that is morning routines. My guest today is Benjamin Spall, the co-author of My Morning Routine: How Successful People Start Every Day Inspired.
Benjamin is also the founding editor of the website mymorningroutine.com and he writes at benjaminspall.com. He and his partner/co-author, Michael Xander, have written this incredible new book, published by Penguin, about morning routines, where they interviewed hundreds of people, such as leading entrepreneurs, thought leaders, Navy Seals, and beyond. They did all that to understand what these people do in the morning to make themselves more successful throughout the day. It's a really interesting book, which I'm looking forward to reading.
As you'll see, I really enjoyed our conversation, too! It's a far-ranging one, going from breakfast to the best 100$ that Benjamin has ever spent, and beyond.
Personally, I don't need to hope that you enjoy the episode, as I know you will!
-Jonathan Levi
P.S. Do you dream of starting your own business on the internet to achieve financial freedom, empower tens of thousands of people, and one day…one day… find yourself in the company of other great entrepreneurs and thought leaders like Ray Kurzweil, Peter Diamandis, Joe Polish, Dean Graziosi, Russell Brunson, and more?
Well… What if that day was today?
In this episode, we discuss:
Who is Benjamin Spall, and how did he get interested in morning routines? [6:25]
Why are morning routines important? [8:20]
What is the wake-up time Benjamin suggests? [11:15]
Is there a clear benefit to waking up at a specific time? [12:20]
Taking sleep cycles into account [12:55]
The quality of your sleep matters [14:10]
Important advice on how to set up your morning routines [15:25]
How can you guarantee success? [17:55]
You must not beat yourself up if you miss a day or 2 [20:15]
What place do workouts have in morning routines? [23:15]
What else can you do in your morning routine? [25:35]
Being reactive vs being proactive [26:55]
Do people include breakfast in their morning routine? [29:05]
How to start your morning routine [31:10]
SuperHuman hacks that Benjamin Spall utilizes in his own life [33:10]
The importance of winding down [34:00]
Books that have changed Benjamin's life [36:55]
Benjamin's most valuable purchase under 100$ [38:35]
Benjamin Spall's takeaway message [39:30]
Resources Mentioned in This Episode:
Favorite Quotes from Benjamin Spall:
"In the morning, you are always starting with a blank slate."
"It's so important to actually get 7.30 to 8 hours of sleep."
"Anything you can do to improve the quality of your sleep is going to improve your life as a whole, but is certainly going to improve your morning routine."
"Parts you don't enjoy so much, you can drop out of those."
"You should work out when it works for you, and just having the workout at all is where the benefit comes from."