We Talk Bone Broth, Health Hacks, Marketing, and Business w/ Entrepreneur Justin Mares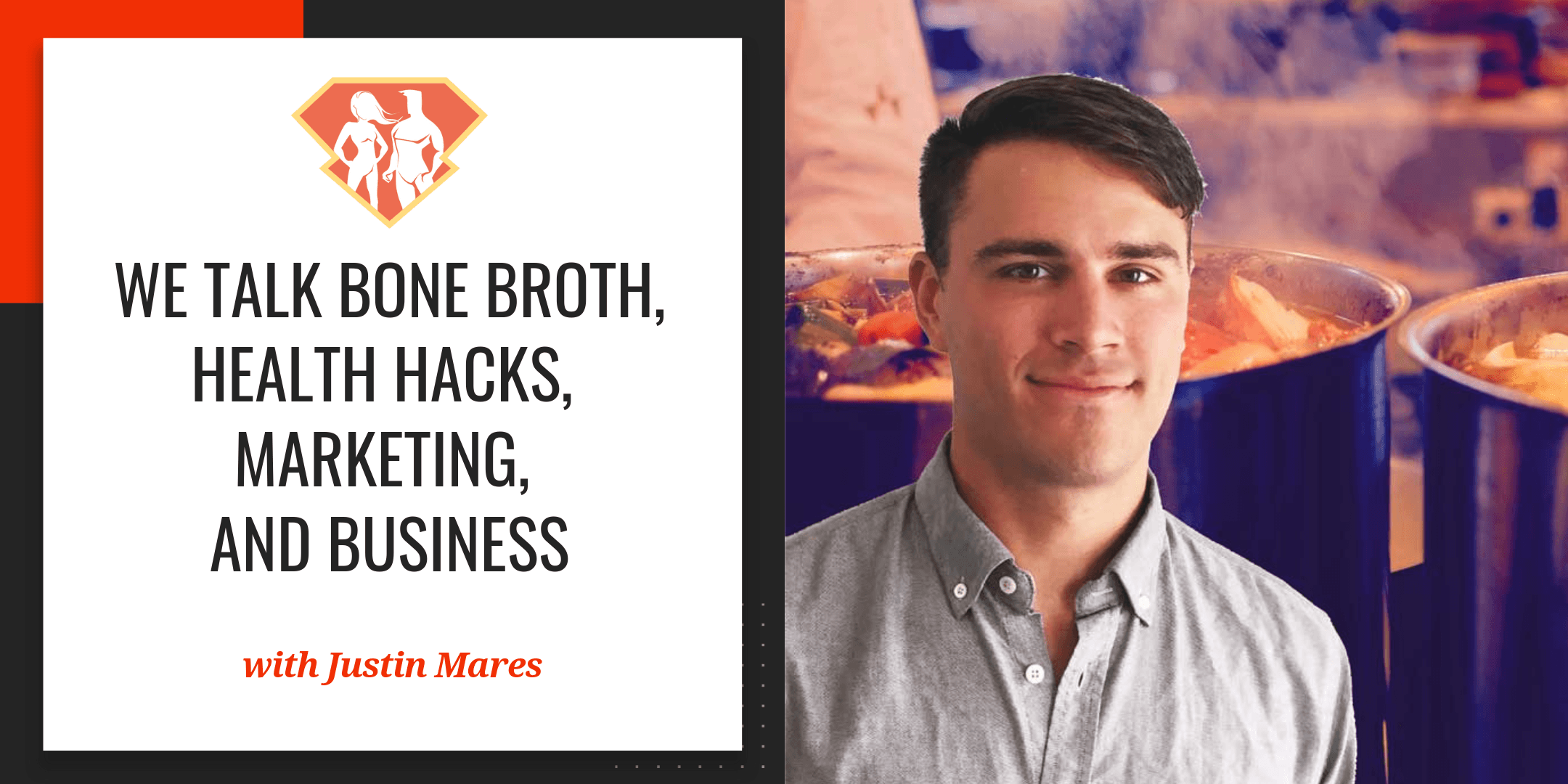 Tags:
Health
,
Learning
,
Meditation
,
Nutrition
,
Paleo
,
Speed Reading
"I'm very much a better living through convenience guy."
— Justin Mares
Greetings, SuperFriends, and welcome to today's show.
Today we are joined by Justin Mares, a serial entrepreneur and author, and the more recent founder of Kettle and Fire, a rapidly growing ecommerce company specializing in ultra-healing bone broth.
Justin is widely regarded as a marketing expert, and has been involved in no less than two startups which were successfully acquired. He's the author of Traction: The Startup's Guide to Getting Customers.
Our goal for this episode, however, was less on the business side – though I definitely did want to touch on Justin's vast knowledge in that area. Instead, the main focus was to share with you a rapidly-growing trend in the health space – bone broth.
In this episode, we talk about marketing, entrepreneurship, bone broth and why it's beneficial for your health, habits, physical fitness, speed-reading, movement, and much, much more.
In this episode, we discuss:
Who is Justin Mares? What does he do? How did he get into it?
Insights and thoughts on marketing and building a successful sales company 
What makes startups fail? How do you avoid it if you want to build a company?
How is Justin Mares growing his own company right now?
What's wrong with most "soup" or "broth" that you buy in the store?
What are the many, many health benefits of "bone broth?"
What's the recommended dosage of bone broth? When, how much, etc.
Are there any other skills, habits, or routines that help Justin Mares perform at a higher level
A discussion of meditation and it's powerful benefits
Some talk about stretching and how to improve thoracic spine health
What are Justin Mares' goals, and how does he choose goals and motivate himself?
What's Justin's dietary regime?
What is Justin Mares' superpower
How did Justin Mares become a "natural" when it comes speed reading?
What books have most impacted Justin Mares' life?
What products could Justin not live without?
Where can you learn more about both Justin and Kettle and Fire?
What's the #1 takeaway from this episode?
Resources Mentioned in This Episode:
Favorite Quotes from Justin Mares:
"Bone broth is just chock full of essential amino acids."
"My high-level goal right now is mostly focused around health and longevity… I want to be a super healthy kind of older guy."
"I just read… all the time. And I still read 1-2 books a week."
"Go after whatever you think you can do."
"It's really a tragedy how many times people say they want to do something and they don't, just because they're afraid of that first month of hardship and pain. The truth is, that goes away."
"Anything you want to do, for the most part, is a skill, and I think you can learn that if you just dive in."