Elaina Love: The Surprising Benefits of Cleanses & Extended Fasting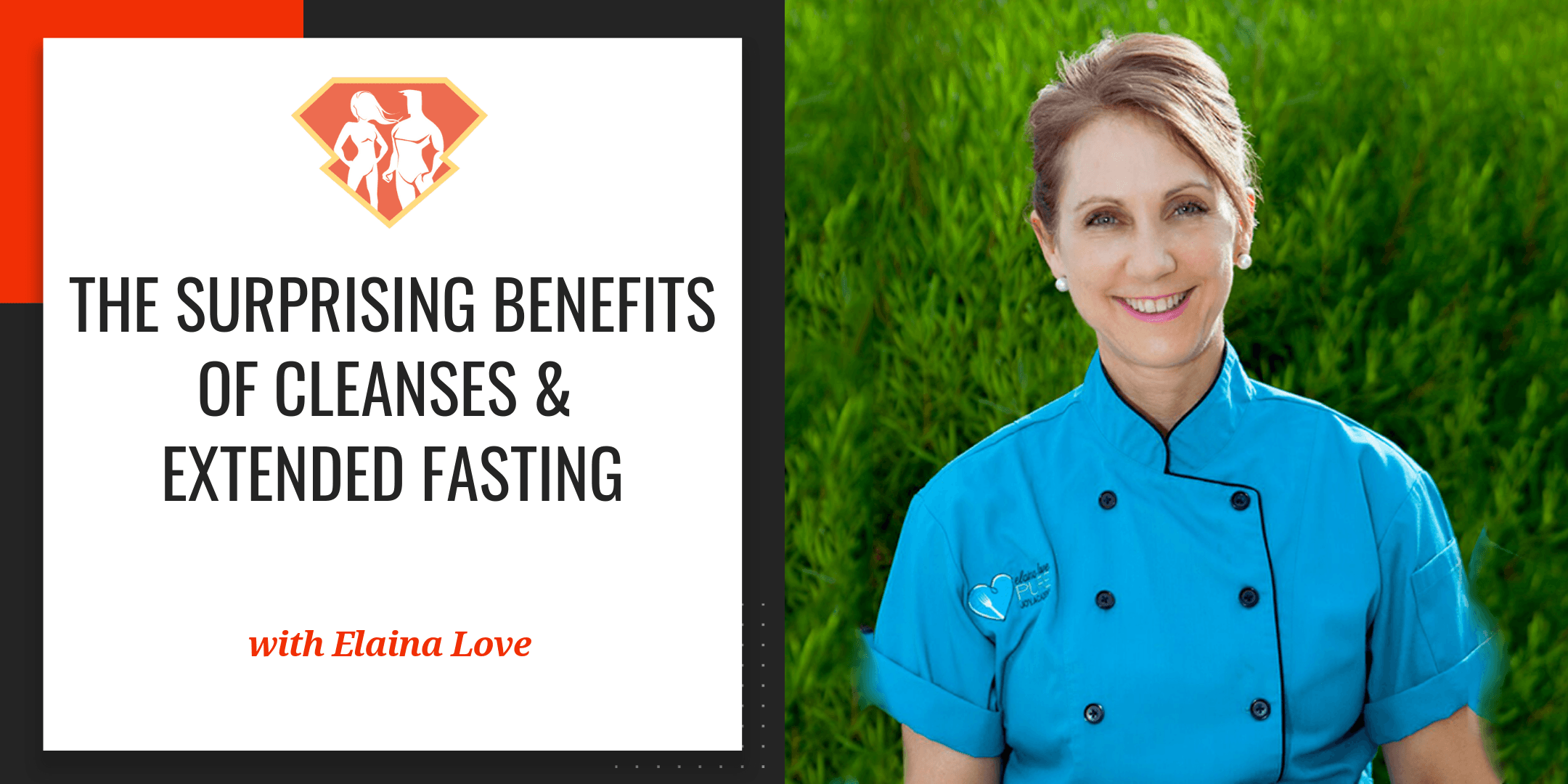 Tags:
Cleanses
,
Fasting
,
Nutrition
,
Podcast
"We need to take time out… at least 4 times a year, just to take a break from all this eating and give our livers a rest."
— Elaina Love
Greetings, SuperFriends!
Today we are joined by Elaina Love. She's a repeat guest who is known as an authority in the organic and raw food spaces, but more than that, she's known for cleanses. It's something that we didn't cover at all in our previous episode together, so I wanted to have Elaina back on the show. Not just because she's amazing and I really enjoy talking to her, but also because she knows so much about cleanses.
Now if you're skeptical about cleanses I was too. And you know, what I came to realize that all the research about fasting is so positive, and cleanses are just a way  to fast, but to give your body some additional ingredients as you're fasting, to help it clean out and get all the benefits of fasting… and then some. I have to say – I'm a convert. I've committed, on the air as you will see, to doing my first cleanse fast fast cleanse and I hope you guys will give it some consideration as well.
What I love about talking to Elaina is she dabbles in both this soft world of holistic, raw food, and vegan, but she also dabbles in the hardcore science, and she knows to tell you what your biomarkers will do, she knows to talk to you about gut permeability and insulin like growth factor in so many other things that I think a lot of people in the space just cannot hold a candle to her.
I think you guys are going to love this episode. I loved producing it for you. And if you do make sure to leave a comment below!
In this episode, we discuss:
What has Elaina Love been up to since we last spoke?
What's the deal with cleanses? Why all the controversy? What is a "cleanse," really?
Why do we actually need cleanses? What are the benefits?
What's the difference between a 3-5 day fast and a "cleanse?"
What's happening in the body when we fast, from a chemical perspective?
A discussion of "ketosis," and why it's beneficial on various different levels
When should you fast, during the week? How will you feel? Is it hard?
Why is the ability to fast more useful than you might immediately realize?
Refresher: What is the diet that Elaina recommends when you're not fasting?
What about the myth that your body will atrophy if you don't eat very often?
How can fasting actually clear out pathogens? What about pre-cancerous cells?
What about colonics? Why would you wanna clean out your colon? (Seriously)
A discussion of fibrosis, period pain, and fibrin, and why cleanses can really help with it
A funny story about digestive enzymes working a little too well
What is a quick, easy-to-follow protocol for fasting safely?
An interesting benefit of blending our foods into juices – and what you should put in there?
How to scale up from 1 day fasts to 5 day fasts, safely!
A kind of wild hack for amplifying your hack and clearing out your gallbladder
A pretty graphic discussion of what comes out of you when you flush – enjoy!
What problems has Elaina Love reversed in her own body using liver cleanses?
Are there any other skills/tips/strategies for higher performance that Elaina recommends?
What is "dry fasting," and why might someone try it? (Try at your own risk)
How can you get in touch with Elaina Love?
What's the #1 takeaway from this week's episode?
Resources Mentioned in This Episode:
Favorite Quotes from Elaina Love:
"Toxins hang out in the fat cells."
"Be loving to yourself, be gentle on yourself, because each of us is different."
"If you've fasted, you know that you're cool, you're safe… it's really a great feeling."
"I guarantee you most people do have in their body unwanted yeast, mold, and fungus… On day 3, the body starts to gobble that stuff up."
"I would say stress is worse than eating bad food."
"Those people who say this is not real have not tried it."
"You can fix your liver, and you can fix your gallbladder, and you do not need to get a piece of your body removed."
"If there's something to try, I've tried it."
"You have complete control over your body. No one's in charge of you but you. So don't be afraid to experiment and explore. Trust your body, and let your body trust you again."