How to Make Paleo Work for You with Michelle Tam of Nom Nom Paleo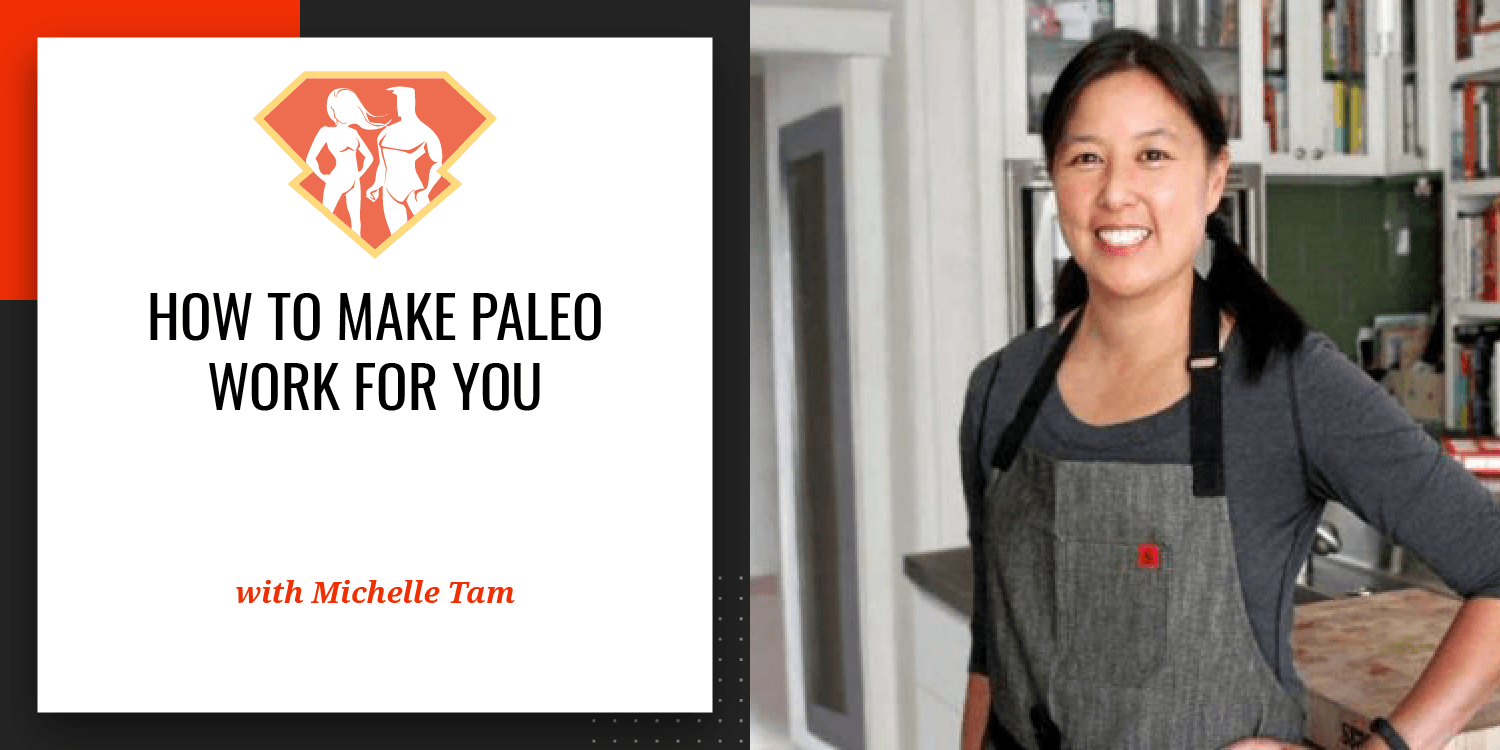 Tags:
Diet
,
Fitness
,
Health
,
Nutrition
,
Paleo
"My goal is to have shortcuts to deliciousness."
— Michelle Tam
Greetings, superfriends, and welcome to Part 3 of our 3-part series on paleolithic nutrition and the paleo diet. In previous episodes, we've spoken with
Robb Wolf
, the author who popularized Paleo, and
Dr. Loren Cordain
, the doctor who originally advocated a paleo-inspired nutritional approach. If you haven't listened to those episodes, we recommend checking them out, either before or after you listen to this one. In any case, we hope you're excited and intrigued by the idea of trying out "going paleo," but perhaps you're not sure where to start. Perhaps you're not sure how to make a healthier paleo diet practical in your busy, modern life. If that's the case, this episode is for you.
Our guest today is one of the most respected paleo bloggers on the web – and for good reason. Besides creating creates award-winning recipes, she's also published a New York Times Bestselling cookbook,
Nom Nom Paleo: Food for Humans
, in addition to a webby-award winning
iPad app
. She's inspired people all over the world to take a practical approach to paleo, and has changes the lives of god knows how many people.
In this interview, I wanted to give you the tools and confidence to give paleo an honest try. We focus on the nuts-and-bolts – what do you need in your kitchen? What does your shopping spree look like? What does it cost? How can you make paleo delicious and practical? What are the tastiest meals? What do you snack on? It's a great episode, and I know you're going to enjoy it.
In this episode, we discuss:
The nutrition class that both Michelle Tam and I took at UC Berkeley, and how it misled us
How Michelle came to realize that everything she knew about nutrition was wrong
Michelle's path from food science and pharmacology to becoming a global authority on Paleo
What foods people binge on when they first go paleo
How someone can ease into the paleo diet and make it a part of their life
Where people typically struggle, and which meals are the toughest
Michelle's tips for paleo snacks
What are Michelle's favorite paleo recipes?
What "paleo no-no" food does Michelle Tam eat?
How can you make paleo fit your budget?
The problem with subsidized, artificially cheap foods
Michelle Tam's opinion on grass-fed and organic meats
What would be included in a Nom Nom Paleo QuickStart Box?
What items are always in Michelle's kitchen?
Slow cookers vs. pressure cookers, and their various benefits
How much time does Michelle spend cooking for her family of 4?
Tips for being more productive in the kitchen
Michelle's homework assignment for our audience – try it this week!
Tips for parents hoping to get their kids to eat healthier
Michelle's top recommended books
What's next for Michelle Tam?
Periscope vs. Meerkat (follow me on both: @entreprenewer)
Resources Mentioned in This Episode:
Favorite Quotes from Michelle Tam:
"When I first heard about paleo… I thought it sounded totally bananas… It goes against everything that I was ever taught."
"Once I started [paleo], I felt so much better that there was just no turning back."
"You know, a lot of that whole grain stuff that I was eating tasted terrible. So, it was kind of nice to replace it with real food that tasted good and stuck with me."
"I think it does take time for people to accept that what conventional medicine and the media are telling you could be wrong."
"Just try it for a month. It's just real food. If it doesn't work for you, go back to what you're doing"
"For me, the biggest 'ah ha' moment when I went paleo was just paying attention to how food made me feel."
"There's a lot of people who will be driving around in a Tesla, and then say that paleo costs too much money. Which kills me!"
"If you fuel yourself the right way, you won't NEED that $4 latte to perk you up."
"My goal is to have shortcuts to deliciousness."
"Just try it for a month. It's just real food. If it doesn't work for you, go back to what you're doing."
"If I had to give advice to any parents, it's that you should start earlier than I did."