Jeff Emmerson On Self-Compassion And Overcoming ADHD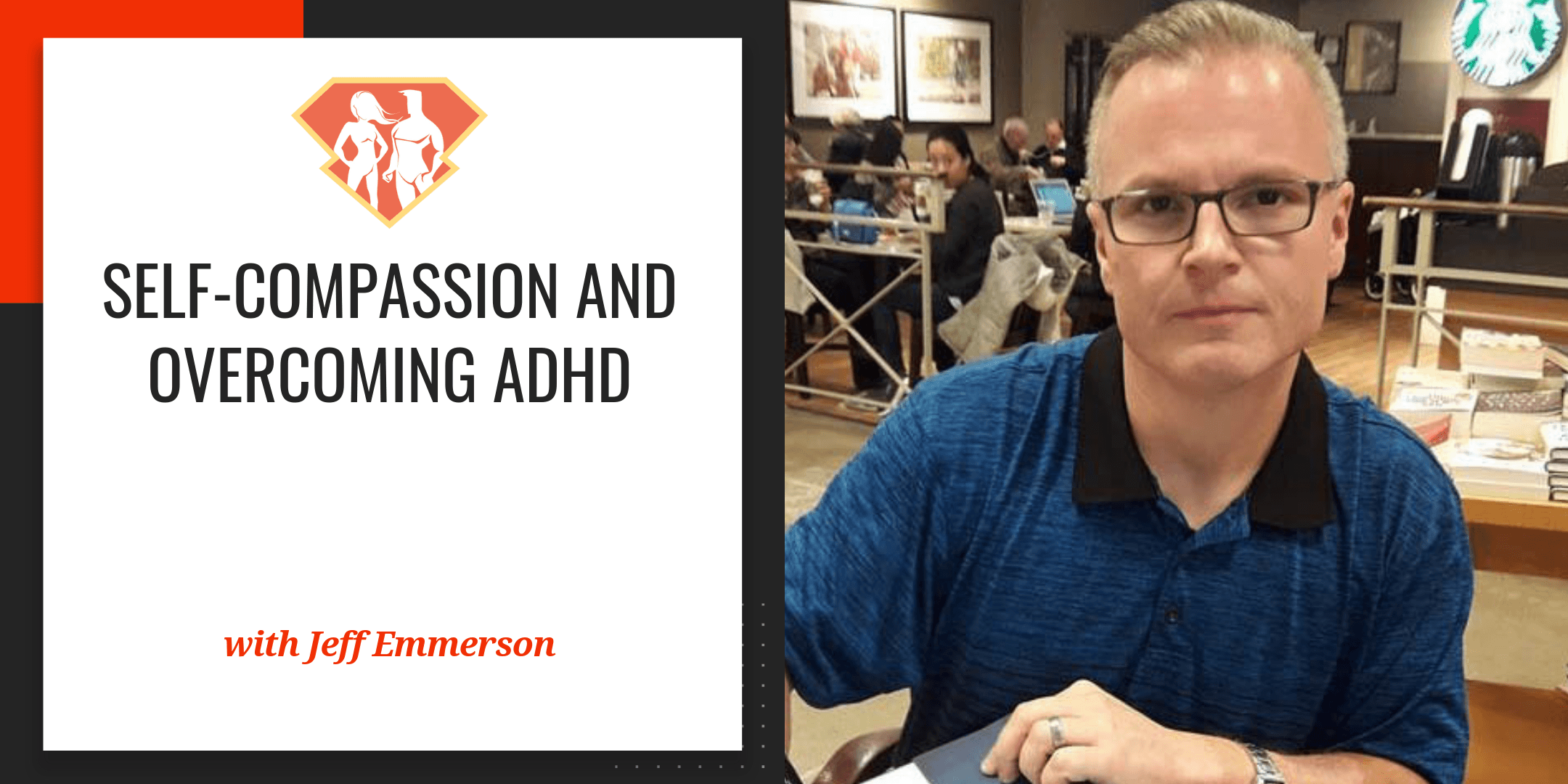 Tags:
ADHD
,
Anxiety
,
Compassion
,
Depression
,
Happiness
,
Health
,
Inspiration
,
Life
,
Podcast
,
Tenacity
"Do not ever give up on yourself no matter what your age is, or what anyone else says, even if that is just you inside your head."
— Jeff Emmerson
Greetings, SuperFriends!
Today we are joined by Jeff Emmerson. He is a new author who recently entered the self-help space and his book is called Beyond ADHD: Overcoming the Label and Thriving.
Now, you guys maybe know that I've been diagnosed with ADD, rather, informally, under-the-table diagnosed with ADD. We get into that a little bit in the episode. We also talk about this whole culture of diagnosing kids with ADD. Do they all really have ADD to such a large percentage of the population, or is other stuff going on?
In the episode, we talk about Jeff's own personal journey through depression. He gets very personal, which I always appreciate. He shares a lot of really hard stuff that he went through and ultimately talks about some of the things that he is doing and helps others do to manage and overcome this diagnosis, this black mark, that so many people carry around.
It's a great episode and I think you guys are really going enjoy it!
In this episode, we discuss:
Who is Jeff Emmerson? [4:45]
How did Jeff Emmerson get into the field of overcoming ADHD (and ADD) [6:00]
What is the real percentage of people with ADD, and how many are being misdiagnosed? [9:30]
Does knowing what really is the problem matter? [12:00]
The importance of focusing on your own strengths and mindset [14:00]
Jeff's journey to get off his medication and the difficulties his ADHD symptoms brought [15:00]
The decisions that Jeff Emmerson made during this journey [18:00]
What should people that feel like they have ADHD/ADD do, and what should they think? [20:30]
The mindset that people facing difficulties like ADHD or similar should keep in order to thrive [24:00]
Jeff Emmerson's weekly and daily routines that keep his brain, his mind, and his soul healthy [25:45]
The importance of rest, and allowing yourself to unwind [28:00]
Being self-compassionate is one of the best things you can do for yourself [29:00]
The importance of having stability in your personal life and relationships [32:00]
Where can you find Jeff Emmerson? [33:45]
The key takeaway that Jeff Emmerson wants you to take with you [34:45]
Resources Mentioned in This Episode:
Favorite Quotes from Jeff Emmerson:
"I was infuriated with how quickly we rush to diagnose ADHD and ADD, without digging deeper."
"We have to be careful on how quickly we put a label on someone."
"Focus on your strengths, and growth mindset, and whatever you need to do. There is no shame in any of this."
"I just felt this intuitive desire, 'I've got to take my life back'."
"You are just as capable, even if you have areas you need to be wary of!"
"We all have abilities, we all have hopes, goals, and it's just a matter of feeling supported along the way, and finding the right strategy."
"I use a daily reminder to remind myself that all this is not a race."
"I am compassionate with myself now, knowing that, at least, I've learned."
"The darkest moments taught me the most, but I had to get through them to see those lessons."