Overcoming a Major Illness W/ Josh Perry, Professional BMX Athlete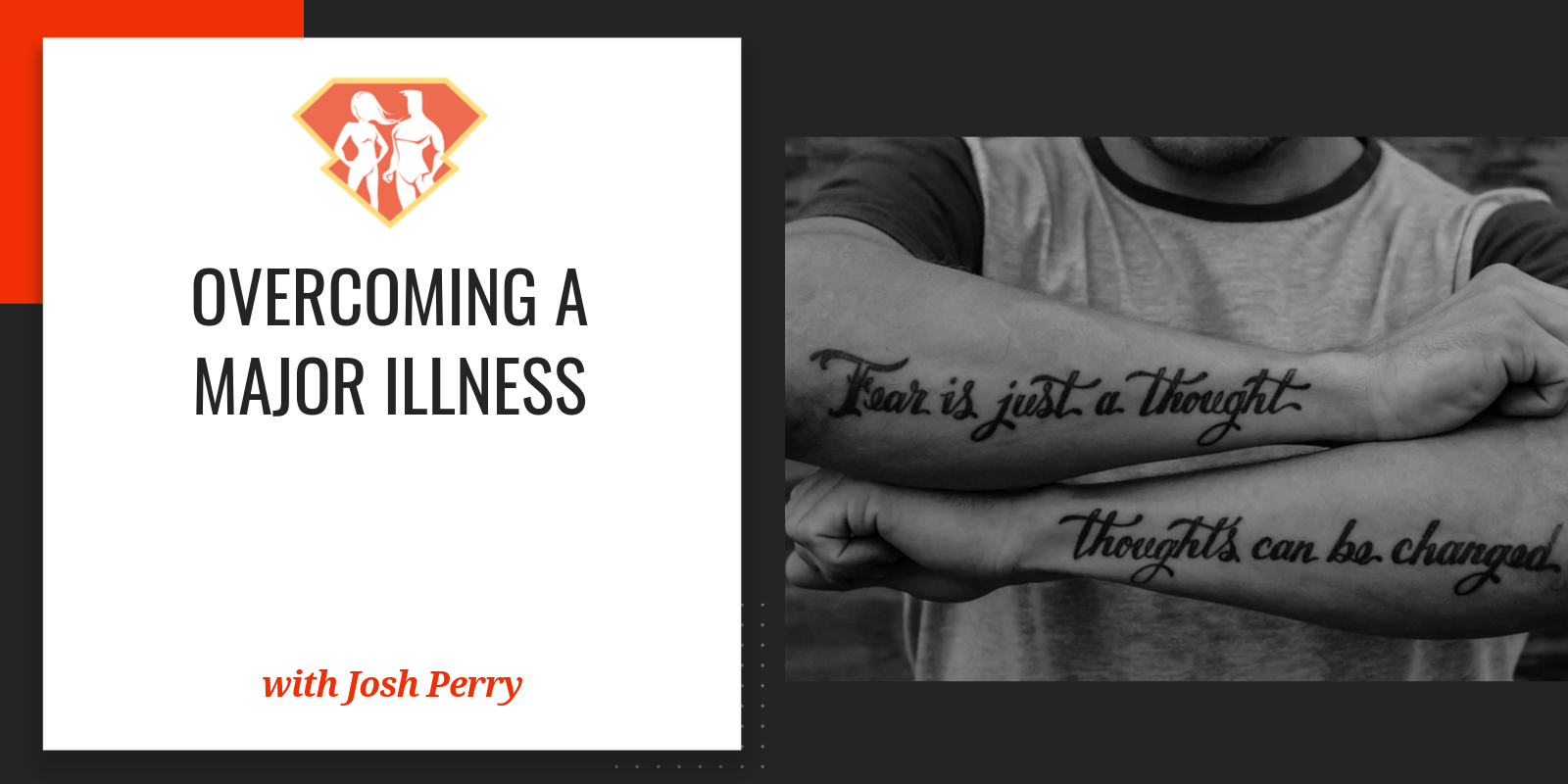 Tags:
Diet
,
Exercise
,
Health
,
Inspiration
,
Nutrition
,
Podcast
"Fear is just a thought, but thoughts can be changed."
— Josh Perry
Greetings, SuperFriends!
Today we are joined by Josh Perry, whom you may know from the world of extreme sports. Josh is an extreme athlete, specifically a BMX biker.
But that's just the beginning of his story. You see, Josh has survived multiple brain tumors. He went through an unbelievable journey to get healthy and get well, including massive surgery and cutting-edge new treatment technology. He survived through it all and now he's living with this condition. Josh has so much to share. We talked about fear, we talked about life purpose and mission and we also talked about the journey that followed this horrifying experience for him and the beauty that came out of it.
Josh today is an expert in the nutrition field as well as a BMX athlete. He has written and been featured in more publications than I care to list but, to name a few, they are Men's Health, GQ, US News, LiveStrong, People Magazine, ESPN and many more. He has also launched the dailybrainstorms.com blog where he shares his thoughts and ideas with the world.
Personally, I feel like this is an absolutely incredible interview. I tried to go as deep as I could and really get into some of the emotions, the fears and also the tools that Josh went through and developed, so I could really give you guys some practical takeaways that will help you overcome fear in your own lives and face the big scary what-ifs.
I really enjoyed the episode and I'm quite sure you will as well!
In this episode, we discuss:
Who is Josh Perry? What does he do? [4:50]
How did Josh get to discover his illness? [6:10]
The health challenge(s) that have changed Josh's life [9:00]
How did Josh handle brain surgery and the fear that precedes it [12:10]
What happens in the moment when Josh looks fear in the eye? [14:00]
Josh's recovery and return to the ramps [15:40]
Meeting his old surgeon [16:50]
The return of the illness [17:30]
Josh's second round of treatment [18:00]
The hopefully good development of his illness [19:00]
How Josh's lives with his illness [20:30]
How did Josh's experience change his life for the better? [23:20]
Gratitude, nutrition, and health changes Josh made in his life as a result of his sickness [25:00]
Josh's journey to become a certified nutritionist [27:00]
What does Josh's diet look like today? [29:00]
Simple health advice for everyone [31:20]
Things Josh does in order to perform at the highest level [31:50]
Specific, actionable "homework" to start doing this week [33:30]
Where can you find more about Josh Perry? [35:40]
Resources Mentioned in This Episode:
Favorite Quotes from Josh Perry:
"To me, there is no good or bad. It is all perspective and what you take from it."
"As an athlete, you are willing to risk failure more times in a day than more people are willing to in a lifetime."
"When facing moments of fear, look at the desired outcome."
"I asked myself: 'How do I make this (his illness) impactful, instead of detrimental?'"
"Nothing that you want is going to happen overnight."
"Take care of your mind and body, and have the clarity of what you want your life to look like."
"Track what you're doing, log it!"
"I want people to understand that their life is in their hand."