The Truth Behind Food Chains, Running 3100 Miles, And More W/ Sanjay Rawal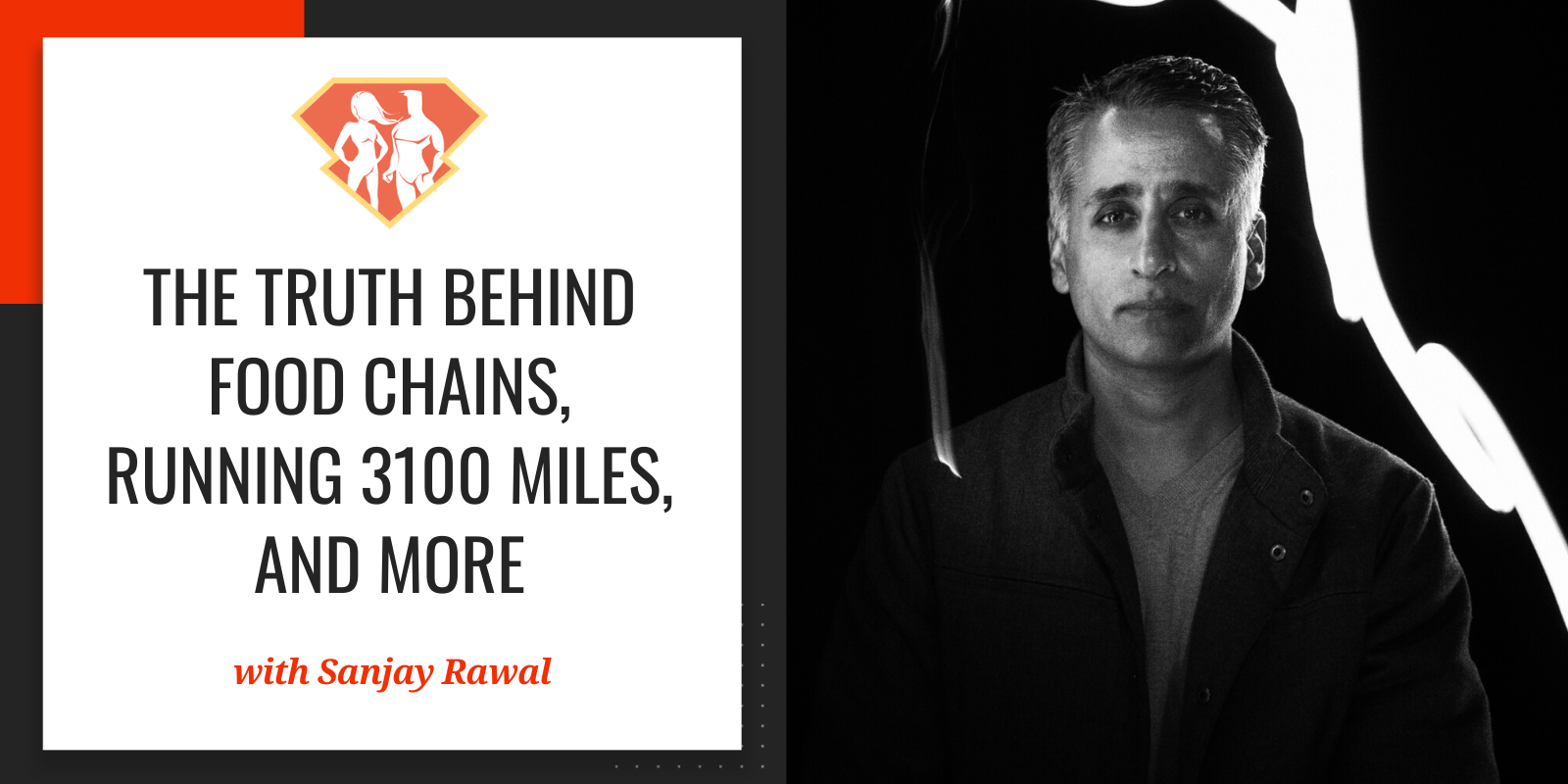 Tags:
Biohacking
,
Diet
,
Exercise
,
Fitness
,
gratitude
,
Inspiration
,
Nutrition
,
Paleo
,
Podcast
,
Spirituality
,
Transformation
"All of our fates are intertwined. Develop that connection, cultivate it, and realize that it's one of the greatest things we have as human beings."
— Sanjay Rawal
Greetings, SuperFriends!
Today we are joined by Sanjay Rawal. Sanjay is a documentary film-maker that has created such documentaries as Food Chains, which was produced by Eva Longoria and Eric Schlosser with narration by Forest Whitaker, and his most recent documentary 3100: Run and Become was released theatrically in the US in 20 markets last fall.
His third effort Gather, a documentary on Native American food sovereignty is set for completion in mid-2019.
Why did we want to talk to a documentary film-maker? Well, Sanjay has a unique perspective because he has looked into two of the biggest aspects of being SuperHuman. One, food, and how it gets to us and our food chain, and two, the extreme periphery edge of human performance, meanly 3100 miles. Yes, people who run 3100 miles.
I wanted to talk to Sanjay because I wanted to understand what he has learned in his years of interviewing and talking with these people, and what advice he can give us about better living our lives as SuperHumans.
It turned out to be an incredibly interesting conversation, in which I learned a lot. I had my mind blown at least once, and I think you are going to feel the same. Enjoy!
-Jonathan Levi
In this episode, we discuss:
Who is Sanjay Rawal, what does he do, and how did he get here? [2:50]
The story of Sanjay and his mentor [4:10]
How did Sanjay create a relationship with his mentor? [6:25]
What is Sanjay's superpower? [10:00]
What is the story behind Sanjay's first documentary? [11:45]
What are some of the takeaways Sanjay has learned about food and how it's produced? [14:00]
How can we, as consumers, do something to improve the food system? [15:55]
The story of how Sanjay's second documentary, 3100: Run and Become, came to be [22:45]
How do people cultivate the tenacity to run for 3100 miles? [27:45]
How does the 3100-mile race affect the runners' health? [34:00]
What is some homework Sanjay can suggest for you? [36:00]
How does Sanjay look at the world when it comes to his own life? [39:40]
Where can you learn more about Sanjay's teacher? [44:05]
Where can you learn more about Sanjay's work? [45:25]
Sanjay Rawal's final takeaway message [46:20]
Resources Mentioned in This Episode:
Favorite Quotes from Sanjay Rawal:
"[Spiritual leaders] start from a place of potential, not from judgment and analysis."
"We have to take small steps to rediscover our food system."
"When you use your feet, when you move, your prayers get amplified."
"Try to develop a different set of goals around your exercise. Try to approach physical fitness with the idea of it transforming you to a better person."