Health, Supplements, And Digital Addiction W/ Evan DeMarco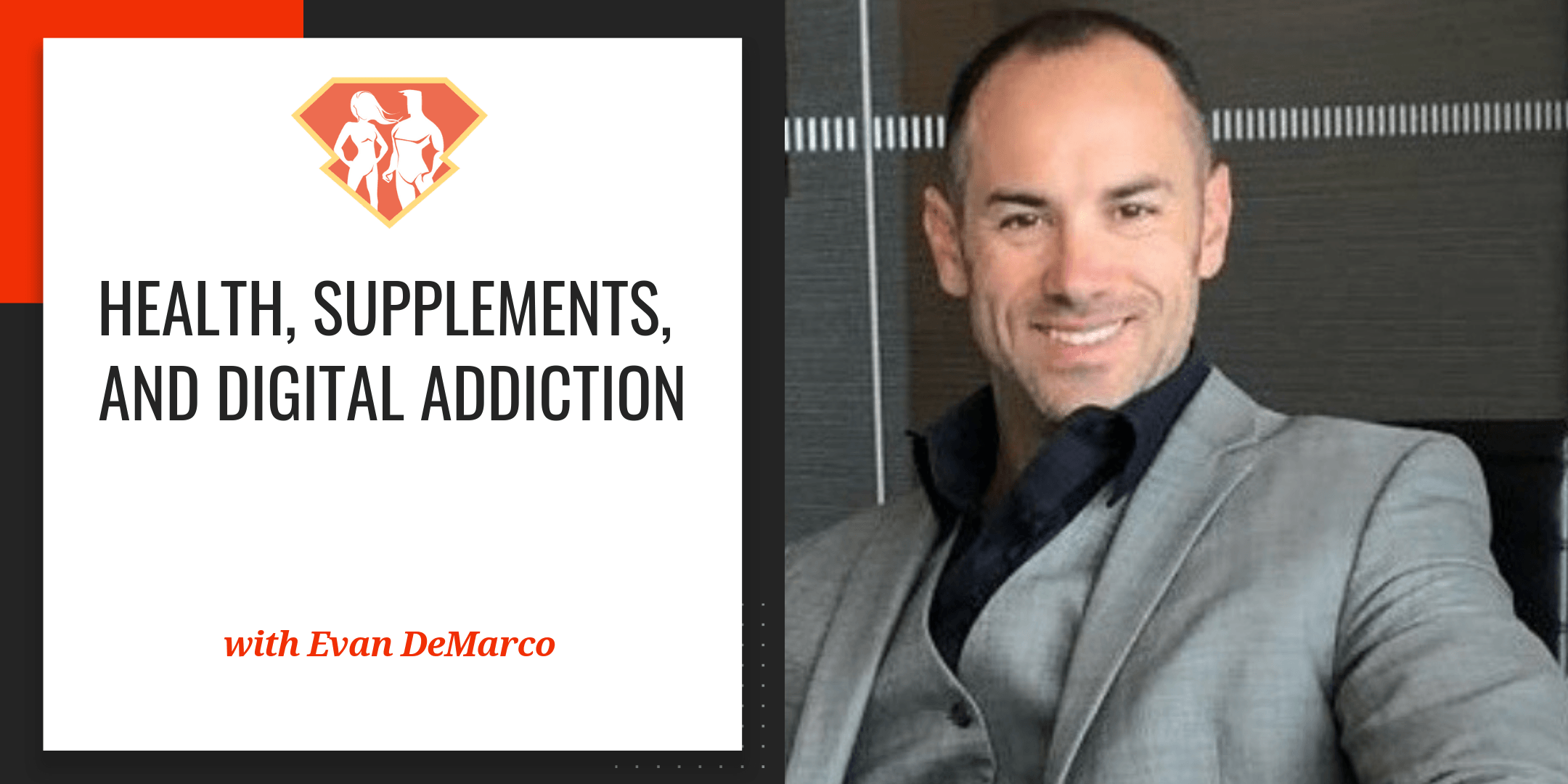 Tags:
Biohacking
,
Diet
,
Health
,
Inspiration
,
Lifestyle
,
Nutrition
,
Performance
,
Podcast
,
Supplements
"Make your life about the experience, about the journey."
— Evan DeMarco
Greetings, SuperFriends!
Today we are joined by Evan DeMarco. Evan is a sports medicine and nutrition expert, a published author, a public speaker, and a frequent guest on television, radio, and digital platforms. He is also a successful serial entrepreneur whose interest in diet, health, and supplements began as an athlete and consumer, and led him to create a supplement called Alpha Omega.
Now, in order to do that, he actually went back to school, studied bio- and organic chemistry, and dove deep into everything from prenatal supplements to fat-soluble vitamins.
And, as you folks can imagine – you know me – I geeked out hard on this episode, and I really enjoyed learning all about all of these things. It's not every day that I get to talk to a biochemist or an organic chemist – and I get to talk to both today.
So we learn a lot in this episode, for example about some of the supplements that you might want to consider because of some of the dietary imbalances and deficiencies that we have in our modern diet and lifestyle. We also talk – of course – about one of my favorite subjects which is digital addiction, and what it is doing to our brains. The rest of the things we talked about, well, I'll leave it to you folks to discover!
But I'll tell you this: I'm sure you're going to enjoy the episode, because I certainly did!
-Jonathan Levi
In this episode, we discuss:
Who is Evan DeMarco, and how did he get where he is? [4:15]
Going from prenatal vitamins to brain health [7:05]
What are the concerns for our brain health with our modern lifestyle & environment? [8:45]
Inflammation – how much of our health does it impact? [10:15]
Fish oil and its Omega 6 to Omega 3 ratio [13:35]
How to test your fish oil for saturated fats [15:00]
What is the true problem: sat fats or Omega 6s? [16:00]
Do we pee out our vitamins? [17:05]
What diagnostic tests to run and how to do so? [20:05]
An introduction to stem cell therapy [24:00]
What are some other supplements that Evan DeMarco takes? [27:00]
How Alpha Omega came to be, and how does it help with brain health? [28:30]
What are some other things Evan DeMarco does for health and brain health? [31:50]
Digital addiction [32:45]
A super tip for productivity [36:00]
How cell phones have replaced any other time-filler activity [37:00]
Why do we need to be constantly stimulated? [38:05]
What are Evan DeMarco's top books? [41:50]
What is Evan's top takeaway for you in this episode? [42:25]
Where can you find more about Evan DeMarco? [43:45]
Resources Mentioned in This Episode:
Favorite Quotes from Evan DeMarco:
"Unless you're taking a supplement that is directly tied to some diagnostic test that says you need that supplement, oftentimes you're just wasting your money."
"The proof is in the blood."
"Our bodies are not designed to do one thing every day forever, except move."
"One of the things that I found that is great for our brains, is to make sure that the last thing that we do before we go to bed and the first thing we do when we wake up is to not look at our cell phones."
"Read as much as you can; One of the biggest things to keeping your brain healthy is reading."